Head coach Bob Sheehan discusses his 25 years of success and growth with NKU women's soccer
March 13, 2022
The 2021 women's soccer season marked head coach Bob Sheehan's 25th season with the program. Sheehan has been at the helm since the program began in 1997 when Northern Kentucky became part of the Great Lakes Valley Conference in Division II women's soccer. 
Under Sheehan's guidance, the team went from a club of walk-ons in 1997 that finished with a record of 7-11, to a squad that would compete in three straight Division II tournament Final Fours with a combined record of 65-2-7 over that period. After that 1997 inaugural season, the program would go on a tear of seven straight first place finishes in the Great Lakes Valley Conference as well as 14 straight winning seasons in Division II. 
Due to the rapid growth and great success of the program, Sheehan and the women's team announced their move to Division I in 2013, joining the Atlantic Sun Conference. After the Norse's 6-10-2 start in their first year, the program has seen six of their last seven seasons be winning ones, finishing top three or better in the conference ever since.
 In his 25 years with the team, Sheehan has accumulated 343 wins, produced All-Americans, Conference Players of the Year, and multiple All Conference First-Team Players on both sides of the ball. He is also a part of the select few who have reached the 300 career wins milestone in college soccer.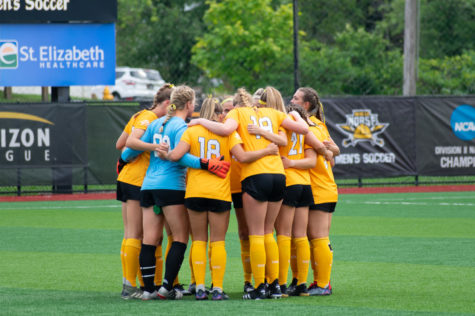 Despite the quick growth and success, none of this happened overnight for Sheehan. Before being named the first head coach of Northern Kentucky women's soccer, Sheehan spent 13 years at St. Ursula Academy in Cincinnati. 
Before his arrival, the program was lower tier in the national high school rankings. However, by the end of his tenure, the school was nationally recognized in women's soccer and had captured two state championships. Players would go on to sign with colleges at every level including Division I soccer programs such as Florida, Ohio State and North Carolina.
Sheehan's passion for developing student-athletes was what originally got him into coaching. However, what has made him continue is the joy he gets from watching the players he coaches reach not only their goals on the field but goals in life. 
"My favorite moments as a coach is seeing players come through and accomplish with in the program during their four years, then moving on successfully to the next phase of their lives because of the academic success they achieved as well" 
During their years in Division II the program lived by the motto "Balance as a student and athlete" and despite the move to Division I, Sheehan has made it a point of emphasis to remain living by it.
"Many people think of Division I sports as selling yourself to a coach, staff, or program. However my staff has always made it known to our players that they can be whatever they want to be, and although it will be hard, we are here to help them accomplish that" 
This motto which all of coach Sheehan's teams have lived by is one reason why the program has always achieved a team GPA of 3.0 or better and has won multiple academic excellence awards over the years. Year in and year out the program graduates athletes in high-level majors such as Biology, Nursing and Exercise Science.
The ability for Sheehan and the program to provide such high-level care and opportunity for players has been a long road. Becoming respected both on the field and in the recruiting world has been something Sheehan and his staff have been fighting for since the beginning. 
In the 1997 season, the program was given one scholarship and little funding, yet coach and his staff found a way to make it work.
"My staff such as assistant coaches Terry Gruelle and Steve Bornhoffer have been with me a long time and have really helped me recruit well locally, and the success of our local recruiting has helped us reach areas such as Pittsburgh, Chicago, Detroit, and even St. Louis recently," said Sheehan.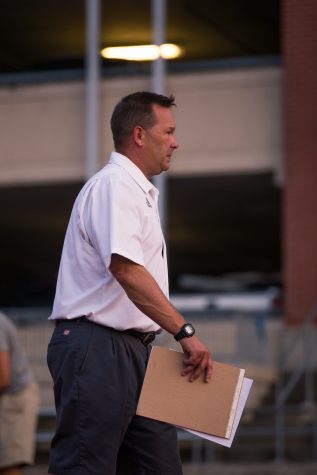 Although the success in recruiting has helped, the biggest factor for the program's success over the years according to Sheehan has been the "hardwork and dedication" of everyone around him. 
"In my 25 years as coach here, I have never once had to ask for effort from any player, coach, or administrators," Sheehan said.
Over 25 years, Sheehan's teams have taken on top tier women's programs such as Vanderbilt, Kentucky, Cincinnati, Xavier, and will even match up against Louisville next Fall. 
"What I am most proud of these last 25 years is the consistency, win percentage, and overall way in which my players have carried themselves as student-athletes. I really couldn't ask much more from them," Sheehan said.
Now that the program is where it is today, the goal for Sheehan is to continue helping it grow in every aspect. And by the looks of the class coming in next Fall, he will continue to do just that. The Norse will be acquiring five new freshmen next year as well as welcoming the addition of Iowa State transfer, Meghan Carl, who is already practicing with the team. 
Sheehan spoke on the new players saying, "The class is very balanced with players that have all played at high levels. We have attackers, defenders, and players that can help us at every level and we are excited to have them."
As for next season, Sheehan emphasized the importance of growing from the obstacles the squad faced last season as well as flipping the script of some losses a year ago. 
"We as a team really faced a lot of Covid situations, injuries, and games that didn't go our way," said Sheehan. "So it's important we grow from that, as well as find ways this season to flip those 1-0 losses a season ago into 1-0 wins like we did the Fall prior." 
The amount of pride in which coach Sheehan has in his team is glaring. Kaya Vogt, a sophomore midfielder for the team further exemplified this point.
"Coach is driven and cares about all his players a lot. He works with every player individually and tries to bring the best out of them, because he sees the best in all of us."
Sophomore forward Sofia Wilmes dubbed coach Sheehan as "one of the best coaches I have ever had." 
"He's helped my confidence grow a lot because he doesn't shy away from calling out my flaws and working with me to correct them."
According to the two sophomores, Sheehan is always stressing the importance of giving 100 percent in every aspect of the game and that has helped them and everyone on the team grow. 
Looking back on his career so far, Sheehan is very thankful for everyone who has been involved.
"I would have never gotten this job if it wasn't for Athletic Director Jane Meier at the time who took a chance on me. I am very thankful to her," Sheehan said. "But most importantly I can never thank my wife and kids enough. Coaching is not a 9-5 job, you're gone a lot and I'm grateful that I have a family that understands my passion, and always supports me. I couldn't do without them." 
As the program continues to grow, Sheehan's wish is for his future teams to remain grateful for the opportunity they have to play Division I soccer at NKU.
"I want my players to remember my 1997 team who were extremely thankful just to have a coach, uniforms, and transportation. In many ways they set the tone for this program which still looks up to them 25 years later." 
Coach was at a loss for words and very flattered when asked how he'll be remembered once he moves on.
"I'll figure that out in the future at some point and time. But right now I just try to put in an honest day's work and give my players everything I can."
With coach Sheehan at the helm, the women's soccer program looks like one that will continue to flourish for many years to come.
"The recipe for success is all here," Sheehan said.