Leading by example: How Holland and Cronin remained leaders after injuries
How Ella Holland and Ashleigh Cronin continued to lead the NKU women's soccer team off the field
December 19, 2021
Coach Bob Sheehan and the Northern Kentucky women's soccer program have seen lots of success in the past couple of seasons. In back-to-back years the Norse have qualified for the conference tournament making it to the finals in 2020 and the second round in 2021.  
Despite these feats by the club, one thing that has held them back from being a championship caliber program has been key injuries. Across the board the team has seen a plethora of injuries at every position, but none more prominent than the midfield. In the last two seasons the squad has been extremely thin at the position and have lost veteran experience in the midfield which can be crucial for late season play.  
Midfielders Ella Holland and Ashleigh Cronin are two such players the Norse have missed when needed most these past couple seasons. Both players have had their seasons disturbed by, or in Holland's case, career ended by severe knee injuries. 
Holland's career ending injury happened in the post-season of her sophomore year when she dislocated her knee. This injury ended up being the final straw for Holland when doctors decided it was no longer safe for her to play. Holland had previous knee injuries which she fought back from in her soccer career and suffered through tons of pain to do so.  
"In a weird way it was a relief also because I had played for so long not knowing when the next one would come, and if it did, if I'd be able to come back. So finally having a definite answer helped me be at peace with leaving the game I loved and transitioning into the next stage of my life after soccer."  
As for this year, the Norse suffered another big loss midway through the 2021 season with the injury to Cronin. Cronin had been a staple in the team's game plan with her ability to apply pressure on opposing defenses and win 50/50 balls. So, the ACL tear she suffered as the regular season was heating up came as a huge morale blow to the squad.  
The loss of the three-year starter negatively impacted the Norse's play style across the board but especially in terms of the physicality they lost when Cronin's season came to an end. When playing, the senior created tons of problems for opposing teams with her strong play and fit into Sheehan's game plan extremely well. 
Sheehan himself reiterated this when speaking on what Cronin meant to the team. 
"Ashleigh possesses a strong work ethic and provides excellent energy and a competitive spirit in the middle of the field," Sheehan said. 
Although the loss of Cronin is more recent for the team, both injuries still linger fresh in the minds of every player on the squad. Lily Menssen, a close friend and teammate of Holland and Cronin summed up the loss of these two perfectly.
"Ella was a tremendous player who won balls and helped us control possession, so losing her sophomore year was devastating. However, Ashleigh stepped up and helped us remain a physically imposing team after Ella's injury. Unfortunately, we lost them both and our inability to be as physical of a team as we were with them was what really held our team back this season."  
Dealing with these injuries has not only been a challenge but a learning experience as well for the two seniors. According to Cronin, the hardest part about being injured was not going through rehab, since she'd done that once before, but figuring out how to become in her words "a non-physical leader".  
"My whole career I had been someone who led through my energetic and ferocious play, so learning how to remain a leader without those things was difficult. However, I quickly realized that the key was learning how to take my on the field role as a vocal leader and supportive teammate and translate it to off the field," Cronin said. 
Luckily for Cronin she had the guidance of Holland, who she is close with, to help her in the transition. However, Holland never had that luxury when she suffered her career-ending injury. For her, navigating how to become an off the field leader came through what she called "trial and error".
"At first, I was unsure how to handle the new role and struggled at trying to be effective as an off the field leader. Over time though I realized that doing the little things such as retrieving balls, filling up water, and doing other small tasks made a big impact. As well as doing the obvious things such as cheering on my teammates, picking them up when they were down, and being someone they could talk to went a long way in helping me thrive in my new role," Holland said.
Despite the transition struggles and how difficult it was for both these athletes to accept their injuries, their total acceptance of their new roles set a glaring example of how no one is bigger than the team. As well as how important it is for all team members to serve their role to the best of their abilities for the betterment of the team.  
"Ashleigh and Ella's ability to transition so effortlessly into new roles and remain leaders who everyone can look up to has been nothing short of inspiring for all players on the team," Menssen said. 
Coach Sheehan further went on to express how much both girls meant to the team. 
"Ashleigh and Ella were both inspirational leaders throughout the season. They were always positive, supportive, and willing to help in whatever area that they could to help our program."
However, for both players, being that sideline leader was never a burden on them because of the "love and compassion" they had for every one of their teammates.   
"For Ella and I, we were willing to do whatever it took to help our team succeed because at the end of the day our team success and happiness succeeds our own," Cronin said.
Holland and Cronin serve as great examples of what it means to be a team player regardless of the circumstances they were dealt. Throughout their whole careers they accepted whatever role they were given and gave it all they had.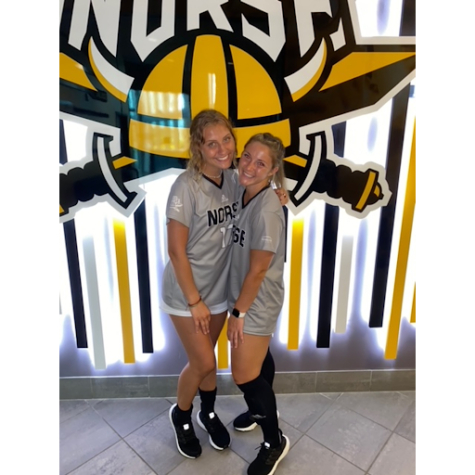 In the end, these players not only changed the program with their on the field play, but even more so with how they rose to the occasion off the pitch. Cronin and Holland embody what it means to be a true team player by how willing they accepted these roles.
Even though soccer has been a huge part of both Holland and Cronin's life, they have many big life plans for their lives after soccer. 
Holland, who is now a senior, plans to graduate from Northern Kentucky with a major in Marketing in the spring of 2022. In her life after soccer, Holland sees herself working as a Public Relations manager for a company in the western part of the United States which she loves.  
As for Cronin, although her injury is bringing her back for a fifth year with the team, she plans to graduate in 2022 with a degree in Nursing. After graduation, Cronin plans on working for a few years then going back to college to become a nurse practitioner.  
Many people define a legacy in sports as for what you did on the field, however Holland and Cronin redefined that. Both players were game changers on the field, however, what they did off the pitch truly defines who both are as players.  
"Although many girls come into college thinking college is their everything. Ella provided a great example for how to handle life after the game, while still remaining a positive and influential leader for the team off the field," Cronin said.
As for the legacy Cronin left has already left behind on the program despite having a fifth year, Holland said, "Ashleigh is already a shining example of how to not only respond to unexpected obstacles in a career, but bounce back from them in a positive and inspirational way." 
Holland and Cronin's careers could very easily be based on their impactful game play and contributions on the field. However, what they will be remembered for most by the Norse is their willingness and dedication to helping the team succeed regardless of the situation. Throughout all their hardships and obstacles, they always kept what was most important first: the team.