How a determined Bryson Langdon found his way to NKU and became a leader for the Norse
Read about Langdon's journey to NKU and the resiliency that the point guard possesses
December 12, 2021
Bryson Langdon has heard the criticisms that people have given him throughout his basketball career.
At 5'9, the senior guard for the Northern Kentucky men's basketball team is the shortest player on the Norse roster and is playing a sport in which the average player typically needs to duck down in order to keep their head from hitting the ceiling fan.
Langdon paused for a moment when thinking about the way in which people criticize him for his height and admitted that while he tries to block out that outside noise, it is something that he feeds off of to improve his game.
"I'm not going to say it gets to me, but it gets to me," Langdon said.
Langdon admires three NBA players in particular, all of whom stand at 6'2 or shorter, a height that in the NBA is generally considered to be on the shorter end: Chris Paul (6'0) point guard for the Phoenix Suns, Kyrie Irving (6'2), point guard for the Brooklyn Nets and Damian Lillard (6'2), point guard for the Portland Trail Blazers.
As Langdon watches his favorite professional players, he said that there is something that he can take away from each of them to improve his own game.
"I love Chris Paul because he doesn't do anything wrong. He controls the game so well, and I love Kyrie Irving because he has that really high skill level, I feel like he's untouched in the NBA. And Damian Lillard, he just has something in him that a lot of players don't have," Langdon said.
Lillard has become known for being able to take and make big shots in crucial moments of a game, such as when he buried a game-winning three pointer at the buzzer over Oklahoma City's Paul George in the 2019 NBA Playoffs, pointing to his wrist to signify that was his time to shine, a moniker that has now known to become "Dame Time".
For Langdon, it may not have come with the pomp and circumstance that the Moda Center in Portland, Oregon carried with it that night in April of 2019, with 20,241 fans screaming and cheering, but Langdon found himself in a situation to become the hero back in January of this year at BB&T Arena and seized the opportunity.
On a typical Saturday night in January, BB&T Arena would be electric, with over 2,000 fans cheering on their Norse as they battle a Horizon League opponent. On this particular night, the only sounds heard that resemble crowd noise is the artificial yelling and cheering from the jumbotron, as fans were barred from attending this game and every other game during the 2020-21 season due to restrictions because of the COVID-19 pandemic.
Regardless, the Norse are entrenched in a tight game late in the second half against Illinois-Chicago, and the team needs a bucket to extend their winning streak to four games and avoid having to go to overtime with a UIC team that had played the Norse tough for each of the last two days.
With the game tied at 67 and just 12 seconds remaining on the clock, Langdon found the ball in his hands and the instinct to go make a play and win the game kicked in against the Flames, a school that Langdon had familiarity with, located in his hometown of Chicago, Illinois.
Langdon remembers the details of what happened next vividly.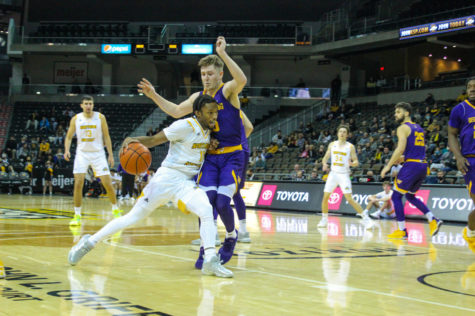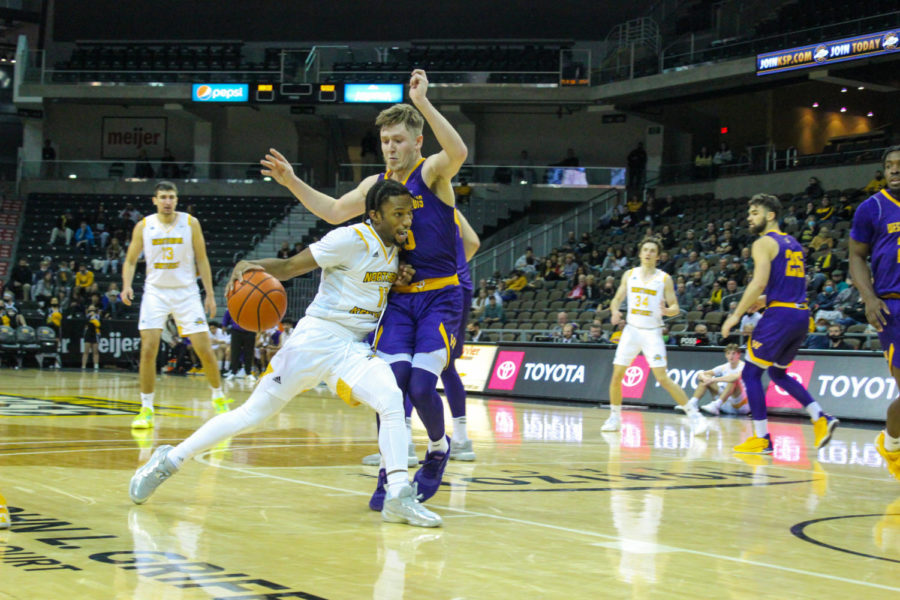 NKU head coach Darrin Horn had drawn up a play for NKU's star freshman Marques Warrick to back door toward the basket, where Langdon would have been able to find him for the chance at a shot near the hoop. When the back door opportunity didn't materialize, the 5'9 Langdon made the decision to create a shot for himself, spinning into the lane and connecting on a floater with just 1.8 seconds remaining, drawing a foul in the process.
69-67 Norse lead; jubilation and euphoria on the court as Langdon was surrounded by his teammates in celebration.
"It was just like go make a play," Langdon said. "It was a big shot because it was against UIC, which I'm from Chicago, it felt good, and I knew a lot of the players from UIC, so it was real heartfelt."
Born and raised in Chicago, Langdon played his first game of organized basketball in a league called Small Fry when he was five years old. The league required players to be under a certain height to even participate. Even still, Langdon knew that even from a young age that he loved the game of basketball.
"Literally, once I started playing basketball, I knew that this was all I wanted to do, I can't see myself doing anything else but playing basketball," Langdon said.
From the Small Fry league onward, Langdon knew what he wanted to do. To keep doing it, Langdon's journey would take him to multiple destinations all around the country to allow Langdon to do what both his father and brother were able to: play college basketball.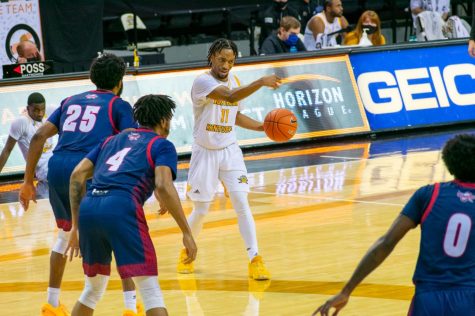 "It's everything, because when you grow up in a basketball family, there's always advice, input, things that you can do better, so they were molding me and I wasn't even knowing it," Langdon said about having a father and brother that both played basketball at the collegiate level. "It was making me better; coming home they're correcting my mistakes, telling me what I did good, so just hearing their voices before and after games that helped me a lot."
Asked who the best player between the three of them is, Langdon doesn't even hesitate.
"Me for sure," Langdon said with a laugh.
---
For the first three years of his high school career, Langdon left Chicago and went to play at a prep school in Utah, Wasatch Academy, where his uncle was the head coach at the time. While at Wasatch, Langdon won a state championship during his freshman season, and had the opportunity to play against several players that are now in the NBA, including Brandon Ingram and Frank Jackson.
One name in particular that Langdon's team played against on the high school circuit is very familiar amongst NBA and sports fans in general: current Philadelphia 76ers point guard and three-time all-star Ben Simmons.
At first, all was well for Langdon's Wasatch Academy against the 6'11 super-athlete in Simmons, but before long, the Melbourne, Australia native showed why he was taken with the first overall pick in the 2016 NBA Draft.
"I remember the first half he had two points, and we were all in the locker room like 'oh yeah, we're doing good…' and then the second half he had 34," Langdon said smiling.
Langdon continued to play at Wasatch Academy through his junior year of high school. However, after his uncle passed away, Langdon made the decision to return to Chicago to finish his high school career, attending Kenwood High School.
After finishing high school, Langdon's basketball career took a turn that not many do. He attended a postgraduate school known as Believe Prep in Tennessee, determined to continue playing basketball at the next level.
Langdon compared his experience at Believe with a TV program known as Last Chance U, a show based at East Mississippi Community College that followed young athletes as they try to resurrect their athletic careers and play Division I.
While there were no TV cameras surrounding Langdon at Believe, that didn't stop him from putting in the work to get to where he is today at NKU.
"I was really focused that year. Literally, I didn't do anything but go to the gym and go home," Langdon said. "I was in the gym 24/7."
After spending six months at the prep school, Langdon got the opportunity that he was looking for, making the decision to attend Arizona Western community college, located in Yuma, Arizona, the hottest city in the United States.
"I used to walk from my dorm to classes and have to change shirts, because I was sweating so hard," Langdon said.
Much like the temperatures outside, Langdon was on fire during his lone season at Arizona Western, averaging 16.3 points and 3.8 assists per game for the Matadors, while leading them to the first round of the NJCAA Men's Basketball Championship.
---
On the other side of the country, Northern Kentucky assistant men's basketball coach Eric Haut learned about Langdon from another assistant coach at Florida Atlantic, Akeem Miskdeen (who is now an assistant at Florida) and began to watch clips of Langdon on Synergy, a scouting and development tool for coaches.
Impressed by Langdon's shooting efficiency on offense, as well as the explosiveness and "pop" that Langdon had to drive into the lane, Haut showed NKU head coach Darrin Horn clips of Langdon, and the Norse began the process of getting Langdon to Highland Heights.
To say that his recruitment was an accelerated process would be an understatement.
According to Langdon, NKU reached out in the middle of the week with interest in adding Langdon to a team that was coming off their second appearance in the NCAA Tournament. By Saturday, Langdon was on his visit to Northern Kentucky to check out the campus, meet the coaches and get a feel for the program.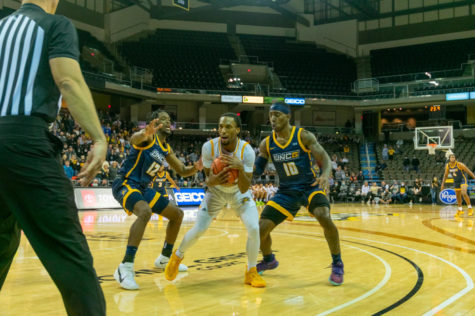 NKU had concerns that Langdon was ready to sign elsewhere, and the team had to make a quick decision. The Norse threw the offer out to Langdon following his visit to campus, and almost immediately after returning to Chicago from NKU, Langdon had committed to join the Norse.
"With our winning tradition, Coach Horn's pedigree, the way we wanted to play offensively, I think that really intrigued him," Haut said. "NKU's a basketball school, they put a high priority on our basketball programs here, and I think that all that was really intriguing to him."
Additionally, Langdon said that the coaching staff was something that immediately stood out to him, particularly the honestly that Horn and his staff displayed when it came to areas that Bryson could improve on. Langdon can remember watching film with Horn and being told that his defense was not what it should be for a 5'9 point guard.
"I feel like all the other schools were just telling me what I wanted to hear, but Coach Horn was telling me what I needed to hear," Langdon said.
To this day, Langdon said that Horn is still tough on him when he talks about ways that he can improve his game, something that Langdon still appreciates.
Perhaps aided by the tough love that Horn and his staff give Langdon, the point guard had his breakout season for the Norse in 2020-21, averaging 10.7 points and 4.0 assists per game, while showing the ability to put the ball in the hoop during critical situations.
Off the court, Langdon, who said that he can listen to music 24/7 (his favorite is G Herbo, an artist from Chicago), has become a veteran leader on the Norse, both through his experiences as a player and the personality that he brings to the team. That leadership and personality often comes out through being vocal on the court and in the weight room, as well as showing some of the younger players the way that the program is run.
"He's basically took me under his wing and he's always there supporting me, telling me little things that I don't even see yet and it's been a huge help and it's made the transition a lot easier for me," NKU freshman point guard Sam Vinson said.
However, Bryson's personality also shines through in other ways away from the basketball court, including battles of NBA 2K with teammates.
Asked who the best player on the team was at the iconic basketball video game, Langdon paused and again with a smile, bestowed the title to his roommate and another senior leader on the team.
"Besides me, I think I would say Trevon (Faulkner)," Langdon said. "Trevon beats me the most."
Despite often being one of, if not the shortest player on the court, Langdon does not let that deny him from becoming an integral part of a Norse roster with NCAA Tournament aspirations in 2021-22.
"I feel like that's just uncontrollable, so I just take that out on the court every day just to prove them wrong, like height doesn't have anything to do with anything."