Three players with foreign roots bringing a different style to Norse men's basketball
How David Böhm, Hubertas Pivorius and Imanuel Zorgvol contribute to the Norse
When thinking about college basketball programs to feature multiple international players, schools like Saint Mary's or Gonzaga may come to mind. Both are on the west coast and have the resources to recruit internationally. The Northern Kentucky men's basketball team features three players with international roots, the most in at least 13 years. David Böhm, a sophomore, hails from the Czech Republic. Freshman Hubertas Pivorius calls Lithuania home, and newcomer Imanuel Zorgvol (pronounced zoor-fall) comes to Highland Heights by way of Suriname. 
Although they call different countries home, all three players spent time at various Florida high schools before arriving in Highland Heights. Assistant coach David Harris also credits the pandemic when discussing how all three players came to NKU.
"If you combine COVID and then being from another country, that's the reason why their recruitment wasn't that high, because all three of them are good enough to play at, some might say, is a level above us," Harris said.
After a freshman season in which he averaged 7.5 points and 2.9 rebounds, and made a buzzer-beating layup to propel the Norse over Detroit Mercy in the Horizon League tournament, David Böhm spent his summer getting stronger and working on his defense. Böhm also competed on the Czech Republic U20 team in the European Championships.
"It's always a great experience to come back and see the people that I grew up with, the players that I grew up with… and just to compare how much I improved," Böhm said.
While home, Böhm was able to train against countryman Tomas Satoransky, who is currently on the New Orleans Pelicans roster. He also made the second-to-last cut for the Czech national team to compete in the Olympics in Tokyo. Making the 2024 national team is a goal of Böhm's, and he knows what he has to do to improve for the Norse and for his country's team.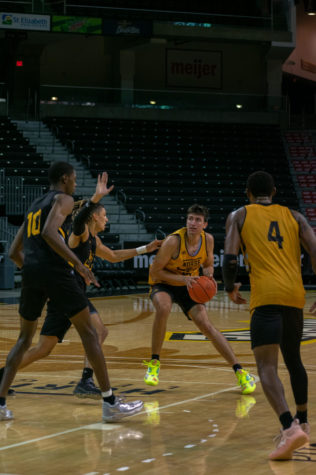 "The main goal of mine is to be more consistent. I had like, highs and lows last season, which everyone is saying is normal when you are a freshman, to have highs and lows. But I don't want to hear that," Böhm said.
Similar to Böhm, Hubertas Pivorius also competed for his country in the European Championships, but at the U19 level. Pivorius transferred to Christopher Columbus High school from Lithuania because he wanted to pursue an academic and athletic career.
His commitment took place over a fairly short amount of time. Assistant coach Simon McCormack noticed Pivorius after his European experience. He had offers from other schools, but committed to NKU because of the program's potential.
"I fell in love with the place right away. The way the coaches talk, the way they envision this place and this program. It's just a really great opportunity for me in my opinion," Pivorius said.
He notes that the biggest difference between the European and college games is the pace, as well as the mental side of the game.
"College basketball is way faster, way more physical. Over there back in Europe, you usually have more set plays. You try to play as calm as possible," Pivorius said.
Being calm and collected translates to Pivorius' life off the court as well. He describes himself as "not very outgoing", but likes to relax and take care of his body in his free time. In addition to watching Netflix and hanging out with his teammates, he hopes to explore Cincinnati.
When speaking about the European duo, Harris highlighted their strengths and areas of growth.
"DB around the basket is extremely skilled, and is very hard to guard… and he can play on the outside and shoot. And Hubey, when we recruited Hubey, we thought of him as just a shooter. And now that we've gotten him, he can put the ball on the ground much better than we thought."
Originally from Suriname, a country colonized by the Dutch, Zorgvol grew up playing soccer. But he switched to basketball after a recruiter noticed suggested he switch to basketball because of his height. With the support of his family, Zorgvol started honing his skills on the hardwood.
"My mom wanted me to play basketball, too," Zorgvol said.
He eventually moved to Puerto Rico as one of two Surinamese athletes selected to participate in an international camp. Zorgvol credits Puerto Rico as the place where his career took off.
"The camp in Puerto Rico changed my whole basketball life. It made me take it more serious," Zorgvol said.
Being named a top-five recruit at the camp landed Zorgvol a spot at Central Florida Christian Academy, where he spent two years before being recruited to play at the collegiate level.
Harris was the lead recruiter for Zorgvol, and said his commitment was unlike most.
"We had just got a commitment from Chris Brandon, so we were looking for another big that we knew was more of a long term project. Literally, I'm just on Google searching kids, looking at scouting services, and I come across Imanuel's name," Harris said.
After watching tape and communicating with head coach Darrin Horn, Harris decided to reach out to Zorgvol on Instagram. Zorgvol was ready to commit to a Division II school and isn't one to regularly check messages on social media. But he said his new recruitment may have been the result of divine intervention.
"I prayed. I asked God, 'Is this a good decision?'" Zorgvol said.
He decided to accept Harris' message request on a Friday morning, and by Monday, he had committed to NKU.
Now that Zorgvol is on campus, he said statistics are irrelevant. He knows, as the old adage goes, that the name on the front of the jersey is more important than the name on the back. 
"I don't care if I score, I just want to win championships," Zorgvol said.