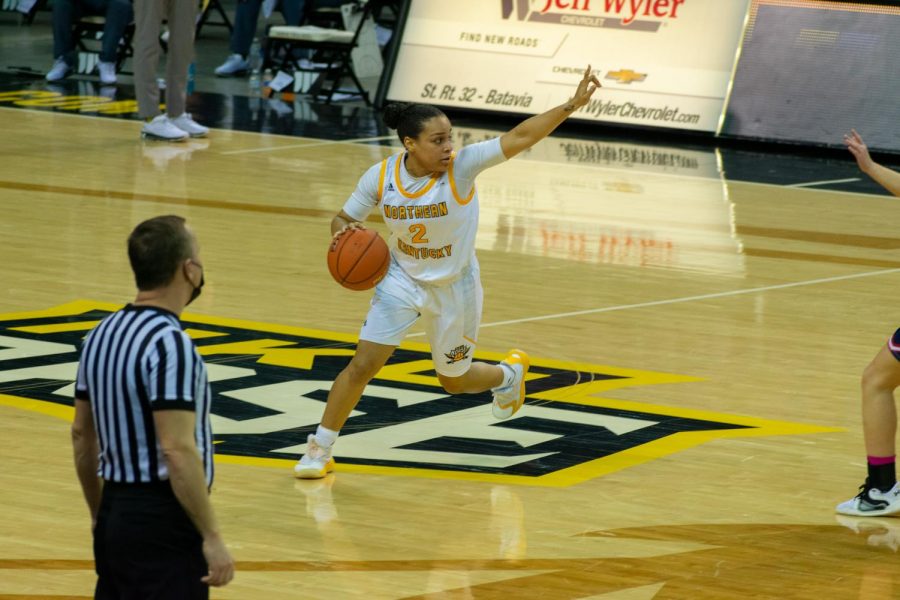 Led by a standout backcourt, Norse have sights on a big season
Lindsey Duvall and Ivy Turner return anchor NKU WBB
In her first season as a member of the Northern Kentucky women's basketball team, guard Lindsey Duvall was nothing short of remarkable for the Norse.
In her redshirt junior season in 2020-21, Duvall led the Norse in points per game (16.9), rebounds per game (7.8) and three-pointers made (33), while also finishing a close second in minutes per game. The do-it-all guard returning for her senior season is one of the main reasons why the Norse were picked to finish fourth in the 2021-22 Horizon League preseason poll.
"That gives me great confidence, but also just having the team that we have, a lot of returners coming back, I think that gives me just as much confidence, because we need everybody," Duvall said about her success last season and the confidence level that it gives her entering this season.
Last season was an uneven one for the Norse, as they finished the season 8-11 overall and 7-5 in Horizon League play. The team began their season by losing their first four games, proceeded to win their next four games against all Horizon League opponents, and then played just one game from Jan. 1 through Jan. 23 because of COVID-19 policies and procedures.
However,  the Norse return a lot of experience from that team, including junior guard Ivy Turner, last season's second-leading scorer (11.2 PPG) and a leader in the backcourt alongside Duvall. Turner was 30-34 from the free-throw line last season, while she also led the team in assists with 51. 
"This year I'm shooting for 90 percent at the free throw line, so for me just getting in and getting extra free throws and being able to shoot the three off the ball screens and making threes off the ball screens so that's my main focus for the season," Turner said.
Joining Turner and Duvall in the backcourt is junior Carissa Garcia. The junior started 10 games last season for the Norse, averaging 8.3 points per game and scored at least 15 points on four separate occasions.
Duvall, Turner and Garcia, three players who figure to see the most playing time in the backcourt, at least early in the season, combined to average 36.4 of the team's 65.0 points per game in 2020-21, just over 55 percent.
"It's good for our young kids, because they're getting to learn through these guys," head coach Camryn Whitaker said. "For me, as a coach… it's nice for me because these guys can take care of a lot of things that I don't have to right now and I can focus more on coaching, and these guys are the leaders on the court and showing the young ones the ropes and how we do things here."
Sophomores Kennedy Igo and Ellie Taylor will also be looking to carve out increased roles in the backcourt this season. Igo averaged 4.2 points and 1.2 assists per game last season, while Taylor averaged just 1.1 points, but showed bursts of outstanding athleticism, especially on the defensive side of the ball in 8.3 minutes per game. Belmont transfer Whitney Hay could also see significant minutes after averaging 6.2 points last season for the Bruins.
Last season, the Norse shot 40.2 percent from the field and 31.0 percent from three, ranking fifth in the Horizon League in both categories. Whitaker praised the work that the players have put in over the offseason and  outside of practice to increase those percentages even more this season.
"There is rarely a day that I walk in this gym that somebody's not out there shooting on their own," Whitaker said. "I think that just speaks to them and their work ethic, but also their commitment to our team and our university. They want to be good. We have extremely good players, we are so talented, but they're not satisfied with where they are, they continue to work and trust the process and they're constantly in the gym."
In the frontcourt, the Norse lost one starter from last season in Kailey Coffey, a versatile forward on defense and a solid post player, but got a boost in April when forward Grayson Rose announced that she would be using the extra year afforded to all student athletes as a result of the pandemic,  returning to the team for one more season.
"To have somebody come back that's been with me for four years and she knows what I want and she knows how we need to do things, and Grayson's got a way about her, people just like her," Whitaker said. "
Senior forward Emmy Souder, listed at 6'1", will also see minutes in the frontcourt this season. While Souder played in just nine games last season, she saw 22.6 minutes per game when she did play, contributing 4.4 rebounds per game as well as 3.8 points. Junior forward Tayah Irvin will also look to carve out an expanded role this season after playing in 8.7 minutes per game in 2020-21.
Forward Joelle Johnson is a transfer from Georgia State, where she scored 5.7 points per game last season, while shooting 47 percent from the floor. 
Last season, rebounding was a key strength for the women's basketball team as their 37.6 rebounds per game, including 11.5 offensive rebounds per game, both ranked fourth in the Horizon League.
"We have a group that when you see them play, you're going to see how hard they work, and we talk about this all the time, rebounding is about effort," Whitaker said. "Our kids crash the boards and rebound extremely hard."
NKU brings in four freshmen this season: guards Kailee Davis and Khamari Mitchell-Steen, and forwards Trinity Thompson and Paige Hodgson.
"Trinity down low is a really physical player and can really finish well. For a freshman she's pretty mature I think, and she brings just something different that we felt was a need for our team."
Whitaker said that Mitchell-Steen is one of the best defenders that she has coached, despite being only a freshman.
"She has the ability to get steals and to recover faster than anybody else," Whitaker said.
As the freshmen continue to develop within the program, the comfort level that they have will increase, but Turner said that the freshmen class has done a good job of adjusting to the team and the college game.
"I think they have adjusted pretty well," Turner said about the freshmen. "Obviously, being a freshman, it's pretty tough, but I think our freshmen, they're looking up to us upperclassmen, and we're just trying to show them the ropes and the ways to do it here. I think they've done a pretty good job."
The Norse will open their season on Nov. 10 at BB&T Arena against Kent State. When they take the court, they will be doing so in front of fans for the first time since March of 2020 after  the COVID-19 pandemic barred fans from attending games  on NKU's campus.
"It's going to be nice," Turner said. "Of course, last year it was rough, we're used to seeing our parents and everyone here after the games, and especially after a loss, sometimes it was tough, but having fans this year, we're really excited for them to cheer us on and engage in the game."