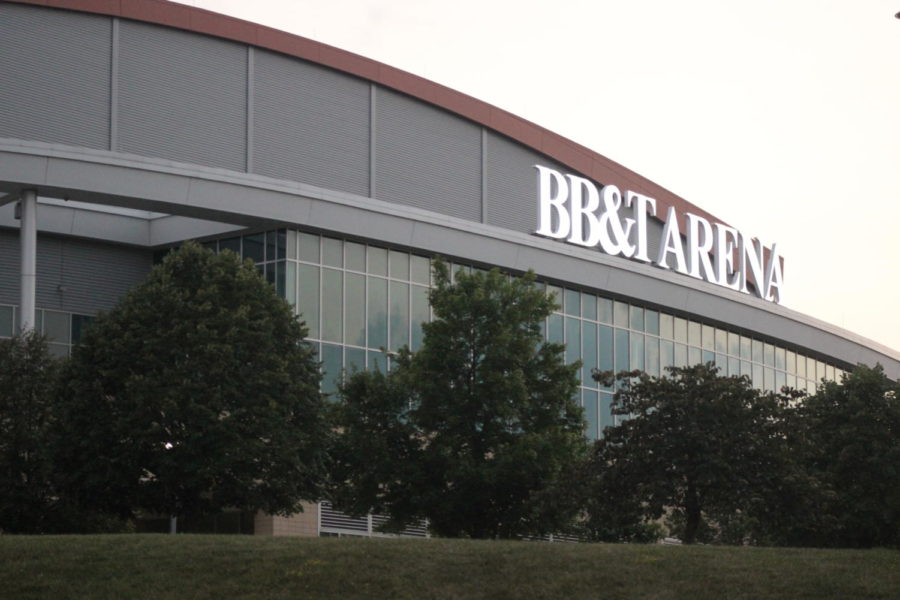 Bold predictions and input from staff, fans
Northerner staff members and Norse fans about their thoughts on the upcoming season
As the basketball season begins, Editor-in-Chief Matthew Dietz and Assistant Sports Editor Brendan Connelly made several predictions for the upcoming season. Suffice to say, if several of these predictions end up coming true, fans should expect fun times at BB&T Arena for the 2021-22 seasons. Also, continue reading to the end of the article, where several Norse fans were kind enough to provide their own predictions and input for the upcoming season.
To the predictions!
Bold Predictions from Staff:
Women's Basketball:
Both Khamari Mitchell-Steen and Trinity Thompson will earn All-Freshman nods
The women's basketball team welcomes in a four-player freshman class, including two players that could see significant minutes from the start of the season in guard Khamari Mitchell-Steen and forward Trinity Thompson. Head coach Camryn Whitaker has raved about the defensive talent that Mitchell-Steen brings to the table, even as a freshman, and Thompson registered a double-double every game of her senior season at Michigan City High School. If each of them are able to carve out significant minutes in their first years with the program, the potential is there for them to kick off their NKU careers in grand style by being named to the All-Horizon League Freshman Team. -Matthew Dietz
NKU women's basketball will lead the Horizon League in rebounds per game
One of the strengths of this Norse team last season, NKU enters this season with the expectation of being a solid rebounding team once again. Whitaker said that the team enters each game with the goal of holding their opponent to 10 or less offensive rebounds. Despite the loss of last season's second-best rebounder Kailey Coffey, the Norse still have the personnel, led by Grayson Rose, Thompson and Lindsey Duvall to grab boards with the best of them in the Horizon League. -Matthew Dietz
Women's basketball will go undefeated in the non-conference portion of the schedule
If you only read the first part of that headline, it certainly is a bold prediction. Kent State and Eastern Kentucky are listed under our games to watch, but the Norse also host Kentucky State, and travel to Miami (OH), Central Arkansas, St. Louis, and Wofford. The Golden Flashes, Redhawks, Billikens, and Terriers may provide the toughest tests, as all four teams return 10 or more players. NKU beat Wofford and Central Arkansas at home in 2019, but will be looking for revenge against St. Louis and Eastern Kentucky, losing to both teams in that same campaign. Four Horizon League contests are mixed into the non-conference schedule, but a perfect record against early season opponents will prepare the Norse well for a competitive conference slate. -Brendan Connelly
Men's Basketball:
NKU men's basketball will win at Wright State
Bold? Maybe not. After all, the Norse enter this season with expectations of competing for a Horizon League championship, while the Raiders no longer have two-time Horizon League Player of the Year Loudon Love, who was drafted by the Texas Legends in the 2021 NBA G League Draft. However, the Norse last beat their biggest rivals on the road back in February of 2017, and have beaten Wright State at their place just three times in program history. On Sunday, Feb. 13, 2022 the Norse will make it four times. -Matthew Dietz
Adrian Nelson will average a double-double
Nelson will not only be a leader on the court, but will average double figure points and rebounds over the course of the year. Coming off of 8.4 points and 10.0 rebounds last year, Nelson will uphold his rebounding average while increasing his scoring. Coming off an exhibition win in which he contributed 12 points and grabbed nine boards, Nelson has set a solid foundation for a big senior year. In doing so, Nelson would become the first Norse in program history to average a double-double (Dan Doellman has come the closest, averaging 19.8 and 9.8 in 1978-79). -Brendan Connelly
NKU men's basketball will shock Indiana in Bloomington.
The Norse travel to Assembly Hall to face the Hoosiers three days before Christmas. Sure, Indiana has a pre-season All-American in Trayce Jackson-Davis, but Indiana will also be coming off an in-state contest against Notre Dame, and could be susceptible to a loss before a week-long holiday break. Will first-year coach Mike Woodson have his squad in a favorable position by the time Darrin Horn and company roll into Bloomington? -Brendan Connelly
How Norse Nation is feeling about the season
How you feel about fans being able to return to watch basketball games at BB&T Arena this year:
"Very happy we're able to watch games in person this season.  I really missed live game action." -Michael Ruscher, NKU Alum
"It's going to be electric. College basketball environments are some of the most exciting in all of sports. I want to see the NKU fan base turn up and become one of the most supportive." -Killian Baarlaer, NKU sophomore
"Couldn't be more excited.  As the fans return I think that just lights more of a fire under the teams as they compete." -Mark Culp, NKU Alum
"Very excited, I will be at every one I can." -Kyle Siefert, NKU Senior
Do you have any bold predictions for this upcoming men's and women's basketball season? (Player milestones, team achievements, etc.):
"Women's team has the chance to be a sleeper in conference.  Will be interesting to see how things come together.  Men will be in the mix once again for a run at the title.  They have a great mix of talent both returning as well as coming in.  They'll be fun to watch with their athleticism." -Michael Ruscher, NKU Alum
"Horizon league champs and NCAA tournament bid." -Killian Baarlaer, NKU sophomore
"Men's – Horizon League Champs and NCAA Tourney Bound!  And it's not completely out of the question that NKU travels to Bloomington and leaves with a win." -Mark Culp, NKU Alum
"Winning the Horizon League." -Kyle Siefert, NKU Senior