Norse fall 3-0 to Oakland, set sights on crucial match against Milwaukee
NKU will face the top team in the Horizon League on Sunday
October 14, 2021
One week ago, the Northern Kentucky women's soccer team had just defeated Purdue Fort Wayne at NKU Soccer Stadium in a lopsided 6-2 fashion, and had extended their winning streak to seven games with the victory. 
After dropping a road match against Youngstown State on Sunday and now faltering at home against Oakland on Thursday, the Norse have lost two games in a row for just the second time this season, and sit in third place in the Horizon League standings.
Head coach Bob Sheehan, who has coached the Norse since the inception of the program in 1997, has weathered this type of storm before however, and with a team that has already proven capable of breaking off a long winning streak, that turnaround may come very soon. 
"We're a little banged up right now, we've got some key injuries and I think we have to think about it's a long season, and the season didn't end tonight by any stretch," head coach Bob Sheehan said. 
Over the past two games against Youngstown State and Oakland, the Norse have been outscored 4-0, with three of those goals scored by the Golden Grizzlies on Thursday in their 3-0 shutout win over the Norse. In addition to the back-to-back shutouts, the Norse have only mustered five shots on goal over the last two games.
"I don't think we've been ourselves necessarily for a variety of reasons, but I think we just have to continue to support each other and continue to be positive with each other," Sheehan said.
On Thursday, Oakland was aided massively by a clutch performance from one of their leading scorers, senior Sami Lopez. The midfielder entered play against the Norse tied for the team lead in goals with six on the season, and added two to her total against NKU.
In the 30th minute, Lopez ran down the ball on the sideline, and was able to slip the ball past NKU goalkeeper Mimi Stines, putting the Golden Grizzlies on the board. Just over a minute later, Lopez would strike again, picking up a steal on an NKU defender and blasting another shot past Stines, giving Oakland a two-point cushion in the first half.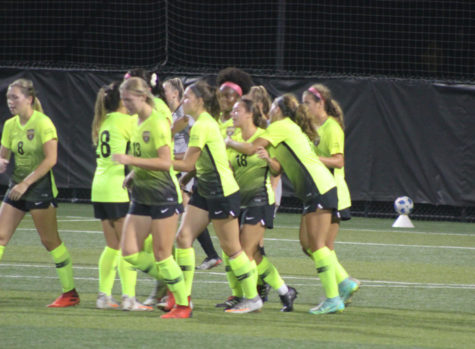 The Norse struggled on the attack in the first half, as Oakland outshot NKU by an 8-4 margin, took three corner kicks to NKU's two, and fired two more shots on goal than the Norse. 
In the second half, Oakland would strike again just eight minutes after the break, as sophomore forward Jayna Fraser was able to push a shot into the back of the net off an assist from Ashley Postma, putting Oakland firmly ahead 3-0. That score would hold for the remainder of the contest.
"Credit to Oakland, they came out and played very, very well," Sheehan said. "Soccer is a game of momentum, when they score the early goal, obviously they get some momentum, they start playing with more confidence. We had a couple chances that maybe if we score on those, maybe something different happens."
Stines, a senior for the Norse in her third year as the starting goalkeeper, is a leader on the team and said that the team needs to take it one game at a time in order to get out of the current losing streak that they are in.
"Obviously, we scored a lot of goals versus PFW and RMU, so we just need to keep that momentum going, keep our heads high, and try to just come out and play strong on Sunday versus Milwaukee," Stines said.
Sunday's match against Milwaukee will not be an easy one for the Norse, as the Panthers currently sit in first place in the Horizon League with an 8-0 conference record, and also rank as one of the highest scoring offenses in the country, presenting a challenge to NKU's typically strong defense.
"We're just going to have to really play together and communicate, keep our heads high and just focus on shutting down their key players," Stines said.
Sunday's game against Milwaukee, which will kick off at 1:00 p.m., will pit the two teams from last season's Horizon League championship game against one another for the first time since the spring. After scoreless regulation and overtime periods, the Norse succumbed to the Panthers in penalty kicks, falling just shy of an appearance in the NCAA Tournament in April.
"We're really excited to get back at Milwaukee, obviously it was tough to lose last year in PKs and I think we were really close, so we're really excited to get back and play Milwaukee," Stines said.