"It's good to be back." Molly Glick returns as women's basketball director of operations
Glick last played for the Norse during the 2019-20 season.
October 2, 2021
Being a director of operations for a Division 1 women's basketball team isn't easy. As the title implies, they are responsible for all program operations on a day-to-day basis. It is not a job for just anyone, but it ended up being a perfect fit for Molly Glick, a member of the NKU team from 2015-2020. 
"It's been probably the easiest transition we've had," says head coach Camryn Whitaker. 
The transition was so easy in part due to her familiarity with the program, but also because of her love for NKU and the athletic department as a whole. In addition to playing basketball and taking a sizable course load, she also interned in the athletic department.
While at NKU, Glick set herself up for success, studying accounting and sports business. But she attributes her desire to coach to her mother, Tammy. Glick's mom coached her from the time she was five years old until the eighth grade, as well as her summer travel teams during high school. 
"She [my mom] taught me to be a leader. She taught me to be someone who steps up to the challenge," Glick said.
For Glick, coaching is also an opportunity to pay it forward. She says all of her former coaches have supported her, and she in turn wants to give current and future basketball players that same feeling. 
In between finishing her playing career at NKU and returning as part of the coaching staff, Glick spent a year as an onboarding specialist at Draper & Kramer Mortgage Corporation. She says this job played an important role when it came time to come back to NKU.
"I actually worked for one of my old college coaches, Karmen Graham," Glick said.
In addition to playing for NKU, Graham recruited Glick and was on the coaching staff during her freshman year.
"She [coach Graham] also knew I wanted to get into coaching, and she supported me with that," Glick said.
Current and former members of the coaching staff are not the only people that saw Glick's potential. Grayson Rose, now a senior on the NKU women's basketball team, spent three years playing alongside Glick. The two also competed in high school, but being on the same team opened Rose's eyes to Glick's potential.
"We always thought that she'd be a great coach outside of NKU because she was such a leader on the floor," Rose said.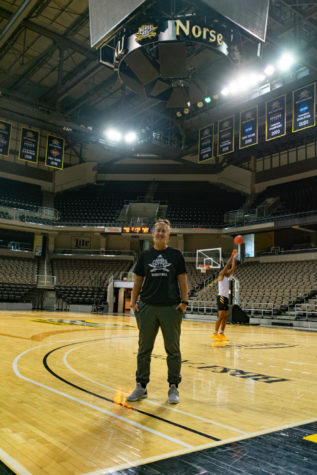 When the time came to search for a new director of operations, Whitaker was part of the hiring process. She says that adding Glick to the coaching staff was almost a no-brainer.
"I want somebody who we can trust, who I know is going to work extremely hard and buy into our culture that we've built. And who better than someone who was a part of that?" Whitaker asked. 
Now, as the Norse prepare for a new season, Glick's days are consumed with reserving hotels and buses for road trips, providing player meals, keeping stats during practice, setting up and tearing down each practice, as well as working with the team's student managers. Outside of her operational duties, Glick sees herself as a support staff for the players. She noted that her door is always open, and hopes to be someone that the team can rely on because of her experiences as a player.
"I went through a coaching change. I've been through injuries. I've been through the good and the bad throughout playing in this program," Glick said. "I can relate to what the players go through."
As the youngest and newest member of the coaching staff, Whitaker sees Glick as a way to bridge the gap not only between coach and player, but also between generations.
"She was not too long ago a player, so she brings a different perspective with the youth," Whitaker said.
Glick ultimately wants to be a head coach at the Division 1 level, but she is aware of how much work she has to do to achieve that goal.
"I know I'm just starting. I know I gotta work my way up the totem pole,"Glick said.
Despite an uphill climb, Glick is grateful to start her journey at her alma mater.
"I'm excited to be in this atmosphere and to have this chance. Huge appreciation for Coach Whit and the coaching staff for giving me this chance," Glick said.
This story can also be found in The Northerner's Sept. 29 newspaper.