NKU WBB falls to Akron, Marques Warrick named Freshman of the Week for MBB
Updates on what is happening around WBB and MBB programs
December 1, 2020
The NKU women's basketball team suffered a loss to the Akron Zips on Tuesday night, losing by a score of 70-60.
Despite out-rebounding Akron by a wide margin, the Norse struggled to generate consistent offense, shooting just 4-20 from three-point range and a measly 36 percent from the field. Guard Ivy Turner led the Norse with 15 points, while fellow guard Carissa Garcia recorded 11 points. Forward Kailey Coffey led the team with nine rebounds.
Defensively, the Norse struggled to stop two players for Akron, forward Jordyn Dawson and guard Rachel Martindale, who each scored 17 points. Martindale was terrific from beyond the arc, connecting on five of her eight three-point attempts. In a stark contrast to NKU, Akron was successful on 36 percent of three-point attempts, while also cashing in on 13 of their 16 free throw attempts. 
Point guard Ally Niece had a tough game offensively, adding just four points on just 2-5 shooting from the field. The four points she scored was the lowest point total that she has recorded since Jan.11 of last season when she had scored two points against UIC. In between those two contests, Niece has recorded 12 double-figure scoring efforts.
The Norse are now 0-2 on the season, though the team will be returning to BB&T Arena for the first time this season on Thursday to battle Bowling Green State. The game will tip off at 12:00 p.m..
Marques Warrick named Horizon League Freshman of the Week
On Monday, NKU men's basketball guard Marques Warrick was named the Horizon League Freshman of the Week after his performance in last Wednesday's victory over Ball State.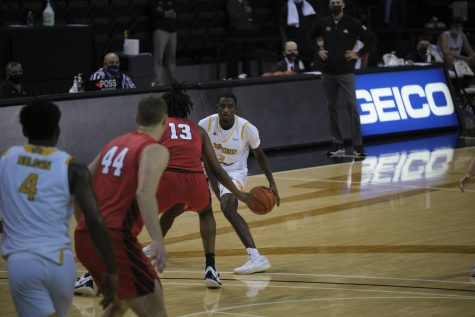 The freshman Warrick had a terrific first game of his college career against the Cardinals, scoring 14 points, with four rebounds and four assists, while ranking second on the team in minutes with 35. 
Head Coach Darrin Horn took to Twitter to congratulate Warrick on his early accomplishment. 
"Congrats to Ques! His first won't be his last. And all our other freshmen could earn this award this year as well. Excited about our young guys. #NorseUp," Horn tweeted.
NKU MBB resumes basketball activities after canceled game
According to a statement put out by NKU Athletics on Monday evening, the Norse have resumed practices and other basketball activities, as the positive COVID-19 test that was detected on Friday came back to be a false-positive. The Norse postponed their game against Chattanooga last Saturday before the positive test was known to be false.
According to the press release, the NKU team physician performed three confirmation tests on the individual within the program that initially tested positive, and all three came back negative. The individual has remained asymptomatic. 
The Norse, who are 1-0 on the season, will battle the Tennessee Tech Golden Eagles on Thursday at BB&T Arena. The game is scheduled to tip off at 6:00 p.m. and can be seen on ESPN3, as well as heard on the radio on ESPN1530.