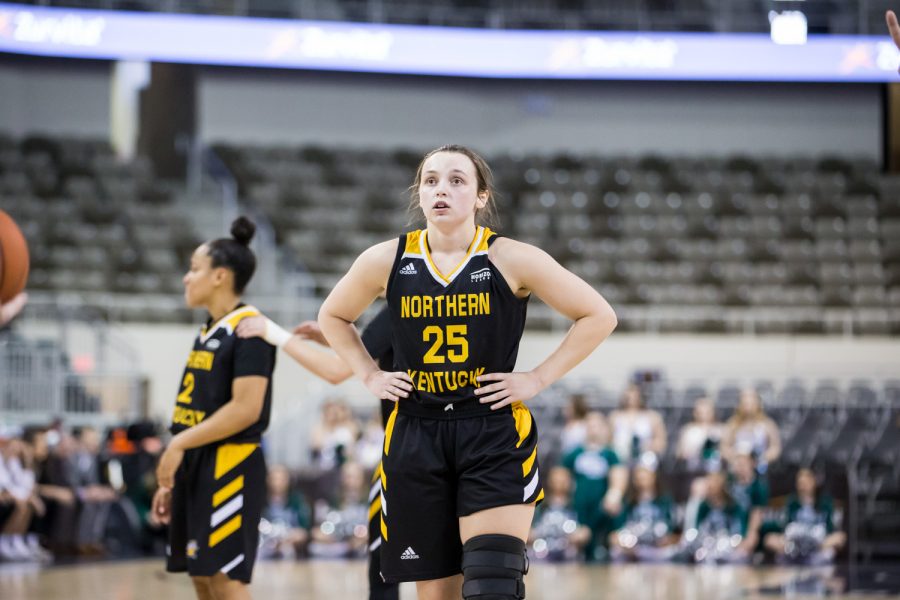 Ally Niece embraces leadership role entering junior season for NKU WBB
As a point guard, Ally Niece has always known her role on the Northern Kentucky Women's basketball team was to be a leader.
Entering her junior season—a season that, due to COVID-19, promises to be unlike anything the team, fans or the NCAA have ever seen before—the leadership role that Niece is embracing becomes even more important.
"I feel like, for me, it's my responsibility to step up," Niece said.
For Niece, stepping up this season means trying to fill the leadership role that was previously held by Molly Glick, who finished 18th in scoring in NKU WBB history during her four seasons with NKU before graduating.
"She was a leader just by her presence," Niece said about Glick. "Sometimes, in practice now, I look back and think 'wow' because it's so different now that Molly isn't here."
While the team is losing one of its top contributors both offensively and defensively in Glick, the Norse return several key pieces from their 2019-20 squad.
Ivy Turner, a sophomore who started all 32 games as a freshman last season, will now take on an increased role in the offense after finishing third on the team with 8.8 points per game a season ago. Fellow sophomore Carissa Garcia averaged 7.3 points per game in 2019-20, while also leading the Norse in free-throw percentage.
In the frontcourt, the Norse bring back seniors Kailey Coffey and Grayson Rose, as well as junior Emmy Souder, the three leading rebounders from last season's 20-win team.
However, despite the plethora of talent and production that is returning, there is perhaps no more important returnee than the former Simon Kenton High School standout, Niece.
Niece led the Norse in scoring in 2019-20 with 13.1 points per game, dished out a team-high 107 assists, and became an emerging leader for the team during just her sophomore season.
Now an upperclassman, Niece is preparing to take her leadership and guidance to another level, having discussions with head coach Camryn Whitaker about how she can improve in that regard. 
"Ever since I've been here, I've been the point guard, so [Whitaker] has always told me that 'you need to be a vocal leader and be vocal on the court'," Niece said.
Partly because Niece has handled point guard duties for each of her first two seasons with the Norse, her role as a leader is starting to become second nature.
"We've had talks about it before, but I think this year I know. She doesn't need to tell me," Niece said.
Being one of the leaders of a basketball team has changed dramatically from what that used to entail, due to COVID-19 and the unpredictable circumstances that have engulfed this year.
"It's been so hard for us to be able to hang out with each other because of all the risks that you take," Niece said.
Through all the uncertainty, Niece believes that the pandemic may actually strengthen the bond that is being created.
"Our team, when we go through adversity, we come closer. We've already been through a lot of adversity anyway, so this is just another thing thrown at us," Niece said.
In addition to being able to keep the team together off the court, a leader of a team typically excels on the court as well.
Niece compiled numerous accolades during her sophomore season for her on-court achievements, most notably a selection to the 2020 All-Horizon League Second Team. Niece would later be named to the 2020 Horizon League All-Tournament Team, despite the team's loss in the semi-final matchup to Green Bay.
Niece was especially productive on the court during the final six games of the season, which included three games in the Horizon League Tournament. During this stretch of games, Niece averaged 19.7 points per game. This stretch included the Horizon League quarterfinals when Niece posted a career-high 27 points against Milwaukee.
"I think that towards the end of the season I just got some confidence," Niece said. "With us losing those first four games, I felt a lot of pressure and I put a lot of pressure on myself. Towards the end of the season, I just started to relax and realize that I can do this and have confidence in myself."
Confidence is a term that continues to encompass the WBB program at NKU as they return almost every key contributor from a 20-win team and enter the 2020-21 season as one of the presumptive favorites to win the Horizon League.
"I think right now we're trying to change our mindset to 'they have to come play us' versus 'we have to play them'," Niece said.