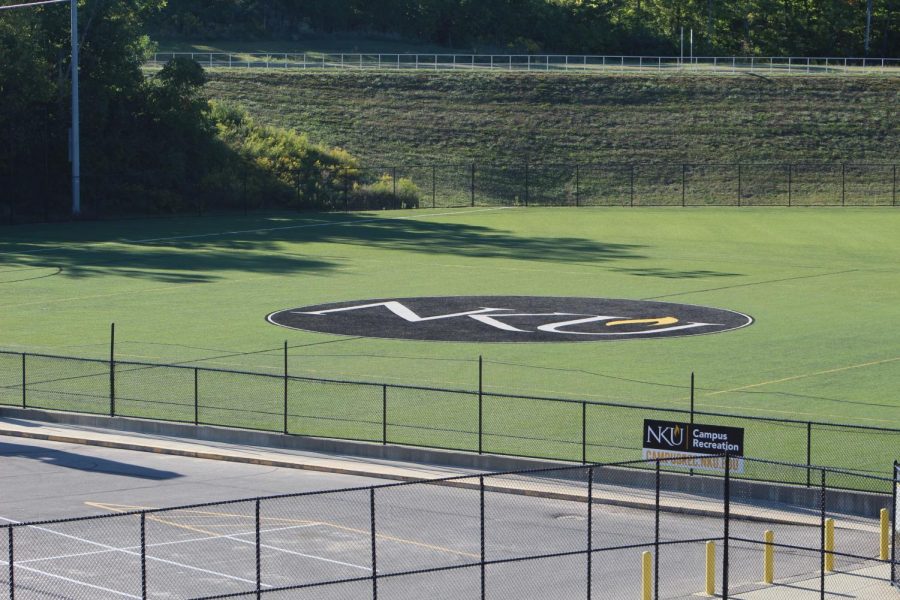 With NKU athletics postponed, what do intramural leagues look like?
September 20, 2020
On Aug. 13, the Horizon League and its Board of Directors came to the decision to postpone competition in fall sports due to COVID-19, affecting various NKU athletic programs.
However, despite the absence of official NKU sports such as soccer, golf, volleyball and cross country, students can still experience the excitement of competition through intramural sports leagues.
Tori Landron is the Assistant Director of Sport Programs at the NKU Campus Recreation Center and is heavily involved on campus with intramural sports leagues, and the planning required to make them successful.
In a semester that has been upended by a global pandemic, that planning has had a much different look than previous semesters.
One of the biggest changes has been trying to limit team sports as much as possible, in an effort to accommodate social distancing guidelines.
"We can't play basketball; we can't play soccer right now just because there is too much contact and too much closeness, whether we're indoors or outdoors," Landron said. 
Basketball and Soccer are some  intramural sports that will be discontinued for the semester along with flag football, volleyball and sand volleyball.
According to Landron, there are some team sports that can still be played safely while keeping health protocols in mind, namely kickball and softball. 
"With softball, yeah we touch a ball, but it's easy to change out the ball and interchange it as much as possible," Landron said. "Same thing with kickball, we can rotate two balls, and teams can play with their own ball at least."
Landron anticipates that kickball will be the most popular intramural league among NKU students this semester. 
NKU plans to incorporate more esports into their intramural programs, particularly as face-to-face interaction becomes limited during the pandemic.
Esports are video games, typically played in multiplayer mode, that are played competitively and often streamed for an audience.
One way in which the rec center is trying to engage students in these esports leagues is through a messaging and gaming platform known as Discord. 
NKU has their own Discord page for their leagues, called NKU Intramural Esports. The page is available to any NKU student who signs up with the platform and wishes to join a league.
"We do a lot on there [Discord] and we're trying to capture people in that way, along with a virtual spelling bee, geography competition, a trivia night, and just different ways that are not just catered toward "egaming" but some sort of social interaction at the same time," Landron said.
The Campus Rec Center has state-of-the-art basketball facilities, making basketball a very popular intramural league for students to participate in.
In regards to when intramural basketball may be able to return, much of it depends on what the NCAA decides to do with the return of college basketball across all levels of competition. 
There have been numerous discussions within the NCAA about college basketball teams playing games in a "bubble format," although no concrete plans have been finalized. 
"A lot of conferences have made the decision to wait until Jan. 1, so I'm hoping that if the first couple of months go well that it will trickle down to us and we'll be able to be good to play. I'm hopeful that we'll have some sort of basketball in the spring," Landron said.
NKU students who are interested in participating in any of the intramural sports leagues that are currently being offered at NKU can visit the intramural sports page on NKU's website to sign up.
Landron is currently working on creating a video for NKU students that will help answer any questions that students have regarding intramural leagues, as well as how to sign up.
The Rec Center has also made variations to the price of intramural leagues for this semester, including making kickball and softball leagues free to play, according to Landron. 
"We're trying to make it affordable for everyone," Landron said.
As for the long-term future of intramural sports leagues at the Campus Rec Center, Jill Wood, current associate director of programs, is optimistic. 
"I think it's going to be really cool, because we'll be able to offer the things that weren't allowed to do this year, but maybe if the trivia nights go really well, then maybe we keep trivia nights or eSports tournaments," Wood said.
Ryan Heckmuller, a communication studies major at NKU and an intramural supervisor for the Rec Center, oversees the various competitions and ensures that the leagues are operating smoothly.
"My favorite part, personally of [intramural leagues] is just the joy, happiness and excitement that goes through all the participants," Heckmuller said. 
Landron also stressed that the significance of intramural leagues on campus is not just about the competitive aspect of the sport that is being played.
"It's not about competing. Yeah, we're playing for a shirt, but really coming out and participating and meeting new people, and having some sort of normalcy … is our ultimate goal," Landron said.