NKU WBB adds Anthony Epps to coaching staff
July 19, 2020
The NKU Women's basketball team has added former University of Kentucky basketball player Anthony Epps as an assistant coach, the team announced in a press release on Wednesday.
In 2019-20, Epps was the head basketball coach for the boys' basketball team at Campbellsville High School, guiding the Eagles to a 15-15 record last season. Prior to coaching the boys' basketball team, Epps coached the Campbellsville High School girls' basketball team for three seasons.
"We are absolutely thrilled Coach Epps decided to join our family at Northern Kentucky University," Head Coach Camryn Whitaker said in the press release.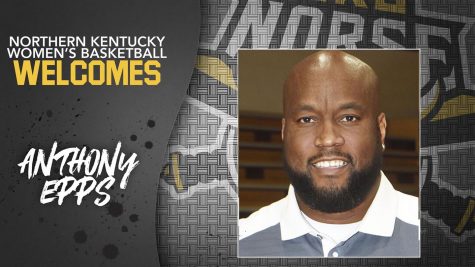 In addition to previous coaching experience, Epps experienced a storied playing career in the state of Kentucky. In 1993, Epps led Marion County High School to the 1993 KHSAA State Championship. Following that, Epps played at the University of Kentucky, where he helped lead the Wildcats to the 1996 NCAA National Championship—averaging 6.7 points per game during the 1995-96 campaign.
"His playing experience at a championship level, knowledge of the game and ability to coach and develop players will help our team reach another level!," Whitaker said in the release.
"I'm grateful and blessed to be joining the women's basketball staff at Northern Kentucky University. Thank you Coach Whitaker, for this amazing opportunity in the next chapter of my life. I am excited to work with this staff and team as we compete for Horizon League Championships! To God be the Glory! #NorseUp," Epps said in the press release.
Epps will be joining a Women's basketball team at NKU that went 20-12 last season, reaching the Horizon League semifinals before losing to Green Bay.