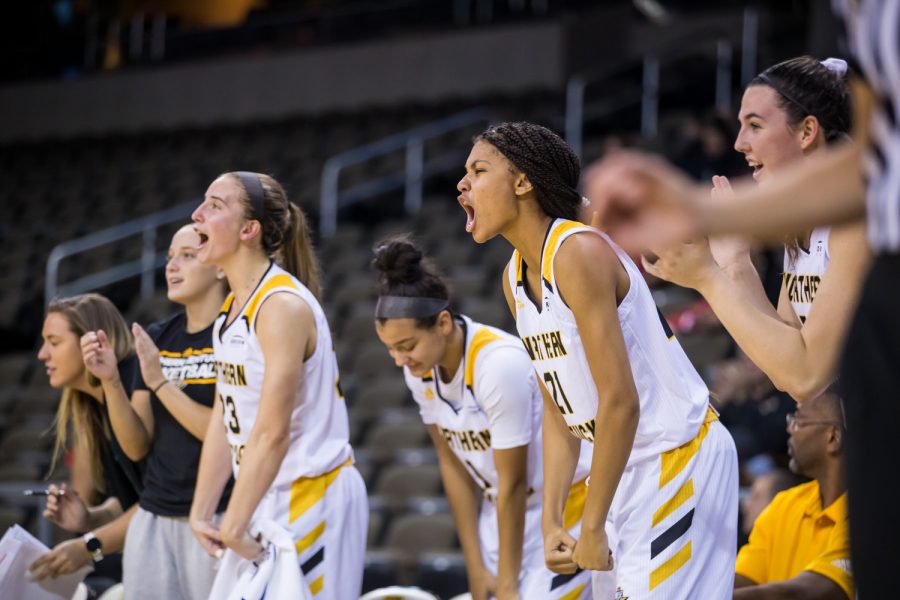 Women's Basketball: With experience comes excitement for the season ahead
For the second year straight, the Northern Kentucky women's basketball team is projected to finish sixth in the Horizon League preseason poll. Redshirt senior guard Molly Glick received Preseason All-Horizon League Second Team honor. 
The Black and Gold finished fifth in the Horizon League regular season standings last season with a record of 11-18. This was a two-win increase from the 2017-18 season, and the Norse look to rack up even more wins this season with five upperclassmen returning as well as three sophomores and a new junior transfer student. 
"I am extremely excited about our team this year; it's nice to finally have some experience on the court," Head Coach Camryn Whitaker said. "It definitely shows. I am really enjoying coaching this team. There's a lot of positive in our atmosphere, in our practices and lots of talk." 
Areas of improvement
One area the Norse are looking to improve in is their nonconference play. Last season, the Norse won their first two nonconference exhibition games against Pikeville and Alderson Broaddus. After that, the Norse fell short in their remaining nine games. 
"We've got to improve in the nonconference. I think that we've got a really good schedule set up that will help prepare us for Horizon League play," Whitaker explained. 
On the flip side, the women's basketball team showed great signs of development toward the end of last season. The Black and Gold ended the regular season winning eight of their last 11 games. They will look to pick up that momentum they had going at the end of the regular season and carry into the 2019-20 season. 
Returning to the court
Glick is looking forward to her final season in Highland Heights. Glick averaged 10 points and 2.8 rebounds last year for the Norse. The fifth-year guard was ranked sixth in the Horizon League last season, averaging 1.9 3-pointers a game. Her 55 3-point baskets last season pushed her into the top five all-time on NKU's 3 point list. Glick and sophomore guard Taylor Clos tied for the team lead last season with 27 steals a piece. 
Glick wants to focus on playing with more confidence this season. 
"When we got into conference play last year, obviously we were a little down because our record wasn't the best, but ending on a six-game winning streak, that definitely helps our confidence this year," Glick said. 
Another leader on the court this year will be junior forward Kailey Coffey. As a sophomore, Coffey was the Norse's best glass cleaner, averaging 8.1 rebounds per game. Coffey was named to the Horizon League All-Academic Team and Google Cloud Academic All-District Team during the 2018-19 season. 
Coach Whitaker that Coffey is more aggressive this year and has worked hard on expanding her game. Whitaker said Coffey has developed an outside shot and improved her ability to play multiple positions. 
Coffey said her status as a team leader and mentioned what her main focus is for the season.
"Knowing when I need to drive or take the outside shot or do what my team needs me to do. Defense is what I have been working on the most," Coffey said. 
Sophomore point guard Ally Niece will be a big key this year for the Norse to have success. Last season, Niece was elected to the Horizon League All-Freshman Team and racked in two Horizon League Freshman of the Week awards, both of which were during conference play. She scored in double digits 15 times, including two games with 20+ points.
Coach Whitaker said that Niece's strong play to end the season last year will help the team's overall confidence, as she will remain the starting point guard for her sophomore season. 
"The college game is a lot different, and I am not the best player, so I have learned to be smarter and I think that's one of the biggest things that I am looking to improve," Niece said. 
Whitaker and her coaching staff have not talked extensively about starting lineups for the 2019-20 season. However, Whitaker said that she would not hesitate to put freshman guard Carissa Garcia in the starting lineup if the season were to start today. 
"Carissa would probably start at the three or the two on the perimeter and, as a freshman, those are big shoes to fill. She's a competitor, and I think everybody will really enjoy watching her play," Whitaker said. 
Veterans in the game, new to NKU
Junior forward Janna Lewis, a transfer from Motlow State Community College in Tennessee, averaged 22.7 points and 11.3 rebounds per game last season, ranking fifth and 14th in the NJCAA, respectively, and was named to the NJCAA All-America Second Team.
Lewis also pulled in first team all-conference honors in both campaigns and was named the 2018 Tennessee Community College Athletic Association Freshman of the Year and 2019 TCCAA Offensive Player of the Year and Co-MVP. 
Lewis will greatly help the Norse down low against conference rivals like Wright State, IUPUI and Green Bay who all have great post players and are physical teams when it comes to rebounding. 
"She is one of the strongest players I have ever coached. She's only about 5'9, but you cannot move her in a fight, and she is a great rebounder," Whitaker said about Lewis. 
Another newcomer for the Norse this season is Assistant Coach Lester Rowe. Rowe joined the Norse in July 2019 after spending the last eight seasons as an assistant coach for the West Virginia Mountaineers women's basketball team. During his time in Morgantown, the women's team had one of their most successful runs, with six 20-win campaigns and five NCAA Tournament appearances.
The Black and Gold open the season on Nov. 6 against the Eastern Kentucky Colonels. Several newcomers as well as returning leaders for the Norse this season could help them reach their goal of obtaining a better record during nonconference play.  Over 20 games this season will stream on ESPN+, and several will be watchable on ESPN channels.