Post-McDonald Era: Pressure is off, opportunity to build
The past three years for NKU men's basketball program have been history-making, with two trips to the NCAA tournament (2017, 2019) and one trip to the NIT (2018). The Norse are focused on improving from those seasons with a new coaching staff, a new style of play and four players returning out of last season's starting five. 
"We want guys that want to be here and I think this is a group that saw the value of sticking together," Head Coach Darrin Horn said. "With a lot of returning guys I'm excited about the opportunity to continue to get better and grow and move forward as a team and as a program."
With a preseason ranking of second in the Horizon League, the Norse expect to make it back to the NCAA tournament. 
"That is pretty much the mentality that we take on," redshirt junior guard Jalen Tate said. "You play the games to win every single game, and you play every single conference tournament, regular season, everything like that to do the same thing."
Style of play
With the Norse now entering the post-Drew McDonald era, this season's style of play will look different from previous years. Post presence has been a major key in the past; the post will still be utilized, but not in the same capacity as seasons of the past. Nine of the 14 players on the roster are listed as guard or wing, indicating a faster style of play for this year's squad.
"We've got three guys that will play the five spot for us," Horn said. "You're not going to see the ball thrown into the post a whole lot this year with us with the way that we want to play."
When it comes to rebounding, the Norse will make it more of a group effort than before.
"Replacing [Drew McDonald] is going to be a group effort, but I mean, we got Silas, Adrian and Dantez is back to play down low," senior guard Tyler Sharpe said. "The guards got to be able to help the bigs rebound."
The Norse look to be more active and disruptive on defense, creating more opportunities to score in transition. The quality of shot selection while creating quick plays was an emphasis over the summer.
"Create more turnovers for more easy opportunities, which translates into the offensive end; honestly, looking for the best available shot," Tate said. "Why run 26 seconds of offense to get the same shots we can get in six to eight, you know?"
Team makeup 
Coach Horn noted that the main three inside players are redshirt junior forward Silas Adheke, sophomore forward Adrian Nelson and senior forward Dantez Walton. Adheke saw 100 minutes across the 20 games he played in last season. In those games, he averaged two points and 1.7 rebounds per game.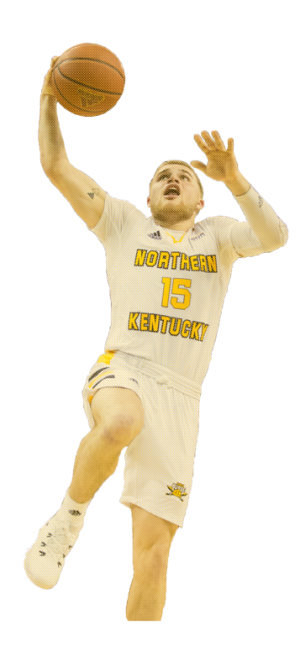 Nelson isn't currently at "full go" from a summer injury, but when he is, the Norse plan to use him. Nelson had 252 minutes across 30 games and averaged 8.4 buckets and 2.5 rebounds. Nelson shot perfectly during the NCAA match against National runner-up Texas Tech. Giving the Norse six points and eight rebounds.
Walton started all 35 games for the Norse in the previous season. He played a total of 992 minutes with an average of 11.1 points per game and 5.5 rebounds. Although Walton was seen on the wing with a total of 62 three-pointers in the previous season, Coach Horn sees him making an impact down in the post as well. 
"I think [Walton] is the guy," Horn said. "Because of his versatility, ability to shoot the basketball, he's playing at the five. He can present some real problems for people." 
Building from the past
"I believe we're standing on the shoulders of everybody that's come before, so to be in [this] position to me is not pressure. I think it's an opportunity and it's great," Horn said.
Tate said that the ending of last season in Tulsa wasn't his best showing. From that moment on, Tate decided to try to be the guy his teammates could lean on in big-time games and every game in between. 
"Be consistent, be an everyday guy and be that much better of a leader," Tate said. "We knew Drew wasn't going to be back. Seniors graduate and they move on to their next chapter in life. But just to be somebody that my teammates could look up to as another guy."
As far as on-court improvements, Tate mentioned extending his range and furthering his jumpshot to become more consistent. The Preseason All-Horizon League First Team guard played 31 games last year, and was able to average 13.7 points per game and 4.1 assists per game, with a .407 percentage behind the arc.
Sharpe was an integral part in keeping NKU in the game against Texas Tech in the NCAA tournament, where he was four of seven from behind the arc and contributed 23 points total. After that game, Sharpe took a moment to think about what he could do in order to elevate the Norse to making an actual NCAA tournament run. 
"I just wanted to keep getting more athletic," Sharpe said. "Slim down a little bit, get faster and continue to hone in on my strengths. Shooting and playmaking, my ball handling and just become more of an all-around player." 
Sharpe was named Preseason All-Horizon League Second Team this season with stats like 14.4 points per game, 3 rebounds per game and 52 steals last year.
Sophomore guard Trevon Faulkner played in all 35 games and started in the last 28. Faulkner averaged 4.7 points per game and averaged 2.5 rebounds per game. He was known as a defensive spark, and is someone the Norse will expect a lot from.
"Trevon Faulkner, for one, the guy's always in the gym," Tate said. "He's made numerous strides offensively. He's always been a defensive standpoint on our team, a focal point that we've had." 
There are many new faces surrounding the men's basketball program, but one thing hasn't changed: their heart to win and willingness to learn the game. 
"I give our team credit; they've had an unbelievable willingness to learn and try new things and just do things in a different way," Horn said. "I'm thankful for their attitude and their willingness, especially from a team that's won a lot of games and guys that have a lot of experience. 
"They've got a maturity about them, competitiveness about them. I don't think they're satisfied with where they are, where the program is, so it's been fun to get in the gym every day and work with them."