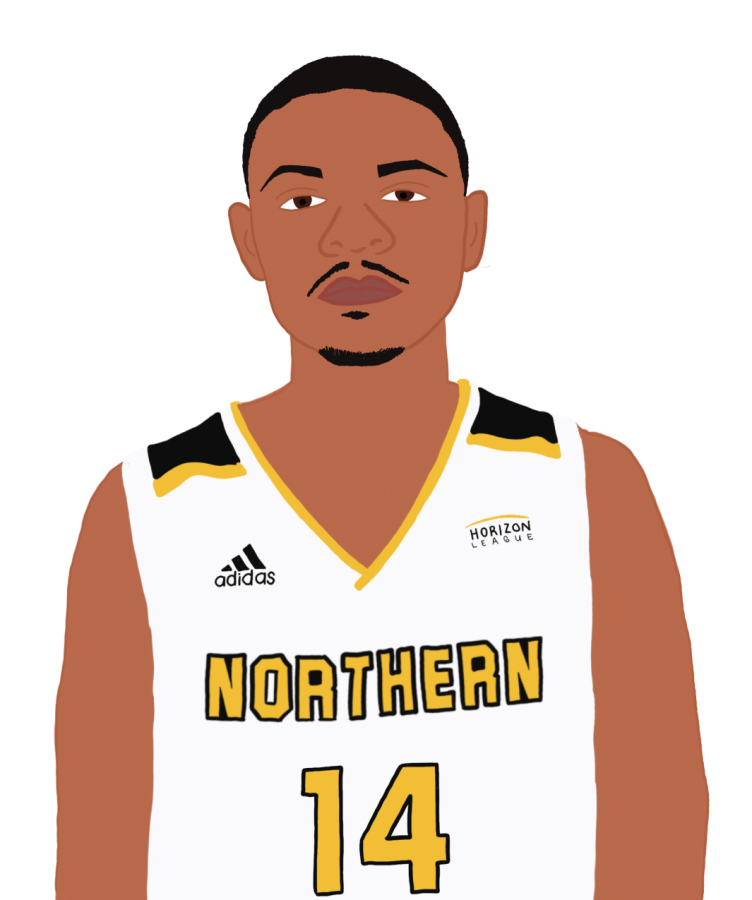 Get to know the newest Norse basketball players
The newest member of NKU's men's and women's basketball team.
Karl Harris Guard/Grad student
Harris is a health science graduate student at NKU. During July, Harris was able to come to campus and explore the opportunities at the basketball program. Since he had the opportunity to play one more year at the collegiate level, he said, "why not?" Harris brings versatility and leadership to the team. "Coaches can kind of put me anywhere and I feel like I can succeed. Just bring in toughness, leadership, whatever the coach needs." In his free time, Harris likes to screenwrite. He draws inspiration from watching other screenplays and movies.
Janna Lewis Forward/Junior
Lewis is a communication major who transferred from the National Junior College Athletic Association level. Last season alone, she averaged 22.7 points per game and had 11.3 rebounds per game. Lewis, although 5'9", looks to add that dynamic performance to NKU. The skill development aspect is one of the things that attracted Lewis to NKU. "I went from [junior college] and I was doing good there, but they really wasn't on me as much being nit  picky with everything. So, now that I'm back to that type of program is bettering me." Lewis is into cooking and seafood is her favorite. "My mom's a chef. She taught me how to bow down in the kitchen."
Adham Eleeda Guard/Junior
Eleeda was drawn to NKU because of the coaching staff and their vision coming into the school year. "What they're bringing to the team and what they believe in and I have the same beliefs they have and mostly just the winning culture they have here." Eleeda said he felt the summer was a great adjustment period and didn't fret about the 3-point line change. "I'm from Canada. It's the same line so I'm really pretty used to it. I kind of had that advantage over most people." Eleeda describes himself as a "laid back guy" and enjoys fishing when he gets the chance.
Ivy Turner Point Guard/Freshman
Turner anticipates being a teammate that gives her all. "When I get in, it's 110 percent scoring, driving, hitting open people. Hit my teammates whenever they're hot and just do whatever I need to do to be able to get the win." Turner said she's grateful to be playing at this level. "Such a blessing to be here playing at this level and just competing." Turner has a twin sister and can be found spending her free time hanging out with her. "I really just like hanging out with my family, doing whatever." 
Bryson Langdon Guard/Sophomore
Langdon comes from one of the hottest cities in America Yuma, Arizona. With an average of 16.3 points during his last season at Arizona Western, Langdon looks to be a utility player for NKU. "I can say my game is versatile. I like to shoot, I like to get to the rim. So, really, whatever the defense gives me." Between the family-like coaching staff and the NKU community's support Langdon already feels like he's at home. "You can just be walking on campus and somebody come and greet you. I feel that's real comfortable for me." When he's not in the gym, Langdon can be found binge watching different series. "Ozark" is one of his latest binges.
Tayah Irvin Forward/Freshman
Although Irvin is a freshman, she felt at home jumping into the mix of the women's basketball team. "I really didn't need to get to know them as I got here since I had known them for so long. We're already like our own little family." Irvin is a rebounder at heart, both offensively and defensively. Getting offensive putbacks, scoring some points and bringing energy on the defensive end are a few more things Irvin plans to do for the Norse. In high school, Irvin won state in basketball and track, making her someone who is used to a winning culture.
John Harge Forward/Freshman
Harge is the freshman of the men's bunch and plans to major in sports business. Harge enjoys winning, so he felt the culture of NKU was a perfect fit for him. Although Harge is out with an ACL injury, he plans to bring plenty of energy to the team. Harge is focused on learning the game, becoming more mature and putting on some muscle while he recovers. 
"When I start practicing again, just push everybody in practice, work on getting myself better and the team better." Harge loves dogs and particularly likes french bulldogs. "I saw Ben Simmons, he had this little French Bulldog. It was all black. He put a chain on it. So that's my next dog, for sure." 
Carissa Garcia Point Guard/Freshman
Garcia is a "no days off" kind of player. The freshman point guard feels that the team is starting to learn about one another and mesh together well. Garcia is another force of energy that can spark the game with her shooting and defensive play. "Communicating and talking a lot. I think, is gonna be really important for me." Garcia believes the team is capable of winning a lot this year and is excited to continue bonding with the team. Something off the court that Garcia practices is playing her guitar. "I just one day had a Hannah Montana guitar and I started playing."