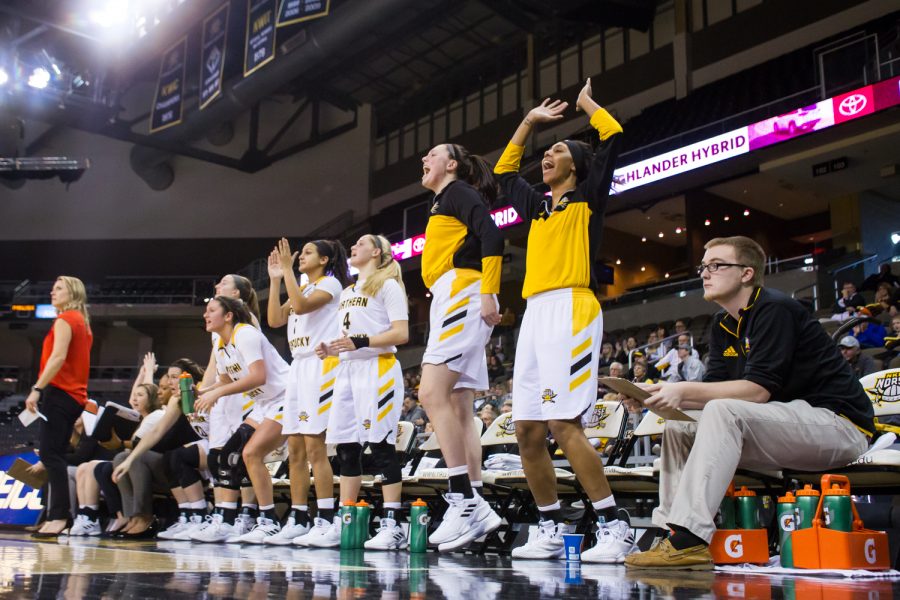 Norse knock down UIC, 78-44
This win marks the largest win streak of the season with 4
February 2, 2019
NKU women's basketball team win 78-44 against UIC Flames Saturday afternoon at BB&T Arena. The Norse climb to 7-14 this season and 6-5 in the conference. This win marks the highest win streak of the season with 4. UIC falls to 3-19 this season and 1-10 in the conference.
Redshirt junior Molly Glick and sophomore forward Emmy Souder led the game with 14 points a piece. Glick made 4 of 6 from behind the arc and Souder knocked down 5 of 6 from the field. Freshman point guard Ally Niece added a double-double of 12 points and 11 assists. Freshman point guard Taylor Clos rounded out the Norse in double digits with 11 points, 2 rebounds, and 3 assists.
The first half went well for the Norse on defense and offense, holding the Flames to 20 percent from the field and giving up no threes. Norse offense shot 43 percent from the field and 85 percent from the free-throw line. The Norse did a good job spacing the floor and had a lot of ball movement throughout the game.
NKU women's team were up by 21 at the half with a score of 35 -14. Souder had 9 of her 14 points during the first half. She went to the free-throw line and made 4-5 from the line.
In the third quarter, Norse started with a 6-0 run and finished the quarter with a 19-7 run. NKU had a perfect 3-3 from behind the arc. For the game the Black & Gold out rebounded the Flames 44-25, and the bench out scored the Flames 29-9.
Niece felt confident about the win transitioning into their next away games.
"I think for us we have been through so much that we aren't really taking it for  granted. We want to see that [the success] come more and more, so I think that it's a good thing for us going forward and something we can bring along with us to help us."  
Norse closed out this win and Head Coach Camryn Whitaker was very pleased with her team and felt they did a good job with execution.
"Our offense continues to evolve and get better, so super proud of them."
NKU has 4 consecutive road games coming up, the first away game being against Green Bay. The game will take place on Thursday, Feb 7, tip off is set for 8 p.m. The game will be broadcast on ESPN+.