Season Preview: Men's Basketball
With several standouts exiting, will the team be able to pull off a 2019 tournament berth?
November 9, 2018
As the Norse prepare to enter the 2018-19 season, gone are standouts like Lavone Holland II, Carson Williams, Jordan Garnett and Mason Faulkner. Those four were an integral part in helping head coach John Brannen engineer one of the fastest and best turnarounds in the nation. So far, the Brannen-led Norse boast back-to-back 20-win seasons, a spot in the 2017 NCAA tournament in their first year of eligibility and an NIT bid in 2018.
Despite the losses and the return of only two starters from the last two years, there's still plenty of firepower and a lot to get excited about for the 2018-19 campaign.
"I want our team to be a reflection of our style of play," NKU head coach John Brannen said. "Which is aggressive and disruptive and I think this team certainly has the potential to be that."
The Norse were recently picked to finish second in the Horizon League as voted by the League's coaches, media and sports information directors behind league favorite and last season's Motor City Madness Tournament winner Wright State. SB Nations Mid-Major Madness also released their preseason poll and followed suit by picking the Norse to finish second behind Wright State.
"I don't really necessarily believe in preseason rankings because we haven't finished anywhere where we've been picked yet in the preseason," Brannen said. "You never know what's going to happen once the ball is put out there I think it speaks more probably to the winning culture that we've got in this program and the respect that this program has gotten that we didn't have two years ago and the fact that we have the best player in the league."
One Last Ride
The Norse will be led by recent gold medalist and First Team All-Conference star Drew McDonald, who led the Horizon League with 18 double-doubles (11th nationally) while averaging 17.0 points and 9.6 rebounds last season.
The two-time First Team All-Leaguer also ranked inside the top 15 in the Horizon League in scoring, rebounding, field-goal percentage, three-pointers made per game and free-throw percentage.
"He is one of the premier players in our league," Brannen said. "He's a guy that impacts the game in so many ways: scoring, rebounding, we can play through him offensively even though he is basically our center."
The Cold Spring, Kentucky native and future NKU Hall of Famer enters his final season as the all-time leader in defensive rebounds (555) and 11th on the Norse's all-time scoring list 1,431 points.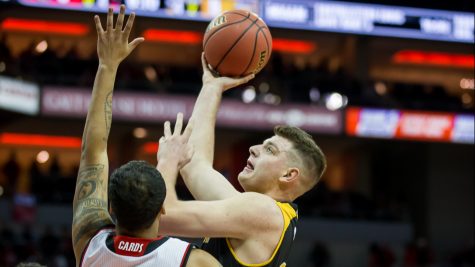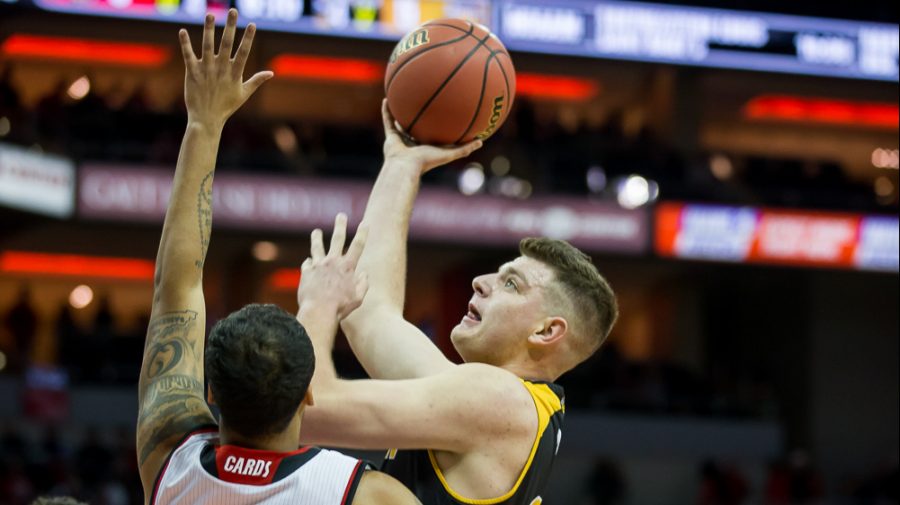 "He just impacts the whole community, being from Northern Kentucky, and he really carries the mantle for everything," Brannen said. "I'm very excited about the opportunity to coach him in his fourth year. He is a special young man, and I know our fans have really enjoyed watching him."
The 6'8", 250-pound senior was recently named Horizon League Preseason Player of the Year for the second year in a row and is one of 20 watch list candidates for the 2019 Karl Malone Power Forward of the Year Award.
Named after the two-time NBA Most Valuable Player and class of 2010 Hall of Famer Karl Malone, the annual honor is in its fifth year and recognizes the top power forwards in Division I men's college basketball.
"It's an honor to be put up with some of the top guys in the country, but ultimately that's a preseason award and there's been no basketball played yet this year," McDonald said of being chosen among the nation's elite power forwards. "Basketball is a team sport. I didn't come to win Player of the Year or Karl Malone Power Forward of the Year. I came to win championships and help the program. That's where my goals lie this year."
Key Returnees
In addition to McDonald, the Norse will also welcome back defensive standout Jalen Tate.
The 6'6 redshirt sophomore was recently selected to the Horizon League's Preseason Second Team and is coming off a season where he averaged 5.7 points, 2.3 rebounds, 2.0 assists and 1.4 steals per game.
Tate, who also led the Norse in steals (42) and blocks (19) last season, earned Horizon League All-Freshman Team and Horizon League All-Defensive Team honors as well.
"Jalen is really a dynamic defender," Brannen said. "We'll also need him to take on more of a scoring load this year, so he will get that opportunity. He's a really good player."
Two other key returnees are junior forward Dantez Walton (5.3 ppg) and junior guard Tyler Sharpe (6.7 ppg).
Sharpe played in 31 games and was second in the nation among walk-ons with 209 points last season while Walton played in all 32 contests and started each of the last four games while averaging 8.3 points and 5.5 rebounds per game in those starts.
"It helped my confidence," Walton said of his late-season starting assignments. "It was good that my teammates knew I could step up and play a huge role."
McDonald and Walton will also look to get support from sophomore Chris Vogt.
The 7'1 center wreaks of potential and was 6-of-10 shooting in the limited amount of action he saw last season.
"There aren't many 7-footers in the league," Brannen said. "I think Chris is going to be really good. He's had a really good summer and fall. Obviously McDonald and Walton will start at the 4 and 5, like they did at the end of the year. But Chris should be a guy that is very much a part of our rotation."
Players to watch
Though Brannen didn't reveal at media day who would take over the point guard position, two players vying for playing time at that position is graduate transfer Zaynah Robinson and freshman Trevon Faulkner.
Faulkner was named Kentucky Mr. Basketball last season and averaged 26.5 points and 9.2 rebounds as a senior at Mercer County. He also finished his high school career as one of seven boys in Kentucky High School Athletic Association history to post over 3,000 points (3,022) and 1,100 rebounds (1,103).
"If you have seen our team play, you know that we like to have long, athletic wings that can play full-court defense," Brannen said. "Trevon fits with our team and he'll be really good defensively for us. His offensive game will come as time goes on. He's a guy that plays extremely hard, he's extremely humble, and is a joy to coach. Those are three really good qualities."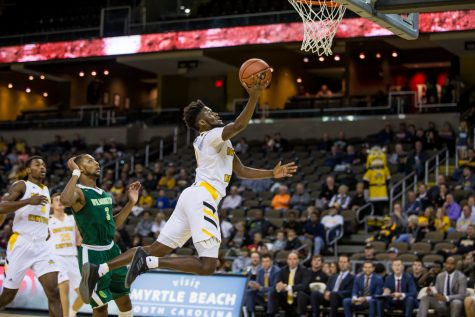 Robinson, who was recently selected Second Team All-League according to Mid-Major Madness, missed all of last season due to a back injury, but will be looking to replicate his performance from the 2016-17 campaign, where he rarely left the court (35.6 mpg) and averaged 13.5 points and 4.5 assists for Norfolk State.
"Lavone was arguably the best guard in our league," Brannen said. "He really brought a lot to the table for us. So we'll have multiple guys that will fill that position. We will count on Zaynah and utilize him for his experience. At the same time, he has to learn a whole new system, but we're working diligently to make sure he's ready for the season."
The Norse also added freshmen and transfers Bryant Mocoby, Adrian Nelson, David Wassler, Gerald Gray Jr, Paul Djoko and Silas Adheke.
Mocoby was an elite three-point shooter at Goddard High School in Derby, Kansas and racked up more than 1,200 career points, including averaging 18.2 points per game as a junior.
Nelson averaged 14 points and nine rebounds as a senior at Pickerington High School and was once teammates with current Norse Jalen Tate. The 6'6 forward gained national recognition last season when he broke the rim while dunking against Groveport Madison, earning the No. 4 spot on ESPN's top plays.
Wassler is a 6'10 center that averaged 4.9 points and 2.7 rebounds at St. Xavier high school in Cincinnati, Ohio.
Gray averaged 18.4 points per game and 3.2 assists per game while playing at Pleasure Ridge Park. The walk-on from Louisville, Kentucky also earned third team All-State honors by the Lexington Herald-Leader.
Djoko is a 6'5 redshirt freshman from Strasbourg, France that will finally get his opportunity to shine on the court after sitting out last season, while junior college transfer Adheke arrives after having a successful career at Eastern Florida State.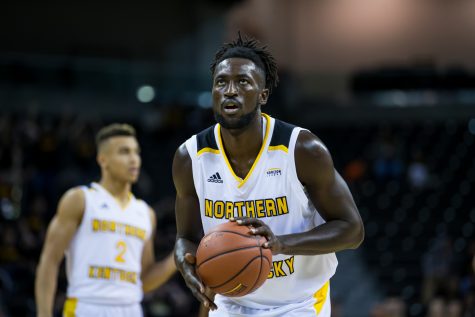 The Nigeria native averaged 7.1 points and 6.5 rebounds per game last season while helping the Titans to a 30-5 overall record and advance to the NJCAA national semifinals.
"It's been an adjustment for all of our new guys in terms of overall accountability, both offensively and defensively, coming into a new role and expectations not fully developed yet," Brannen said. "I tell our guys every year that the newcomers will provide great energy and talent, but they won't have an understanding of our system for some time, so we have to rely on our veterans while they're still figuring it out."
Since the turnaround in 2016, no other Division I program has won a conference regular-season title (2018), league tournament title (2017), played in the NCAA tournament (2017) and either the NIT (2018) or NCAA tournament in their first two years of Division I eligibility like Norse.
"You never really know what you have until you go play an opponent," Brannen said. "What I like about this year's team is the camaraderie, the connections they've made with each other, the culture that we've built that will increase and not just maintain."
With the influx of new faces and key returning starters, it's anyone's guess as to how the season will play out for the Norse. One thing's for sure, the Norse will look to maintain their momentum from the past two seasons and capitalize on McDonald's final year as they look to be in the mix for a conference title and another run at the NCAA Tournament.