Women's basketball: Horizon League picks Norse to finish sixth overall
October 24, 2018
The Horizon League recently announced their preseason poll and all-league team selections as voted by the league's head coaches, athletic communications personnel and media members. The Northern Kentucky University women's basketball team was picked to finish sixth in the Horizon League poll, up three spots from a season ago, while Norse junior guard Molly Glick was named to the All-Horizon League Preseason First Team.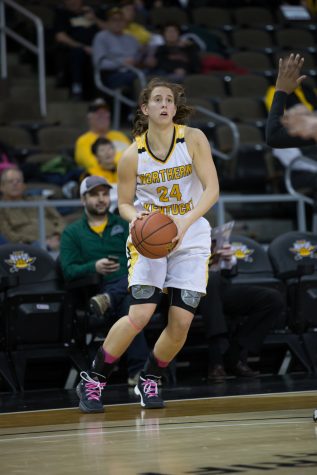 "I'm proud for her and proud for our team," head coach Camryn Whitaker said. "She's such a great leader, she's paid her dues, she's put in a lot of time and she works so hard and does so much for our team. I'm just proud for her to have that recognition."
This marks the first time in Glick's career that she has been selected to the preseason team. The Fostoria, Ohio native led the Norse in scoring last season with 12.4 points per game and was second on the team in steals with 34. She also led the Norse in three-point shooting with 64 triples made, and also ranked third in the Horizon League in threes per game, sinking an average of 2.1 shots a game from long distance.
"It's always good for the team to have someone put on the First Team," Whitaker said. "But at the end of the day, we're all here together as a team and Molly knows she can't do it alone, so we're just looking forward to all getting back out on the court to practice and get better."
Joining Glick on the Preseason First Team is last year's Freshman of the Year and this year's Preseason Player of the Year Macee Williams (IUPUI), Defensive Player of the Year and Motor City Madness All-Tournament selection Jen Wellnitz (Green Bay), Emily Vogelpohl (Wright State) and Sarah Cash (Youngstown State).
Green Bay was voted as the preseason favorite to win the Horizon League after receiving 28 of the 29 first-place votes. The Phoenix finished with 286 points in the poll and look to make it 21-straight regular season championships with the return of Wellnitz and 2017-18 All-Freshman selection Karly Murphy.
Coming in second in the preseason poll was IUPUI with 245 points, followed by Wright State at 226 points, while Youngstown State (184) and Milwaukee (165) rounded out the top five.
The Norse finished with 152 points while Oakland (117), Cleveland State (99), Detroit Mercy (65) and Illinois-Chicago (56) completed the preseason poll.
"Overall with our team, we don't really put a lot of stock into where we're ranked in the preseason poll," said Whitaker. "We're so young with 10 of our 13 being freshmen and sophomores, so we're still working every day to improve and get better without thinking about the end but thinking about the process and being the best that we can be."
After finishing eighth in the conference last season with a 9-22 overall record, Glick and last year's All-Freshman team member Kailey Coffey will look to improve on that as they lead the Norse along with newcomers Taylor Clos and Ally Niece this season.
The Norse will kick off their 2018-19 season in a home exhibition game against the University of Pikeville on Sunday, Nov. 4 at 2 p.m. and will begin the non-conference portion of their regular season schedule at home against Alderson Broaddus on Nov. 7 at 7 p.m.