Photo by Chloe Smith, NKU Athletics
English soccer phenom looks to impress on NKU team
September 19, 2018
You could say that the Norse got lucky.
It's hard not to feel excited about 6'0" freshman Alex Willis, whose recent men's soccer accolades raise hope that he could be a sensation for the team. Willis departed from England and came overseas, choosing to play at Northern Kentucky University.
Willis was named to the College Soccer News National Team of the Week on Sept. 2, and he was named Horizon League Player of the Week as well as United Soccer Coaches Division I Player of the Week on Sept. 4.
He has also been tabbed as a potential Horizon League Player of the Year, which should raise hope among Norse soccer fans that this upcoming season might be special.
None of this could have been possible, however, without him developing an interest in soccer in the first place while residing in Faversham, England.
''I first got into soccer when I was four years old, and it wasn't until I was 8 that I got scouted by my club, Charlton Athletic'', Willis said. ''I fell in love with the game instantly, and I was captain of the club until I was 18.''
Willis agrees his upbringing sparked interest in moving to northern Kentucky, along with some convincing by NKU head coach Stu Riddle.
"That's where Northern Kentucky came into it", Willis said. "It was about this time a year ago, I felt good with the idea of coming over to the states to look at playing soccer on the collegiate
setup. I put my heart out there, and the head coach, Stu Riddle, contacted me a couple of times and met my parents and saw me playing. He really convinced me to come over and play, and I really liked his ideas. I bought into his ideas, I bought into the setup of it, and I believe the program is going good places."
He never thought about moving to America to join the Norse until a presentation swayed his interest.
"It came about about a year ago, September of 2017 roughly," Willis said. "Someone from the club gave a presentation and I said, you know, we can try and do this in England, because I mean, I never thought about it before honestly, it never crossed my mind. As soon as I saw that presentation I said, wow, that's a great opportunity."
Then he got the call from Riddle.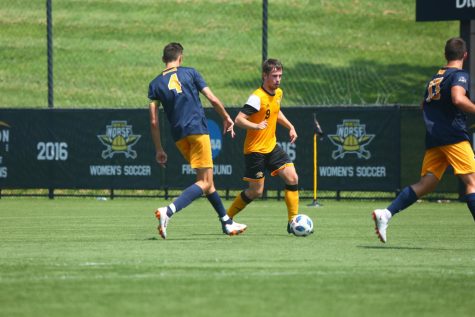 "He said, 'I'd love to come and watch you and meet your parents,' and he flew out for that weekend on Sunday morning to watch me play, and he was impressed with what he saw," Willis said.
Willis knows that Riddle has a vision for the program, and he isn't shy about acknowledging that.
"He has a vision for not only me but for the other boys on the team and the school," Willis said. "The idea was to take it to something special. He said that the school had been successful in the past, obviously winning the national championship at division two level, and he said that he wants to emulate that at the division one level."
Riddle himself knows that having Willis on his roster would do wonders for his team, and he expects him to have a breakout season.
"Alex is a player that we worked very hard on during the recruiting process, as we knew he would be a top goal scorer at the Division I college soccer level," Riddle said. "It's no surprise that he has hit the ground running, and I fully expect him to continue to find the back of the net on a regular basis."
Despite the accolades, Willis is careful not to be overconfident.
"I try not to listen to too much speculation because I think anything like that can go to your head and you can start thinking that you're better than what you actually are," Willis said. "I think I'm very humble in the way I go about it, and, as I said, I try not to listen to it. And obviously if it happens it would be great."
Willis knows he can depend on his coaches and teammates on the field.
"They're the ones who set up chances for me to score the goals. That can't ever be overlooked or stressed enough, the work they put in to help me on the field."
Even freshman goalkeeper Ed Harvey, who played with Willis on the same football club in England, had nothing but positive words for his teammate.
"Having known Alex since the age of nine, I have come to understand not only his presence of technical ability on the pitch, but also his genuine nature off it,", Harvey said. "Alex is a great person for any team to have because he demands high standards at all times through his own application and hard work."
Willis is poised to bring great things to the table as a soccer player for the Norse, and only time will tell how he cements his legacy in NKU men's soccer history.