#NorseNotebook Who should win Horizon League Player of the Year?
February 27, 2018
While it should be understood team sports largely don't rely on a single person to carry a team, the Horizon League Player of the Year results, which will be revealed on Wednesday, may come down to which player helped their team win the most.
In my mind, there are only two potential choices for Horizon League Player of the Year: Oakland's Kendrick Nunn and NKU's Drew McDonald.
McDonald is scoring 16.7 ppg this season and chasing down 9.4 rpg, one of two players (Loudon Love is the other) in the Horizon League less than a rebound away from averaging a double-double.
The junior forward is tied for 11th in the country with 16 double-doubles and 32nd in the country in rebounds per game. McDonald is also sixth in the conference, shooting 46.6 percent from the field.
McDonald has been the most consistent scorer for the Norse this season, followed by Lavone Holland with 13.7 ppg. Even in games where McDonald doesn't shoot particularly well, he seems to end up with double-digit points.
McDonald started the season off with a bang, scoring 22 points and grabbing 10 rebounds in the home opener against East Tennessee State. During non-conference play, McDonald did not score below 10 points in any game and put up three more 20 point games against Morehead State, Eastern Kentucky and UMBC.
He even scored 16 points against the much bigger, eighth-ranked Texas A&M.  
During conference play, McDonald has tallied 12 double-doubles thus far, including a 19 point, 10 rebounds performance at Oakland and 20 point performances against Youngstown State twice, Milwaukee and IUPUI.
McDonald is an intelligent basketball player, and when he isn't open for a shot he isn't afraid to pass the ball to a cutting teammate. While it can be inconsistent, McDonald's ability to shoot the three allows him to spread the floor and make room for himself on drives to the basket.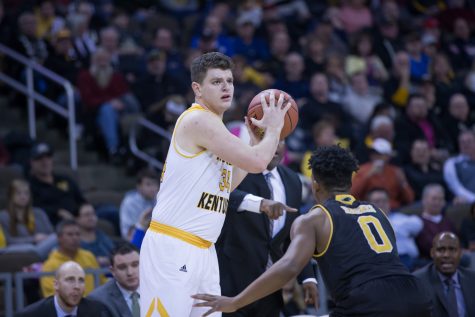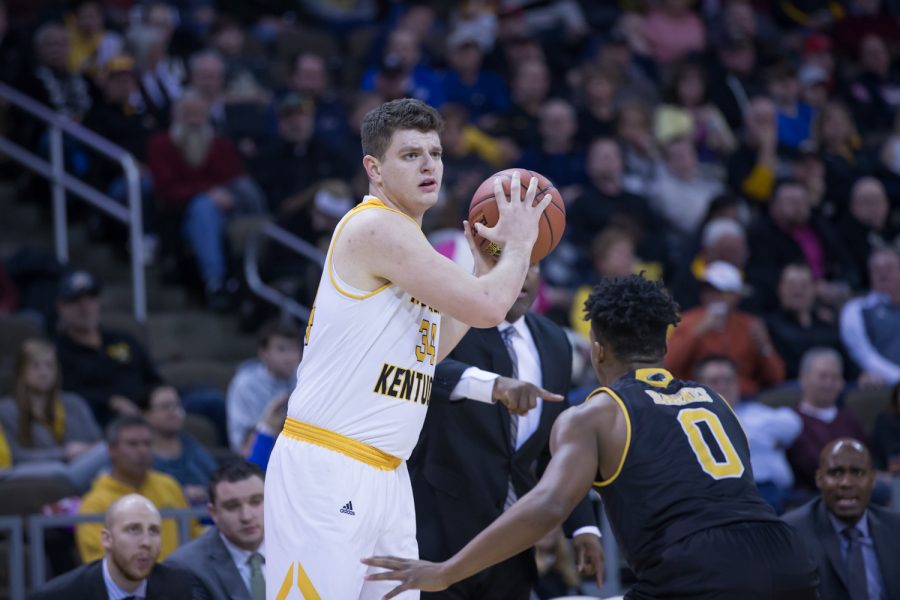 After the net cutting ceremony in BB&T Arena on Sunday, McDonald said Horizon League Player of the Year isn't something he has thought about.
"If I get that it would be a complete honor and something I would dedicate back to my teammates," McDonald said. "I'd trade all those individual awards in for a regular season title and a conference tournament title."
What will separate McDonald from Nunn, in the eyes of some voters, is NKU's 22-8 record and 15-3 conference record and Oakland's 17-13 record and 9-8 league record.
There are few players in the Horizon League who are routinely a threat to rack up 20 points or more in any game he plays. In fact, Nunn might be the only player in the league that wouldn't surprise anyone if he went for 30+ on any night.
After averaging 15.5 points per game in his final season at Illinois, Nunn has been nothing short of spectacular this season, currently second in the nation averaging 26.3 ppg with a 44.6 field goal percentage. He also shoots 40.1 percent from three, a league best.
Nunn has scored under 20 points just five times throughout the season and scored below 15 points in just two of those games.
The guard also grabs 4.7 rpg and dishes out 3.9 apg and owns a 1.3 assist to turnover ratio. In 25 games played, Nunn leads the league in minutes played.
Nunn has showed up in the biggest games for the Golden Grizzlies, scoring 23 points and grabbing five rebounds against #3 Kansas and then scoring 32 points against #2 Michigan State. Both performances haven't pushed Oakland to victories, however.
That has been the story of Nunn's season. During the three game losing streak at the beginning of Horizon League play, Nunn scored 33, 24 and 32 against Green Bay, NKU and Wright State respectively. Nunn got his revenge on NKU by scoring 33 points in a Grizzlie victory, but couldn't carry his team over Wright State with an 18 point performance on 5-18 from the floor.
Even with Nunn performing at a high level, Oakland has lost three of their last five games and hold the fourth seed with a 10-8 conference record. In the latest loss to Green Bay, Nunn scored 39 points.
Who I think should be Horizon League POY: Drew McDonald, NKU.
I'm really not trying to be a homer when I say this. Yes, I cover NKU Athletics and I go to school at NKU, but I'm a journalist first and never try to stray too far from fair and balanced.
But it's hard to average a double-double in any conference in the NCAA, and the Horizon League is no exception. The physical nature of Horizon League play makes it more impressive that McDonald, undersized and not-as-athletic-as-most, can pull off a near double-double.
McDonald is the clear face of the Norse and the player opposing teams fear the most.
Who I think is going to win Horizon League POY: Kendrick Nunn, Oakland
While McDonald is the most feared player on the Norse, Nunn might be the most feared player in the league right now. Nunn is the most dynamic scorer in the league and has the potential to go for 30 points in any game.
While the Grizzlies haven't been as successful as the Norse this season, they have been shaken by injuries, and as I stated earlier, basketball is a team sport; Nunn can't do it all by himself.
Nunn's excitement factor, his ability to shoot the three and get his own shot, is what will carry him to the Horizon League Player of the Year.