#NorseNotebook Loyalty makes NKU senior class stand out
February 23, 2018
If you think about what the senior class of the NKU men's basketball team has accomplished in such a short amount of time–a Horizon League championship, a NCAA Tournament appearance and back-to-back 20 win seasons–it's staggering.  
All three seniors, Jordan Garnett, Lavone Holland II and Nick Ayers, didn't have to stick around through a new coach or a new conference, but there they were on Monday night holding up framed NKU jerseys and playing their final home game at BB&T Arena.
"It feels really good," Garnett said. "Seeing where we came from to where we are now is a big jump. The fan support is really good. Everything has picked up and the whole university is excited."
Garnett has been largely underrated in his time as a Norse. He was never the best offensive player on the team, although he did provide several highlight-reel dunks and a couple key threes. But head coach John Brannen, and the rest of the league, know him as a tenacious defender, often guarding the opposing team's best player.
"The easy thing to do is pack your bags and move on," Brannen said. "What Jordan Garnett did by coming to school here and playing his first two years without the chance to go to the NCAA Tournament, after his first year having a new coach that he had never met in his life and saying 'I'm committed to this university first, and this basketball team as well' is a testament to who Jordan is and the way he was raised."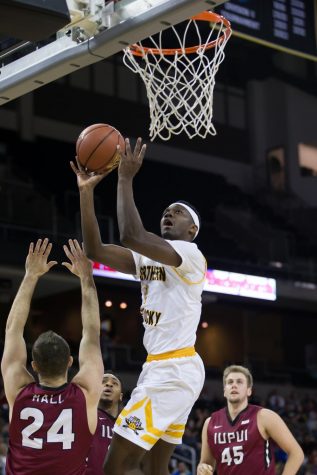 Holland was eligible to be a graduate transfer this season, and Brannen said he had other schools talking to him about joining their squad for the 2017-18 season. Instead, Holland remained at NKU, averaged 13.2 points per game and became a 1,000 point scorer.
Holland said his senior year has been a roller coaster ride, but has tried to keep his emotions steady throughout the year.
"It's something you knew was going to happen," Holland said. "You can't play in college forever. It's been exciting to see the fan base grow and just see the whole university grow."
For each senior, Brannen said a highlight reel was put together. There were very few highlights for Ayers, a walk-on, who played just 18 minutes his senior year and didn't score for NKU.
Brannen says, however, he is one of the hardest workers in practice.
"We have a heart monitor that gets guys mileage and calories," Brannen said. "His mileage and calories is the highest on the team and he never plays."
It's not over for the seniors just yet, though. With a win on Friday over UIC, the Norse could lock up the second seed in the Horizon League tournament and be set up nicely for another run at the championship.
"I think everyone on our roster is hungry to win," Holland said.
Norse looking to improve offensively down the stretch
After NKU's 70-51 victory over Youngstown State, Brannen described the game as "muddy". The Norse didn't lead by more than 10 until around four minutes left in the game.
Drew McDonald scored 27 points, but for most of the night he was the only offense the Norse could consistently rely on.
"There was no flow to the game," Brannen said. "There were a lot of whistles. Youngstown controlled the tempo and that seems to be the MO right now. Keep it a low possession game for NKU… and we are falling into that too much."
For NKU, the last four games have been a grind. In three of the last four games, the Norse have scored below their season average of 78.1ppg and have shot below their season average of 48.1 percent.
For most of this season, the Norse were averaging just over 80 ppg.
In the one game they did score over 80, Green Bay erased a 10-point halftime deficit and kept it a possession game for most of the second half.
Teams are trying to slow down the Norse and turn games against them into slow, half-court, possession matches. Milwaukee and Youngstown State, especially, were content to run the shot clock all the way down to the final seconds before taking a shot. NKU would much rather play fast and push the tempo.
For Brannen there isn't one answer to the problem. Part of the solution is being better in half-court offense. Even though he praised his defense after Monday's win, part of it is pushing the tempo on defense and forcing turnovers.
"We need to push the tempo more in terms of our full court pressure as well as executing more offensively," Brannen said. "We have to increase the tempo with the understanding that the opposing team is trying to do the opposite."
Scouting UIC
The UIC team that the Norse face on Friday is not the same UIC team the Norse destroyed 86-51 in BB&T Arena on Dec. 30.
UIC is 12-4 in conference play and sits in third place in the Horizon League Standings, one game back of both Wright State and NKU. Both are teams the Flames  lost to earlier in the season and who are the final two games on the schedule.
Since losing to the Norse, the Flames have gone 12-2 and have averaged 81.8 ppg. The team is second in the league during conference play in scoring, averaging 78.6 ppg and allowing 73.8 ppg, fifth in the league.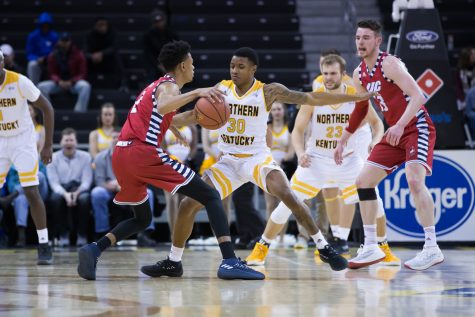 UIC has a large league lead in blocks with 6.86 per game and also lead the league in rebounds per game, averaging 38.7.
Dikembe Dixson is the 11th-best scorer in the Horizon League, averaging 14.1 ppg for the Flames in 29 games. Marcus Ottey sits in 13th in the conference averaging 13.6 ppg and is third in the league with a 53.3 field goal percentage this season.
Tai Odiase is the big man in the middle for UIC, leading the conference with 3.1 blocks per game and sitting 11th with 5.7 rebounds per game. Odiase is sixth in the country in blocks per game. Jordan Blount is ninth in the conference in rebounds, chasing down 7.0 rpg.
The stakes will be high on Friday night, as NKU will have a chance to retake control of first place in the Horizon League after Wright State fell to IUPUI Friday morning.
Current HL Standings (conference records)
NKU (13-3)
Wright State (13-4) *own tiebreaker over NKU
UIC (12-4)
Oakland (9-8)
Milwaukee (7-9)
IUPUI (8-9)
Youngstown State (6-11)
Green Bay (6-11)
Cleveland State (5-12)
Detroit Mercy (4-12)
A win tonight means the Norse take first place in the league and control their own destiny.
A loss to UIC means the Norse would be in a three way tie for first place heading into the final game of the season against IUPUI. UIC plays Wright State in their final game of the season. The Norse will end the season no lower than third place.
Friday's game against UIC will be available on ESPN3. Tip-off is scheduled for 8 p.m.