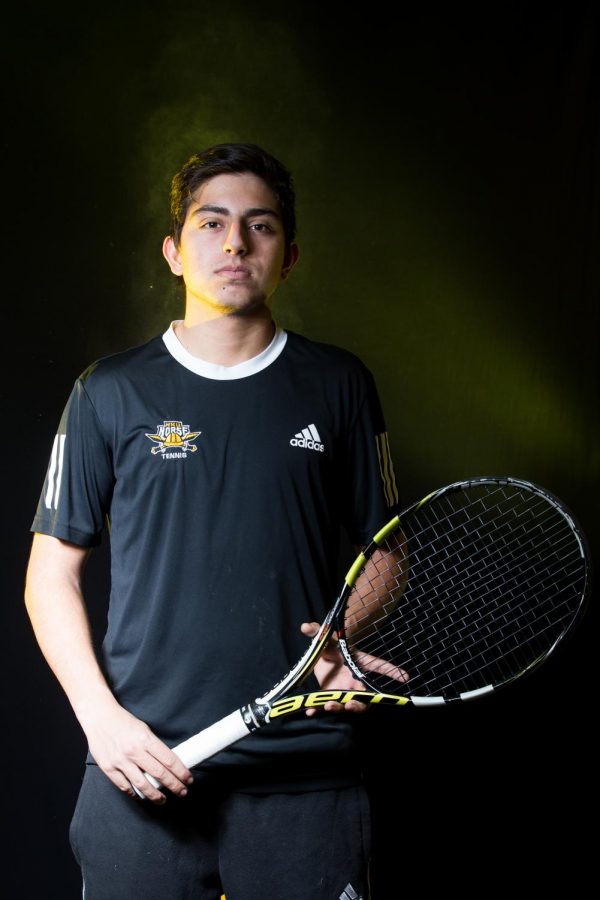 Men's tennis looking to work through freshman growing pains
The Northern Kentucky men's tennis team will look to rebuild during the 2018 season under the guidance of sixth-year head coach Brian Nester. The black and gold roster will feature three returners and four newcomers, including four freshmen.
"I'm actually very optimistic about the future of the men's team," Nester said. "There's still a lot of question marks, but as this group grows, I think we are going to surprise some people."
The Norse graduated five seniors in 2017, including First-Team All Horizon League and All-Academic team member, Mate Virag. Virag was also named to the CoSIDA Academic All-District Team along with Lukas Clemens. With the departure of Virag, who was previously the Norse's no. 1 singles player,, current players now have window of opportunity to slide into the top spot and lead the young Norse on and off the court.
"I'm still waiting for a true leader to emerge out of this group," Nester said. "But right now, Andrew Niehaus has established himself as the number one player."
Originally from West Chester, Ohio, Niehaus is back for his sophomore campaign after primarily playing the no. 4 and no. 5 single spots for the Norse. He posted a 5-6 record during his freshman season and frequented the no. 3 doubles spot with Javier Araya, posting a solid 6-1 record. Almost by default, Niehaus has established himself as the number one player and provides the Norse some much needed seasoning in this talented but young lineup.
"The pressure of playing number one will be no different than any other position," Niehaus said. "The quality of the competition is going to be much higher though and I will continue to work hard and compete."
Niehaus has continued to make significant strides in practice and in his matches by being patient and playing more aggressive without making a lot of errors. During the fall 2017 campaign, Niehaus represented the Norse in the top flight at the Western and Southern Collegiate Invitational by posting a 6-0, 6-1 victory over Alex Foo Koone of Saint Francis and will look for continued success as the season progresses and tries to help lead the young Norse into post-season success.
"The fall and early winter season matches really helped evaluate the strengths and weaknesses of each individual player and the overall team," Niehaus said. "Our goal is to qualify for the Horizon League tournament and we will continue to mature and get tougher as the season goes on."
After bowing out early in last year's conference tournament and finishing 9-9 overall, the Norse are projected to finish seventh along with UIC in the conference standings. Cleveland State is tabbed as the early season favorite with Youngstown State, Detroit Mercy, Green Bay, IUPUI and Wright State, rounding out the rest of the Horizon League.
"Losing five out of the top sixth, I knew this would be a transitional year," Nester said. "I love to win as much as anyone, but we'll be the underdog in every conference matchup this year and the team is embracing it."
Returners from last season
Apart from Niehaus, there are two returners from last season. Sophomore Chris Murray primarily played  in the no. 6 spot and went 2-0 in singles and 1-2 in doubles last season. Murray held respectable victories over St. Francis of Brooklyn and Thomas More.  
Blaine Carr is back for his junior season after finishing last season 4-3 in singles play during dual matches and 2-5 in doubles competition. He ended the season with a three-match winning streak in the no. 4 and no. 6 singles spot. Before NKU, Carr led his high school to the OCC championships and was named OCC Player of the Year.
Newcomers
New to the squad this season are freshmen Anthony Bosch, Nicholas Elleman, Felipe Hidalgo and Jorge Rodriguez Agudo.
Originally from Covington, Kentucky,  Bosch had a  successful prep run as he helped lead the Covington Catholic Colonels to the state championship. Bosch was named Cincinnati Enquirer Player of the Year and First Team honors. He also won his second straight Ninth Region singles championship and advanced to the third round of the state tournament.
Elleman made school history by advancing to the state quarterfinals; the furthest anyone from Conner has ever gone. He was Ninth Region runner up with doubles partner Nathan Eberhard. Like Bosch, Elleman received First Team honors in singles and doubles from the Cincinnati Enquirer.
Hidalgo hails from Doral, Florida where he played for Doral Academy and had been on the varsity team since the seventh grade. Hidalgo played 10 years in the USTA tournaments and played in the no. 1 spot for Doral. He was also named MVP.
As a native of Madrid, Spain, Rodriguez Agudo has been playing tennis for 12 years now and is trying to find a style that he likes as he makes the transition to collegiate tennis.
"In Spain, I grew up with a lot of very tough competition,"  Agudo said. "It has been good for me in the long run and I can use this experience at the highest level of competition here in college."
Agudo lost some very close matches against strong competition in the fall. However, he had a taste of winning with victories over Eastern Kentucky and Pikeville.  
"It is very important for me to get off to a good start in college tennis," says Agudo. "It's my first year and it's good for my confidence."
Nester added, "His position and shot selection on the court has improved greatly in the last couple of months. Plus, He's the only player on the team to win two singles matches in a row."
The Opponents
In addition to Horizon League foes, the Norse will do battle against Kentucky, Eastern Kentucky, Pikeville, Thomas More, Dayton, Duquesne, Saint Francis and Xavier University this season.
"The tougher the schedule against strong division I opponents helps us in a lot of ways," Nester said. "It lets the young team look at the highest level of competition and shows them how the dedicated players play physically and mentally."
The Norse spent the first two weeks of the season dropping road games to Kentucky and Eastern Kentucky. However, the young Norse bounced back at home and earned back to back victories against Pikeville and Thomas More. NKU did fall to Dayton last weekend however.
"We know that we have tough competition this year," says Agudo. "We have a young team, but I feel the energy is really high and we can cause some unexpected results in conference."
Agudo added, "We may be unexperienced this year, however, I believe this is the start of a very strong four years."