#Norse Notebook: Evaluating the Norse bench
February 8, 2018
While I was working on my story about the NKU women's basketball team defeating nationally ranked Green Bay at the end of last December, Tyler Sharpe took the floor with a team manager and began his pregame shooting routine.
The guard from Mt. Washington, KY moved around the floor and shot from each spot both inside and outside the three-point line, and kept going until he deemed his performance satisfactory. Each time he scored, the manager would throw another basketball his way with a sharp pass and Sharpe would perform the ritual again. He rarely missed during the hour and a half before the rest of the team took the floor to begin warm-ups.
While Sharpe would go 1-5 from the field in the Norse blowout of UIC, it wouldn't be the last anyone would hear from the freshman. With the new year came more minutes for Sharpe, breaking out for 10 points in 23 minutes in the Norse loss to Wright State.
Since the UIC game, Sharpe's minutes have consistently been above the 15-minute mark and often exceed 20; this comes after barely seeing the floor during non-conference play. With the increase in minutes, Sharpe has shown he is the best outside shooter on the team, making 44.6 percent of his shots from downtown.
Sharpe scored a career high of 19 points against Milwaukee on Jan. 18. Sharpe has scored double digit points in each of his last three games. In the past five games, he has played more minutes than regular starter Jalen Tate.
With  Sharpe's help, the Norse have quietly become one of the best three point shooting teams in the Horizon League, sinking a league best 35.7 percent and are third best in threes per game at 8.4.
The increase in minutes for Sharpe would come at the expense of Mason Faulkner, who played just eight minutes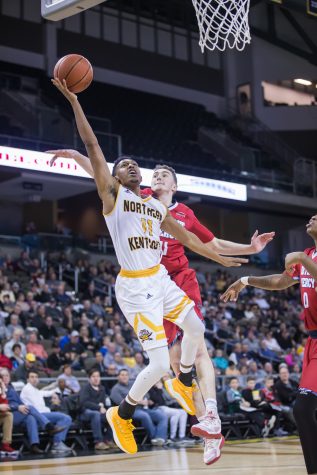 versus Wright State, and despite scoring 16 points against Cleveland State the next game; he played just 13 minutes the following two games and scored just four points combined.
Faulkner has recovered,though, scoring double digit points in three of his last four games while playing more than 20 minutes in three of those four game and 18 minutes in the game he didn't reach 20 minutes.
Faulkner averages 6.7 points per game, but has the ability to be a dynamic scorer for the Norse, shooting 39 percent from downtown.
The guard positions from the Norse became more dynamic as Faulkner and Sharpe come off the bench, which gave head coach John Brannen plenty of option throughout the gameplay.
Tate, Faulkner and Lavone Holland are all great defenders, and Sharpe can hold his own on that side of the ball while Sharpe and Faulkner can spread the floor with their shooting ability, creating driving lanes for Drew McDonald, Holland and Carson Williams.
Homecoming games begin Thursday
Dollar beverage night begins with NKU women's basketball taking on Oakland University at 5 p.m. in BB&T Arena.
Oakland is currently seventh in the Horizon League standings with a 4-7 record in conference and are 11-11 overall. NKU is just behind the Grizzlies in eighth place with a conference record of 4-8 and are 6-17 overall.
The two teams met earlier in the season in Oakland, where the Grizzlies handily defeated the Norse 79-53.
The Grizzlies are led by Sha'Keya Graves, who scores 12.6 points per game (ppg) and shoots an average 32.5 percent from the three-point line. Taylor Jones averages 11.4 ppg while Taylor Gleason and Leah Somerfield average 11.1 ppg. Somerfield leads the team with 7.9 rebounds per game (rpg).
The Grizzlies are second in the Horizon League in scoring 70.7 ppg, but allow opponents to score 68.1 ppg, which rank them at second worst in the league.
Molly Glick is the only Norse averaging double figures this season, scoring 12.9 ppg. Kailey Coffey averages 9.4 ppg and the teams leading rebounder at 6.4 rpg. Northern Kentucky is the worst offensive team in the conference, averaging just 57.3 ppg.
Following the women's game, NKU men's basketball team will take on the Milwaukee Panthers, who currently sit in fifth place in the Horizon League with a 5-6 conference record and 13-13 overall.
NKU is currently tied for first place with a 10-2 conference record and are 17-7 overall. The Norse are coming off road victories over Youngstown State and Cleveland State.
Earlier this season, Drew McDonald scored 25 points as the Norse defeated the Panthers 91-64 in Milwaukee. Milwaukee has played during NKU's homecoming week since the Norse joined the Horizon League. NKU also defeated the Panthers in the Horizon League Championship last season.
Jeremiah Bell leads the Panthers in scoring, averaging 13.6 ppg while Brock Stull scores 13.4 ppg and leads the team in assists with 3.1 assists per game. Bryce Nze scores 10.4 ppg and leads the team in rebounding with 7.8 rpg.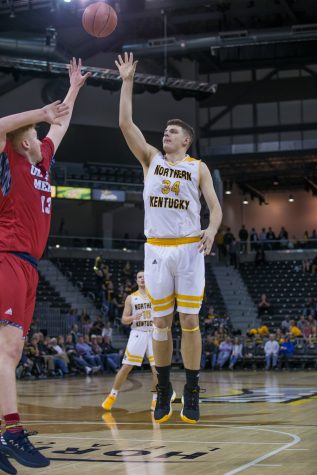 Drew McDonald is nearly averaging a double double, scoring 17.1 ppg while tracking down 9.0 rpg so far this season. Carson Williams and Holland average just over 13 ppg.  
Women's basketball kicks off the Saturday homecoming festivities at 1 p.m. as they take on Detroit Mercy. The Titans are 1-10 in the Horizon League and just 1-21 on the season.
Brianne Cohen pours in 14 ppg and tracks down 5.5 rpg this season while Ania Marinkovic averages 10.3 ppg. The Titans score 60.1 ppg, just ahead of the Norse, but allow 79.4 ppg, which puts them at worst in the Horizon League.
Earlier this season, Taryn Taugher scored 19 points off the bench and Coffey scored a career high 17 points as the Norse defeated Detroit Mercy 78-67 in Detroit.
After a break in the afternoon for student tailgating, men's basketball will take on Green Bay at 7 p.m., concluding homecoming week. The homecoming king and queen will be announced at halftime.
The Phoenix are currently in sixth place in the Horizon League at 5-8 and hold a 10-16 record overall. NKU defeated Green Bay on the road 77-65 earlier in the season. Holland scored 16 points while McDonald scored 15 points.
Khalil Small averages 17.8 ppg and 6.5 rpg while Sandy Cohen III has scored 13.7 ppg so far this season. Green Bay scored just over 74 ppg this season, while allowing just over 73 ppg. The Phoenix grab just over 38 rpg but allow their opponents to track down just over 39 rpg.
All games have tickets available for sale at BB&T Arena and all games will be available on ESPN3 and men's basketball can be heard on the radio at Fox Sports 1360. Saturdays men's basketball game will be available on the CW Cincinnati.