Norse Notebook: Brannen looking for ways to improve against size
January 15, 2018
If the Norse have suffered one weakness this season, it is that they struggle against size inside. This was exposed against Wright State, who collected four blocks in Thursday's game.
"Size has been an issue so far this season for us in terms of getting the ball where we want to get it," said John Brannen, NKU head coach.
Loudon Love, a 6'9" freshman, had a 17-point, 10-rebound performance against the Norse that was largely overshadowed by Grant Benzinger's 31-point performance. Love was able to score one-on-one against Drew McDonald in the post in the early going before the Norse began double-teaming him.
"I thought we played okay on him," Brannen said. "Then we took some chances late and made some mistakes on some backdoor cuts."
McDonald not only had trouble defending Love in the post, he also had trouble scoring against him. McDonald had to work hard for his 18 points and 10 rebounds, going 6-17 from the field in the game.
While McDonald is normally a pretty good shooter, he went just 1-6 from three.
"We are going to need him to make a few perimeter jump shots to loosen things up," Brannen said.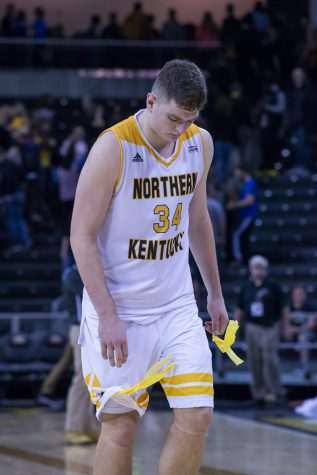 When McDonald did get around Love, he was met with a double team from the Raiders, forcing three turnovers from the NKU center.
The Norse aren't a very big team, with the 6'7" McDonald being their tallest player. Carson Williams is their next tallest starter at 6'6", and Jeff Garrett is their tallest off the bench at 6'6".
Teams like  Wright State, that are larger in size, will give the Norse problems. In terms of executing offense, Brannen acknowledged that bigger teams have affected their play.  Luckily for NKU, there aren't many Horizon League teams that have players taller than McDonald who play consistent minutes.
McDonald's versatility as a shooter will help spread the floor, and his effort can't be questioned, but if he is going to be the player the Norse need him to be, he's going to have to be a force inside as well.
"I gotta look at different ways to get him the ball," Brannen said.
Williams playing through injury
Carson Williams is known to excel in the second half, and did so again on Thursday, scoring 11 second-half points.
Sometimes you won't hear too much from Williams in the first half, but he will explode in the second half, driving and spinning to the hoop for difficult layups.
"He listens at halftime and he makes adjustments," Brannen said. "He doesn't accept the way the game's being played if he isn't playing well. He doesn't accept it and wait until the next day, he makes the adjustment at halftime. He's got to give it for 40 minutes now."
However, Brannen revealed on Thursday that his sophomore forward has been battling a knee injury, and the team has been monitoring his minutes.  
"His knee has been bothering him for quite awhile and he fights through it," Brannen said. "Making sure he's fresh and healthy helps him a lot mentally."
Williams isn't expected to miss any time, but having their second leading scorer at less than 100 percent isn't great for the Norse moving forward.
Scouting Cleveland State
The Vikings will enter BB&T Arena on a three-game losing streak after falling to Oakland on Saturday 81-68.
Dennis Felton is in his first full season as the Cleveland State head coach after more than 30 years of coaching experience elsewhere.
Cleveland State is 4-14 on the season and 1-4 in the Horizon League. The Vikings currently sit in last place in the conference standings behind 2-4 Green Bay and 2-4 Detroit Mercy. NKU is currently in second place in the league with a 4-1 conference record and an 11-6 record overall.
The Vikings score just 69 points per game (ppg) and allow their opponents to score 75 ppg. This is good news for the Norse, who average 80.2 ppg and are third in the league in ppg. The Vikings have also been out-rebounded on the season, allowing teams to grab 38 rpg while only snagging 30 rpg.
Kenny Carpenter is Cleveland State's leading scoring and second-leading rebounder, averaging 12.9 ppg and 5.2 rpg. Bobby Word scores 11.6 ppg while Tyree Appleby averages 11.5 ppg.
Tip-off is scheduled for 7:30 in BB&T Arena or when the NKU women's basketball team finishes their game against Cleveland State. Both games are available on ESPN3.