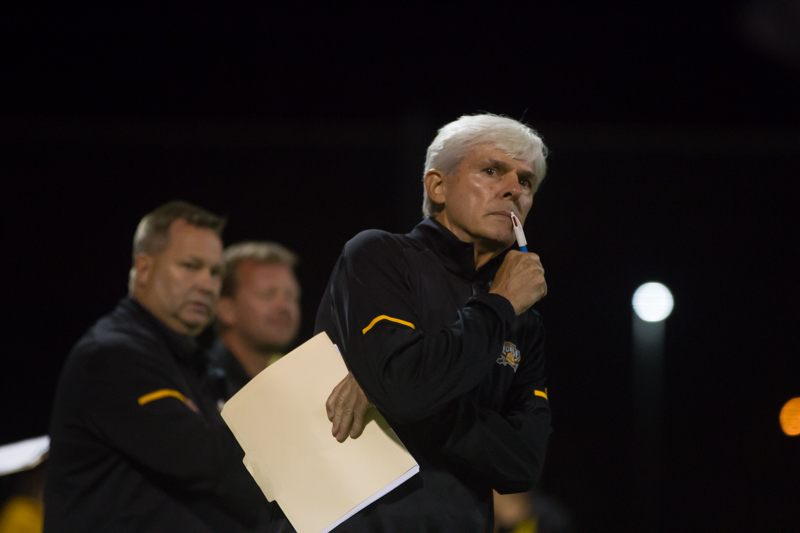 Gruelle's grittiness leads to success in orthodontia and coaching
November 1, 2017
Within Terry Gruelle's schedule two unlikely fields merge: soccer and orthodontia. Since 1999, he's been both an assistant coach for NKU women's soccer team and a world renowned orthodontist.   
"We are the top one percent of Invisalign providers in the entire world. You have a little Greater Cincinnati area here and yet you do more than anybody," Gruelle said.
A part of his success stems from reinvention; being one of leading providers for Invisalign, he said he finding solutions to issues is a large portion of his job.
"You get to see things no one has ever seen before, know things no one has ever known before and teach things that no one has ever taught before, that is fun," Gruelle said.
Between lecturing internationally, operating five different offices with over 30 employees in Greater Cincinnati and coaching for the Norse, Gruelle's schedule seemingly is always packed, even on his birthday.
"I lectured in Asheville, North Carolina; it was on my birthday," Gruelle said. "I then flew to Charlotte, which is only a 26 minute flight, and stayed all night with my daughter and her two grandkids.  The next day I flew to Pittsburgh, rented a car and drove to Youngstown where we played a game at 3 o'clock. I got on the bus after the game and returned home by 10:30 on Saturday."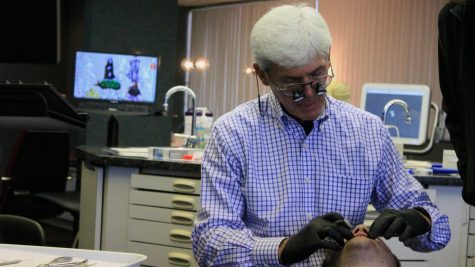 Though his days are hectic, Gruelle said he is thankful for his employees, whom he credits (along with his sleeping habits) for allowing him to work around his often packed schedule.
"Some people don't need a lot of sleep and I am one of them," Gruelle said. "Most people who know me turn their phones off at night because I will be texting them at 3 or 4 in the morning."
In the early morning, when no one is calling, he said he's able to get the most work done (be it merely finding space to think, paying bills or working on cases). In orthodontia, scheduling can prove to be difficult for Gruelle.
"With orthodontics you schedule two or three months in advance, and trying to determine if I am going to have
practice at a certain time is hard," Gruelle said. "When we were Division II, it was a lot more difficult because there weren't as many coaches and our goal is to always be playing in December which means we are in the semis or the finals."
All of the scheduling conflicts are well worth it for Gruelle, who loves coaching soccer; he compared it to vacation in that it takes his mind away from his day job.
"When I step on that field I don't think about orthodontics for at least two hours at that point," Gruelle said.  "Everyone needs a diversion of their thought processes and coaching soccer happens to be mine."
Gruelle has been coaching at NKU since only two years after the birth of the women's soccer program, and has seen it come a long way.
"I can remember when Bob (Sheehan) and I use to recruit out of the back of a car, we didn't have a desk," Gruelle said. "I still have some furniture that I built, a table and chairs, something for us to sit on and watch games."
Sitting underneath honeysuckle limbs, Gruelle and Sheehan would do anything to get out of the heat when possible during recruitment in the early stages of the program.
"We use to play our games down at Town and Country; we started up here then had to move down there. Of course then we finally got this wonderful facility," Gruelle said.
Gruelle has spent decades as an orthodontist and soccer coach, but says he did not always know what he wanted his profession to be.
"I wanted to go into medicine but I didn't know which kind so I ended up deciding I wanted to go into dentistry," Gruelle said.
After three years of practicing general dentistry, Gruelle chose to go into orthodontia.
"The orthodontics field has changed so much over the years and obviously it can be very lucrative and also you don't receive many emergency calls, which helps facilitate me being able to do so many things."  Gruelle said.
Gruelle compared his coaching and orthodontics careers by saying that in both fields he is only trying to help others.
"I just try and make people have as much self esteem as possible.  My college soccer players, having been here so long and working with this age group as well as having children of my own, I know it is a tough age to find yourself.  If I can help someone find themselves that is all I can ask for."  Gruelle said.
NKU women's soccer head coach and long time friend, Bob Sheehan, says that Gruelle has a passion for not only orthodontia and soccer, but also for helping other people.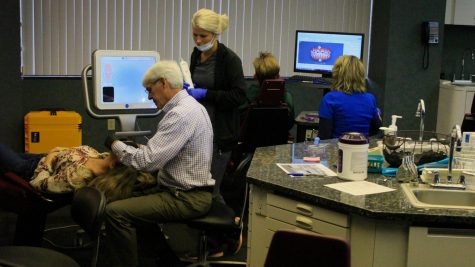 "The thing about Terry is he is truly a kind, caring and giving person. He is willing to jump in and help in any situation." Sheehan said.  "He brings a lot of wisdom as a person and life experiences to this team.  He reads books, he studies tape and does all of those things, so overall Terry is an absolute huge asset to our program. "
Gruelle says that his role on the team is to try and lift everyone up beyond their potential because that is how he is personally in life.
NKU senior women's soccer player Jessica Frey says that Gruelle comes to practice every day with a smile on his face. She also says that he helps in games when she is not happy with herself.
"He is a really good person to talk to during a game if I am down on myself."  Frey said.  "He is a really nice part of our team and he brings something special, and it wouldn't be our team if he wasn't here."
Gruelle likes to see his players overachieve because he personally is an overachiever.
"I enjoy winning but I hate to lose and if I lose, whether that's the ball or whatever, I am immediately trying to get that back."  Gruelle said.  "I am a gritty person; no one is going to outwork me, and that's just been my mantra over the years."