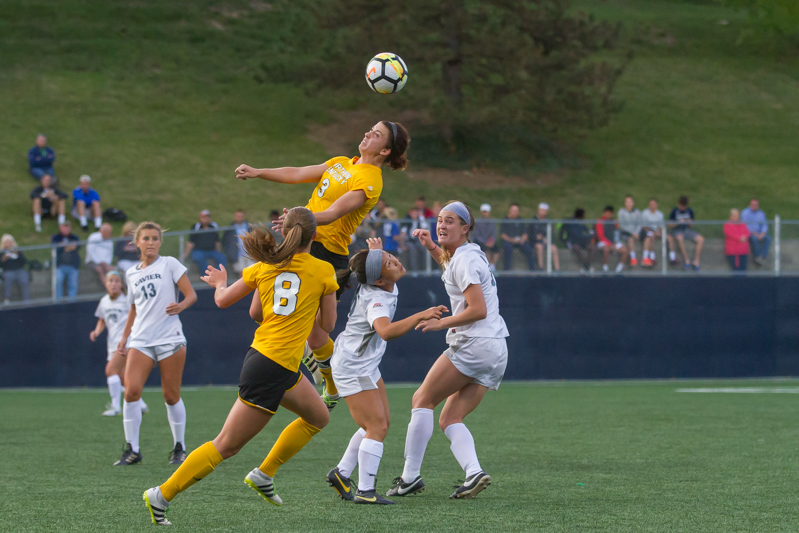 Hamblin's offensive prowess lifts her into NKU record books
October 12, 2017
NKU women's soccer coach Bob Sheehan first saw Macy Hamblin play at a combine at Game Time in Fairfield when she was a freshman in high school. Sheehan said it was her pace, skill and goal-scoring ability that stood out.
"It was an indoor facility in a pretty tight space," Sheehan said. "And she absolutely excelled. It was pretty clear that Macy was a special player at a very young age."
A year later, Sheehan was grilling out on his back patio during Memorial Day weekend when Hamblin called him, committing to NKU.
Hamblin has been one of, if not the most important part, of the success NKU has had in their transition to Division I and the Horizon League. Even though the forward is the reigning back-to-back Horizon League Player of the Year, she still believes there is always something to work toward.
"It's a great feeling and for me it's like 'Wow, out of everybody and they chose me,'" Hamblin said. "It makes me feel good, but then it kind of adds nerves because you have to bring even more the next year."
Hamblin played a crucial role in securing NKU's first Horizon League championship last season, scoring nine goals and dishing out nine assists during NKU's 13-7-1 season.
With the Norse down 2-0 in the first half of the championship game, Hamblin scored the goal that sparked the Norse's 3-2 comeback victory.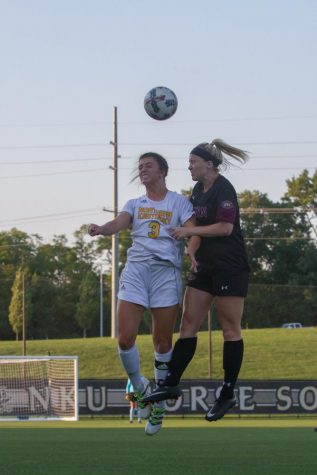 Over the course of her career, Hamblin has scored 33 goals, which is sixth-best in program history. She ranks in the top in school history for points per game (1.31) and goals per game (.44).
She also has 25 career assists, which is sixth best in program history.
After starting the 2017 preseason with a four goal game against Miami (OH) University, Macy Hamblin's senior season got off to a frustrating start.
Injuries are largely to blame for this. The forward missed The Norse's third game (Indiana State) and fourth game (Appalachian State) before returning to action against Murray State in the fifth game of the season.
She admits, however, that she may not have been fully ready to return to action and has tried to get into the rhythm of the season since.
"I started off really well in the exhibition matches and when I got hurt, it put a damper on my mood," Hamblin said. "I didn't want my senior year to go this way."
Hamblin has overcome injuries though, scored 10 goals this season, including a two goal performance against Youngstown State and a goal against Milwaukee on Oct. 7.
Hamblin started playing sports when she was four years old, but her parents could tell soccer was her favorite.
"When I first started playing, they said as much as it seems like you wouldn't be able to tell, you could already tell I could love the game and I was good at it," Hamblin said. "That's just what kind of stuck with me ever since."
It didn't take long for others to notice Hamblin was a talented soccer player in the making.
"As I got older, coaches would be like, 'I can't wait until you play in high school and you have such great talent. You are definitely going to be a freshman playing on varsity,' and things like that," Hamblin said. "Being a young kid, I didn't know what that all entailed."
The idea confused Hamblin at such a young age. When she was seven and eight years old, parents of teammates on her club would come up to her and praise her play.
"People would always come up to me after games and tell me, 'Wow you're so fun to watch' and 'You're so good,'" Hamblin said. "I would just look at my dad like 'What am I doing that is different than everyone else?' As I got older I started to understand there are certain things where you are above other players.'"
As a freshman at Fairfield High School, Hamblin was just happy to be on the varsity squad for the women's soccer program. And on the day potential captains were making speeches to convince their teammates they were worthy enough, Hamblin was surprised when her coach asked to speak with her.
"My coach pulls me out and tells me 'there's actually one other person who would be a really good candidate,'" Hamblin said. "She points at me and I'm a little freshman and my face got so red."
Her coach, Heather Fischer, stood Hamblin in front the entire team and they described all the reasons they wanted her to be a captain.
"I didn't have anything prepared; it was just all them saying kind things about me and I'm like 'Wow, they look at me like this?'" Hamblin said. "Knowing people look at me in that way makes me push myself more because it gives [my teammates] something to work toward and someone to look to."
Hamblin responded by being arguably the best Fairfield women's soccer player ever, setting school records in career goals (54) and career assists (37). She was named a National Soccer Coaches Association of America All-American in her senior season.
Despite her talent, Hamblin, has struggled to sustain her confidence and questions if she's as good as others tell her.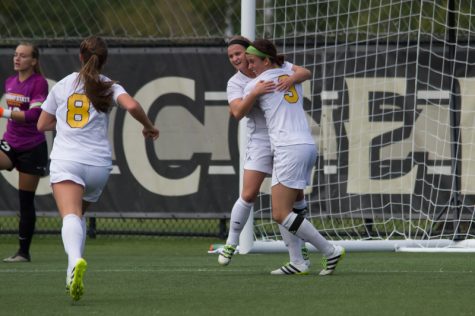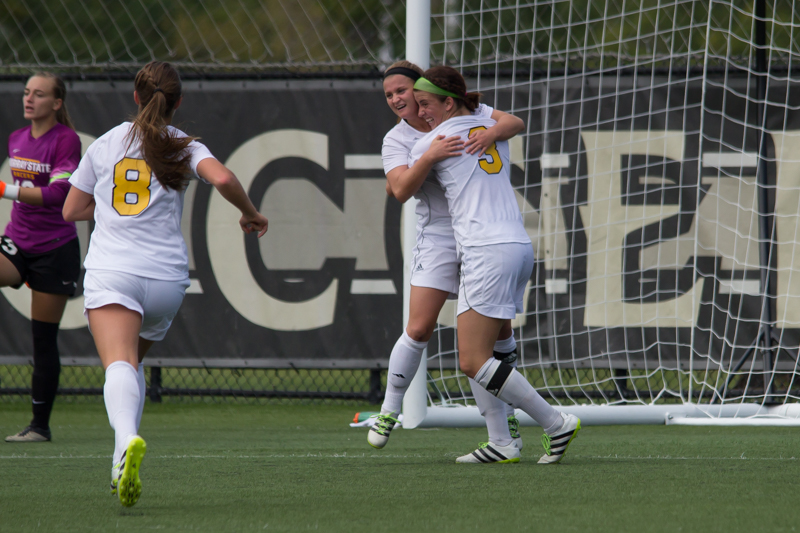 "Every single season–whether it is club, college, whatever– I always go through this part of the season where I feel like I'm not a very good player or l'm struggling for some reason and I don't know why I go through that," Hamblin said.
The attack mentality she had in high school has slowly developed into a distributor mindset, though she is just as happy making an assist as scoring a goal.
"Obviously in college it changes. There were faster girls; they're bigger, they're stronger, whatever," Hamblin said. "But I backed off of that and I became a distributor and hadn't been as aggressive as I had been in the past."
In her time at NKU, Sheehan has worked with Hamblin to try and become more of a goal scorer.
"Macy is a very unselfish person and player and wants to get everyone involved. She does make her team better but there are times when she needs to say, 'I've got an opportunity to score a goal and I need to take this opportunity to take a shot,'" Sheehan said.
For the Norse to win the Horizon League tournament again this season, Hamblin knows she needs to have that same aggressiveness for the team to succeed.
"I need to grasp that mentality again like 'You are one of the best players on the field and you need to show that' and not only for myself, but for my team," Hamblin said. "We need to win games and that won't happen if I don't get that mentality back."
On the field, Hamblin is a maestro directing the action. She finds holes in the defense and hits open teammates across the field and in the box. Sheehan said she is always trying to get her teammates involved in the game.
"You can see when she plays, she might not receive an assist for it, but she gets everyone involved in the game," Sheehan said. "She finds the wingback, she finds the forward, she lays balls off."
She said she doesn't look at herself as above any of her teammates.
"I definitely put myself on the level of my peers," Hamblin said. "The way I look at it, they are out here doing the same thing I'm doing. We are all out here working hard."