NKU's Virag a perfect match at Western and Southern Open
August 30, 2017
In his second consecutive year as a hitting partner in the Western & Southern Open, NKU tennis player Mate Virag had the opportunity to warm up his skills with the eventual winner, Grigor Dimitrov, at the championship Aug. 20.
Pressure built as fans gathered around one after another until Virag faced a crowd over 300. Across from him stood Dimitrov, one of the most renowned tennis players in the world. From the first shot to the last Dimitrov never missed a beat and gave it his all, said Virag.
Taking place from August 12th – 20th, the Western & Southern Open has been a staple in Cincinnati. The world's top tennis players battle it out for the coveted Rockwood Cup, a trophy that symbolizes the prestige and history of Cincinnati.
Virag, a fifth-year senior, was a first-team All-Horizon League selection in 2016 and notched up a 12-8 record in the 2017 season. He was also named the Horizon League's Scholar-Athlete of the Spring Season.
"Being selected is one thing but going there and playing with some of the best in the world, that feels amazing," Virag said.
While at the tournament, his job was to be a hitting partner for the professional players. This job gives him the opportunity to practice with players from around the world and get them ready for their match.
"I've practiced with some many players," Virag said. "The two biggest I hit with was Madison Keys and Grigor Dimitrov; the guy who eventually won."
Keys is ranked No. 16 in the world according to the Women's Tennis Association, the third-highest American, while Dimitrov currently sits at No. 9 in the world according to Association of Tennis Professionals.
As the tournament progressed, Virag said more and more players asked to practice with him.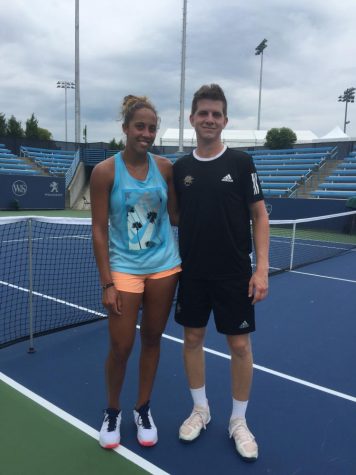 "You feel like [Dimitrov] likes what you are doing. He's a top player and hitting with him was a great experience…It makes you feel good to be appreciated," Virag said.
Jennifer Gardner, a professor of sports business at NKU, works as a volunteer at the tennis tournament as a co-chair of player services.
"Our job is to look for hitting partners and filling practices for the tournament, "said Gardner. "[Mate] was very requested, a lot of players wanted him…so you knew he had to be good and we had to bring him back."
Hitting with the best in the world comes with all the pressures of performing at the top level, said Virag.
"The most pressure is definitely at the beginning of the hit, but once I get into it I start to settle down," the senior said.
After using all of his eligibility for tennis, Virag has been signed back onto the team as a fifth- year senior by head coach Brian Nester.
"He represents himself very well. I watched him hit with Keys and Dimitrov…his level is very high," Nester said. "It gives him extra credibility when coming back to NKU."
As a fifth-year senior at NKU, Virag's job is to help assist in exercises and drills as well as some coaching responsibilities. After being at the tournament, the experience gave him insight not just from a player's perspective, but a coach's one as well.
"From a coaching standpoint, you learn a lot not just from how the players play tennis but how the coaches act and how they communicate with each other…I want to be able to bring that back to NKU," Virag said.
Having the ability to bring college athletes in for the tournament is critical for its success said Gardner.
"Going from tournament to tournament, we have to have partners…there is no better resource than college students," Gardner said.
After the eight-day tennis rush finishes up, so too does Virag's time at the tournament.
"I definitely feel better after it's over because I played with players I never played with," Virag said.
After being at the tournament and playing for hours, it had a positive effect on Virag according to his coach.
"He's getting the feel of hitting with them and when he comes back, the team knows he's been hitting with the top players…they can see it," Nester said.