New look Norse look to move forward in 2017
August 24, 2017
Stu Riddle is used to taking over less than stellar men's soccer programs. In 2009, Riddle became head coach for a Western Michigan program that won three games in 2008.
In 2013, he took the head coaching job at Buffalo for a team that won five games in 2012.
Riddle was able to lead both programs to two MAC championship games during his time at each school.
Now Riddle is tasked with turning around a Northern Kentucky University men's soccer program that went 1-13-4 during the 2016 season and is picked to finish eighth in the Horizon League preseason poll. Because of his previous experience, the New Zealand native believes the transition has gone well.
"The team is in place and we are looking forward to getting going for real," Riddle said.
Not only has the head coach changed at NKU, but so has the roster. Of the players that were on the NKU 2016 men's soccer roster, only a few remain for the new season.  
"The reality was, they won one game last season. They were the second worst ranked team in the RPI last year," Riddle said. The players had to realize they were part of that problem. That's not to mean they aren't good players and they can't go and play somewhere else and be successful. I've come here to take this program to the absolute top. There needed to be candid conversations with players that I didn't necessarily feel they were going to help us do that."
Players like Calvin Murphy and Wlademir Babaew, who returned from last year's team, were given a fresh start by Riddle.
"It was really important for me to make sure those players understood they are an integral part of this team moving forward because they deserve to be here," Riddle said. "The last thing I wanted them to feel was because they were brought in by a different coach, they weren't going to be looked favorably upon."
The early returns have been promising. The Norse ended their preseason schedule with a 1-1-1 record with a victory against the University of Kentucky, who were ranked 23rd in the country last season, and a 1-1 draw with the FC Cincinnati reserve squad.
"We've showed that we can compete with some very good programs," Riddle said. "If we can continue to develop and grow as a unit, I think we can be a successful as the players want us to be this season."
Related: Building from the bottom: Riddle takes over men's soccer
Junior forward Thom Suckecki, a transfer from the University of Pittsburgh, has scored all three of the Norse goals this preseason. Based on the success he has seen so far, Suchecki believes the Norse can play with any team they face.
"We played two good teams very well," Suchecki said. "So there is no one we should be nervous or worried about facing."
Under their new coach, the Norse have focused on team defense and so far  Riddle has been happy with the progress.
"We've worked really hard on the way we defend," Riddle said. "We started that in the spring and didn't concede a
goal in the four matches we played. In the two matches we played in the preseason, we've only conceded a goal a game."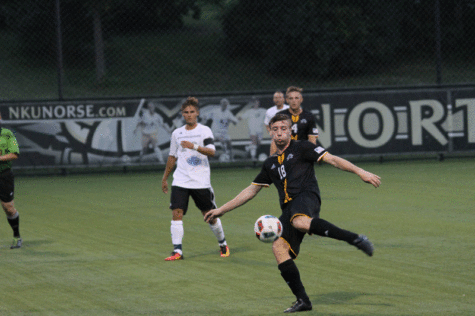 In the middle of that defense is redshirt sophomore Abdul Kooistra, who transferred from the University of Wisconsin looking for more consistent playing time.
"Being a competitor, you always want to play," Kooistra said. "I thought I might as well try a new school. Then I saw that coach Riddle came to NKU and I know how good he is as a coach and I wanted to join him and come here."
With so many teammates not having played together, team bonding has been a point of emphasis for the Norse.
"Just getting to know each other has been difficult but has definitely been rewarding," Suchecki said. "At first you have to get to know each other and the runs they make and what everyone looks to do when they have the ball. But once you get to that point, and I think we have started to get to it, we will get to know each other pretty well."
To help strengthen the team's connection with each other, Riddle took the Norse to participate in an Escape Room several days after the FC Cincinnati game. Getting on the field and playing has also been beneficial to the team grown, Riddle believes.
"Playing games has been important because guys have got to get to know each other," Riddle said. "It's been trying to find a balance between not overloading them with information but making sure they understand exactly what we are looking for."
While he is optimistic about the future of the NKU program, Riddle remains realistic about his team's chances to win the Horizon League this year.
"Is it a league we can win in year one? I think that would be a pretty tough stretch given the fact we have 14 new players on the roster," Riddle said.
Instead, Riddle will be gauging the success of the team on a game-by-game basis.
"As a program, for me it's about winning the next game," Riddle said. "We've got to remember there are going to be bumps in the road and we can't get too high and can't get too low. Ultimately in the first year we are looking for improvement in every facet of the program."