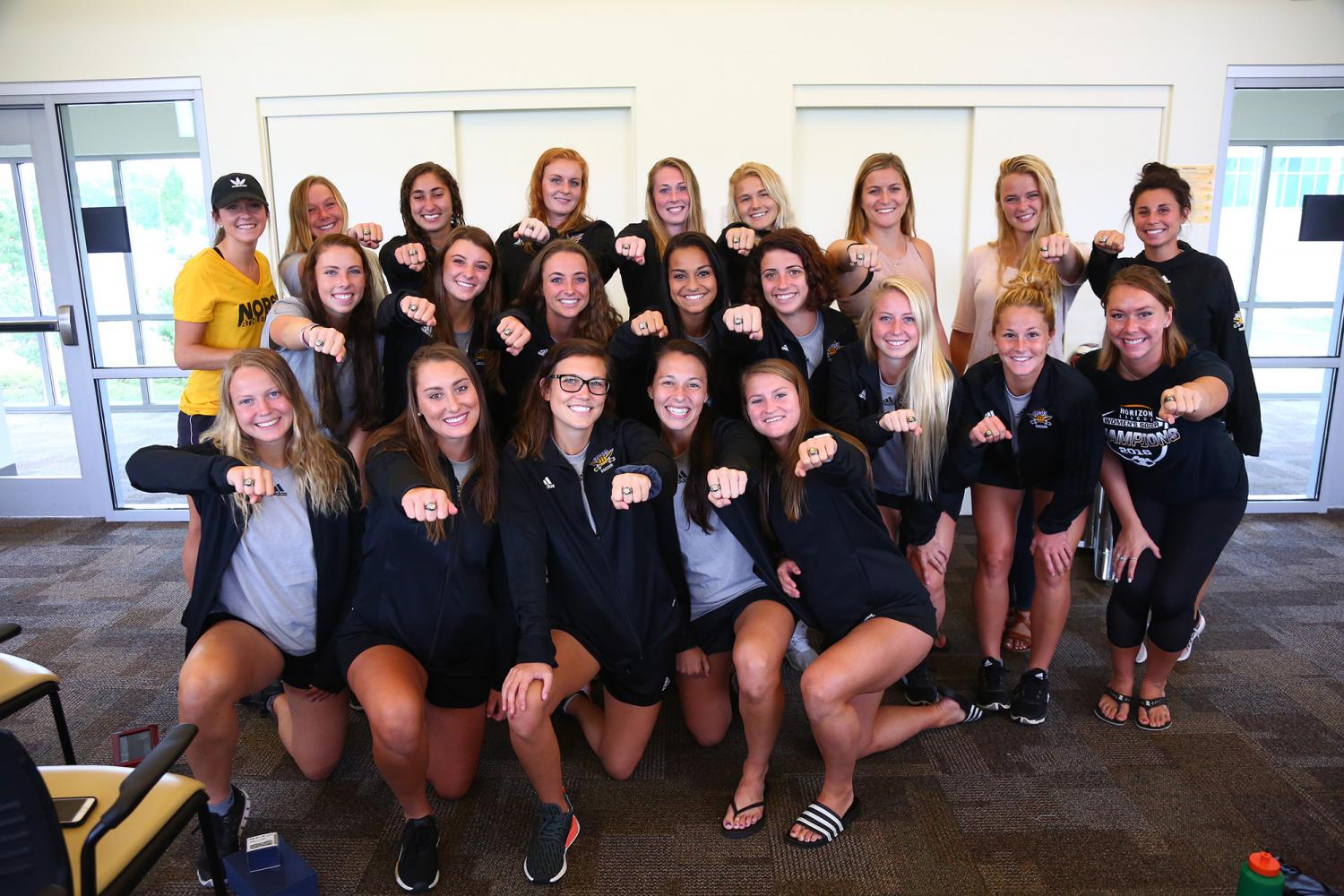 Dynamic Duo hope to lead Norse to second Horizon League championship
August 18, 2017
Just a few days before their first preseason game against Miami (OH), the women's soccer team received their Horizon League championship rings in a private ceremony in the NKU Soccer Stadium.
"I'll wear it and people will be like 'Wow is that the ring you got?'" senior forward Macy Hamblin said. "It's just cool to show people how far we've come."
Hamblin and the Norse will head into the 2017 season looking to add more hardware to the trophy case after an 11-7-3 season that led to a Horizon League Championship and a berth in the NCAA Tournament.
The Norse are the favorites to win the league this year and are tied with Milwaukee at the top of the Horizon League preseason poll.
"It shows people how much hard work we have put in and shows everyone how far we have come." Hamblin said. "I think it's a good thing cause it shows other teams we are someone to look out for."
Last season, Hamblin finished with nine goals, nine assists and 27 points on her way to collecting her second Horizon League Player of the Year award.
This season she will have the chance to win her third consecutive Player of the Year award, but knows she wouldn't have the success she has had without the help of her teammates and coaches.
"I'm not really an individual type of person," Hamblin said. "I wouldn't be here if I didn't have my teammates with me here as well. There are 11 girls on the field at one time so I wouldn't be getting all that recognition if I didn't have the girls around me. I wouldn't have been able to get to where I am and achieve the things I have without teammates, coaches, friends and family"
Her longtime teammate and friend Jessica Frey, who also won the Horizon League tournament MVP award, says Hamblin's leadership is essential to the success of the team.
"She contributes to our team so much," Frey said. "I think her leadership on the field holds us all together."
Her talents were on full display during the first preseason game of the season, where Hamblin scored all four of the Norse goals in a 4-2 victory over Miami (OH). It was the first time in her career that she can remember scoring that many goals in a game.
The team then went on to beat Ohio 1-0 in their final exhibition game, powered by a goal from Frey that was
assisted by Hamblin.
Frey, who scored a team high 10 goals last season, and Hamblin are dynamic when they are on the field together and played together even before college. The two combined for 19 of the team's goals and 15 of the teams assists last season.
"We know how each other plays and we want to work for each other," Frey said. "It's going to be sad when we will no longer get to play with each other."
The two have become so precise in their game that Hamblin believes Frey can get her the ball perfectly in any situation and vice versa.
"There is no one else I have ever played with that, at the ball at my feet she knows where to go," Hamblin said. "I know wherever I put the ball she will get there because she is amazing. We just mesh really well."
Head coach Bob Sheehan has seen the movement of the two players improve as well as the ability to get themselves open in traffic.
"Their overall understanding of movement with and without the ball has gone to a pretty high level," Sheehan said. "Against Miami, Ally (Perkins) put three balls in the box, one on the ground and one in the air and Macy found the seam on all three and found space in a pretty congested box. The bending run Jess made against OU, to lose her defender and bend away and accelerate on to the ball is honestly what the best players in the world do."
Both players battled injuries during the Horizon League tournament and the NCAA Tournament game against West Virginia, but both battled through and finished out the season.
"She is one of the toughest people I have ever played with," Hamblin said of Frey.
Hamblin and Frey are now fully healed and will serve as team captains for the Norse this season. Sheehan is looking for both of them to continue to make big goals in high leverage situations.
"These girls are capable of those big moments. They aren't afraid of taking on that responsibility,"Sheehan said.
Filling in the Holes
Overall, Sheehan has been pleased with what he has seen from his team so far during the preseason.
"This has been a fantastic group," Sheehan said. "They've really bought into our team shape, our individual defending and our small group defending. Everyone wants to be successful."
Even with the two preseason wins under their belt, Hamblin knows that there are still thing the team needs to tighten up for them to repeat the success from last season.
"We've realized there are some things we need to work on and if we expect to surpass what we did last year then we are really going to have to get after it in training and practice," Hamblin said. "We've got talent there it's just a matter of putting in work each and every day."
The Norse started off last season with an 0-3 record, something they don't want to repeat again this season. Hamblin has already seen a difference between the progress this team has made so far compared to where last year's team was at the same time.
"People are more mentally prepared in training," Hamblin said. "We are there to get one specific job done and I'm excited to see what we will do this year."
Frey added that this team has been able to recognize their weaknesses early on in the preseason while it took the 2016 team a few regular season games to figure out their issues.
They also lost several key seniors from last year's team, including defenders Chrissy Spears and Sami Rutowski.
Junior Taylor Spaulding will remain a defensive starter for a third straight season while Hannah Fischer will return to the defensive end of the field after playing in the midfield last season. Sheehan will also look to Kayte Osterfeld and Erin Sutton to make contributions on the defensive side of the ball, as well.
"Really I think we have some experience back there it's just moving everyone around a little bit," Sheehan said.
The Norse will also look to replace the production of midfielder Katelyn Newton, who graduated. While Sheehan says you can't quite replace a player of her caliber and energy, he will be looking for something different in that area.
Emily Soltes will be fully recovered from an ACL injury and will be a viable option for Sheehan in the midfield as well as junior Rachel Conaway and sophomore Shawna Zaken.
"While they maybe didn't play in those positions last year, we've got some players we've been able to move a little bit so there is some semblance of experience."
Emily Lohmann will return to the goal this season after recording 78 saves in her first season between the posts in 2016.  
The Norse will begin their season against EKU tonight at NKU Soccer Stadium before going on the road for two games against Morehead State and Indiana State. Horizon League play begins on Sept. 15 against UIC.