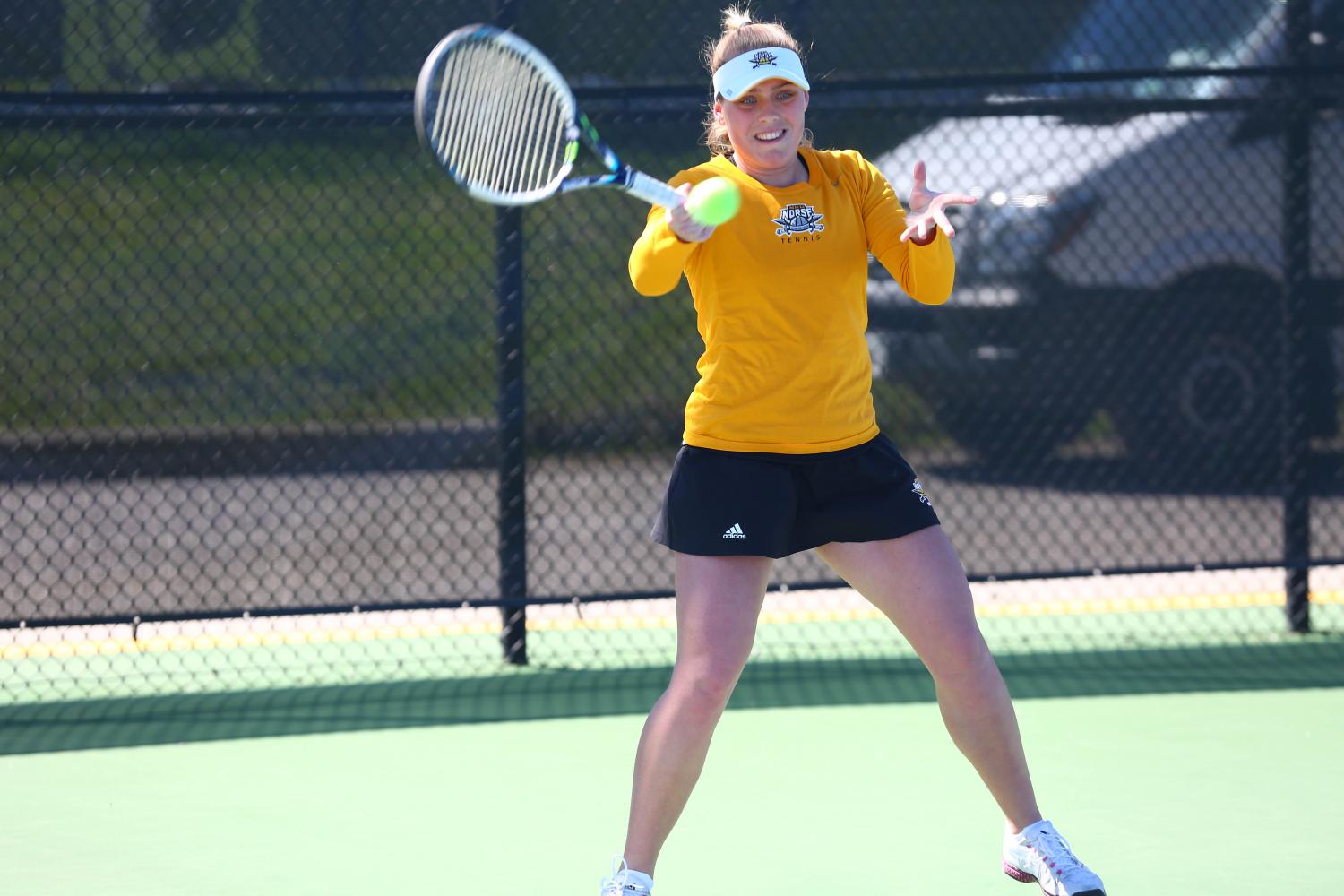 Sunjic dominates freshman season, sweeps postseason awards
May 3, 2017
Twelve months ago, Margita Sunjic was unsure about coming to the United States. Twelve months later, she capped off her freshman year of tennis at NKU by winning Horizon League Player of the Year, Freshman of the Year, and being named All-Horizon League First Team.
Sunjic went 13-3 overall and an outstanding 8-1 in Horizon League play, including winning eight straight conference matches.
Sunjic becomes only the second player to win conference Player of the Year in NKU tennis history, and the first in Division I era. She is also just the second NKU women's tennis player to win Freshman of the Year and the fourth player in the history of the conference to win both awards in the same season.
"As a freshman, I didn't think I would have as much of a chance to get good results, but it turned out differently," Sunjic said.
When she was on the court she tried not to think about her success, and stressed the importance of trying to stay within herself and take it one match at a time.
"I was just playing," Sunjic said. "Step by step every match. I really didn't think about it too much."
Heach coach Brian Nester noticed the same thing, but also noticed something about her game that led to much of her success.
"She has a great variety with her mixture of shots," Nester said. "In her best matches, she's using that mixture really well."
Of all the shots in her arsenal, Sunjic has one that she feels best fits her and her style of play, and has been a big part of her success this season.
"My forehand, it's my best weapon," Sunjic said "I really like to play an offensive game, so I think that my forehand perfectly fits in that kind of style of play."
A native of Sneit, Croatia, Sunjic wasn't sure what to expect when coming to the United States to play.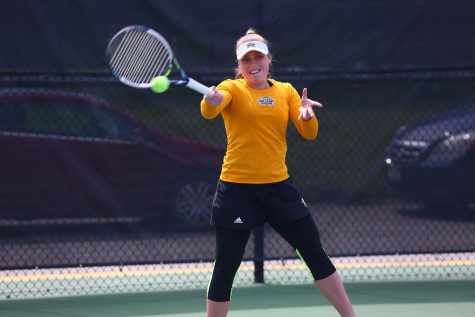 One thing she didn't expect was to have the amount of success that she has had and to be the number one player on the women's team, but Nester did expect that.
"I did expect her to come in and play number one," Nester said. "I have been very impressed with how she's kept her composure against some of the top players in the Ohio Valley region and the Horizon League conference."
Her dominant freshman season caught the attention of players and coaches throughout the Horizon League, which, according to Nester, will impact the way players play against her and how coaches recruit to compete with her.
"I think it's very clear that she is the top player in the conference and the other teams are probably going to go out and recruit players to knock her down," Nester said. "So, it's going to be a challenge for Margita."
Sunjic plans on continuing to work hard over the summer to continue her success and step up to that challenge. She will return to Croatia for the summer, but has two primary goals.
"I'll definitely try to stay in good shape and during the summer and try to play as many matches as I can so I can stay in this fit stage," Sunjic said.
Another integral part of Sunjic's ability to play at a high level this season has been the seamless transition from Croatia to the United States. Sunjic said the biggest difference in the United States isn't the players themselves, it's something else.
"The surface where we play here is more hard courts, whereas back home is more clay courts, that's the main difference," Sunjic said.
That hard surface has benefited her offensive style of play.
Off the court, it's the camaraderie with her teammates that has made the transition easy.
"They are all really really supportive and they helped me a lot when I first came here," Sunjic said. "The girls tennis team is really nice and they are always there if I need anything, so it's a nice atmosphere on the team."
Nester said that atmosphere is critical to the success of all the international players he recruits.
"With the current mix I've hit with both the men's and women's teams with a lot of players from overseas, it makes it a lot easier for them," Nester said. "I have a limited time with the student athletes, but the men's and women's teams spend a lot of time together, so they become a family and the acclimation is pretty easy."
When Sunjic was unsure about coming to the United States, she spoke with Klara Skopac, another Croatia native on the women's tennis team.
"That was a big help, because I was really confused when I first came here," Sunjic said. "Everything was like new and different, so she helped me a lot."
That connection was not only beneficial to Sunjic, but also to Nester as a coach.
"It was nice that she already had a Croatian connection with Klara," Nester said. "They started a dialogue, and Klara gave her some information on NKU overall, and the team, coaches, and so we were thrilled to have Margita join us here."
Skopac was also honored by the Horizon League, being named All-Horizon League Second Team, along with being a member of the Horizon League All Academic team. She finished her season 12-5, and matched Sunjic at 8-1 in Horizon League play.
With a full season under her belt, and a newfound comfort in the United States, Sunjic will return to NKU in the fall looking to continue her dominance.