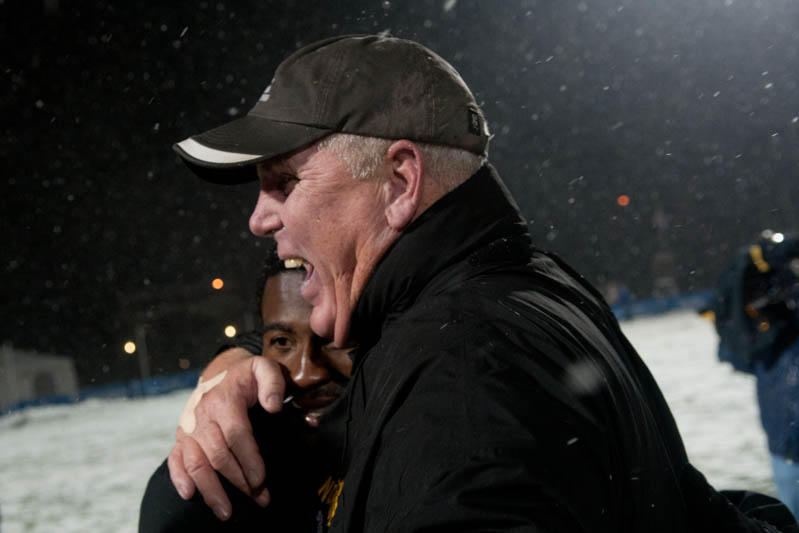 The John Basalyga story: Part Two
February 8, 2017
Basalyga sat in his office in 1979. He was also the quarterback coach  for the Turpin football team and the baseball coach at the time.
The phone rang in his office and at the other end of the line he hears the voice of the athletic director.
"He says to me 'It says here on your resume that you played soccer in college,'" Basalyga said. "I just started laughing. I told him, 'I don't know what the hell that is. I just played goalie, I was a piñata.'"
The athletic director proceeded to tell Basalyga that the soccer coach at the time had quit and asked Basalyga to become the next head coach.
"I told him I didn't know anything," Basalyga said. "He told me 'John, I need you to take this program over.' So I did."
In his first weeks as coach, he coached as if they were a hockey team; physical play and mental toughness were placed at the core of his coaching regime. In his first few games, Basalyga substituted players after every goal, much like hockey teams do.
"I didn't know what the hell I was doing," Basalyga said. "My kids were like 'this isn't hockey. You don't change lines after you score.'"
Basalyga struggled for two years trying to coach soccer like a hockey team. He started reading books.
"My daughter was two and three. I would read a book, watch some videos, and then teach her what I was reading. She was my guinea pig," Basalyga said.
Lindsay remembered her dad going to coaching conventions and loved when he would back new equipment for she and her siblings to try out. 
Basalyga turned those days into a 325-93-58 record at Turpin High School, including three Ohio state championships in 1986, 2000 and 2001. During this period, he was also coaching ice hockey in the winter at Moeller, coaching baseball in the spring and coaching his children's teams.
Building a college program
Basalyga originally applied to NKU to become the head coach of the women's soccer team in 1997. Jane Meier, former athletic director at NKU, instead hired another Cincinnati high school coach, Bob Sheehan, to run the women's soccer program.
Meier didn't forget about the Turpin head coach though, and when the men's head coaching position opened up in 2003, she knew just who she wanted to lead the team.
"I remembered John from that interview and hoped he would apply and even if he hadn't applied I was going to reach out to him anyway," Meier said. "He had so much success when he was at Turpin. The kids really liked him, at least in the interview."
We were pretty fortunate at NKU to get someone of John's quality, even though he came from the high school ranks. He knew what he was doing."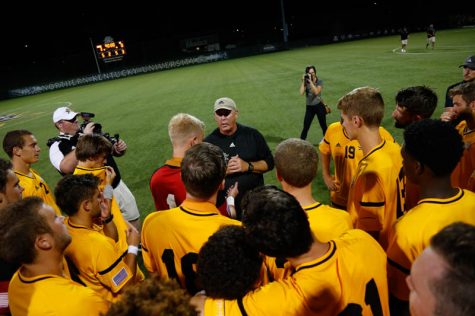 Basalyga said he owes his career to Meier.
"Jane Meier saw something in me. My whole coaching career is baseball and Jane Meier pulling me out of the fire," Basalyga said. "She let me go. She let me do my thing. Without Jane, I wouldn't be here."
In his first season as head coach, the Norse went 4-9-3 on the season, and some players started grumbling about how hard Basalyga was pushing them.
"When he first started coaching them there was some grumbling because John's intense and he pushed them and he was taking them to another level to be competitive," Meier said. "That was the only time I ever had any grumblings about his style."
It was the only losing season in Basalyga's DII career. The Norse went 12-6-2 the next year, and the grumbling ceased, from what Meier could tell. In 2006, the Norse went 16-3-3 and were Great Lakes Region champions.
Basalyga's teams continued to improve after each season, but needed something more to get to where Basalyga dreamed.
"He recruited players he knew he could coach. He was smart and knew what he needed each year," Meier said. "He makes the decision to recruit internationally because he knew he needed another level of player that wasn't going to come to NKU from the United States."  
Enter Steven Beattie, a talented, goal scoring forward from Dublin, Ireland, who would later be drafted by Toronto F.C. and now plays professionally for Cork City F.C. in Ireland.   
Beattie first met Basalyga in Memphis, when the coach came marching across the field after Beattie's Irish team finished playing in a showcase.
"He came marching across the field and said 'Dude I want you on my team,'" Beattie said. "I was like, 'who's this guy?'"
Even still, Beattie and Basalyga connected quickly, and the Dublin native committed to NKU and arrived on campus in 2007.
Beattie compares his first practice with Basalyga to the scene in the movie "Miracle", where the 1980 US National hockey team is speed skating back and forth and the Kurt Russell version of Herb Brooks repeated tells his team to get "on the line".
The Norse, however, were practicing outside in the blistering summer heat.
"We were down on the field and cleats were pretty much melted to the turf and Bas just ran us into the ground," Beattie said. "I was thinking 'what am I doing? This is madness.' But the way we trained the first day was the way I was trained for four years. He just makes you a better player and an overall better person."
Basalyga's intensity was the same during practice as he was in games.
"I dared kids to quit," Basalyga said.  
This was directed towards the referees as well, and those interactions were tense at times.
"One time the referee told him to shut up. So he (Basalyga) taped up his mouth so he couldn't talk in the middle of the game," Beattie said.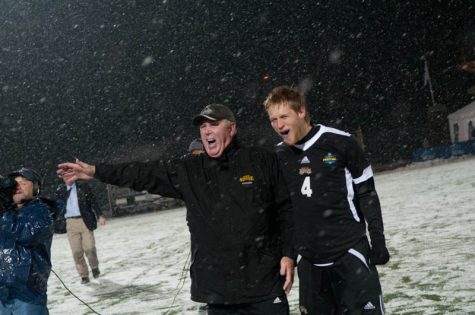 When the team made the transition to DI in 2011, Basalyga made his team play for an hour and 20 minutes straight. One team was winning by two goals. At the 45 minute mark Basalyga told his team that the next goal would win. The team played another 45 minutes.
"At the end the losers were running," Basalyga said. "The kids got tired and I kept them playing."
That practice happened on a Tuesday. The next game was on Friday. The Norse played Stetson and were getting beat in the first half. In the 88th minute though, the Norse scored to tie the game to send the game to overtime.
"We go into overtime and they (Stetson) couldn't get past midfield because they hadn't played that long before," Basalyga said. They were so tired they couldn't even kick the ball."
The Norse scored in double overtime to seal the comeback victory.
"I went to the kids after the game and said 'Where do you think we won that game?'" Basalyga said. "They said 'because on Tuesday we played longer.' I told them that's why I did that to them."
The National Championship
In 2010, the Norse exploded once again, recording a 20-2-3 record on the season, vaulting them to the DII National championship game in November.
RELATED: Norse soccer wins National Championship
In the weeks leading up to the national championship, Basalyga banned the team from wearing long sleeves, pants, or any warm weather gear despite brutal cold, snow, and ice.
"I thought he was crazy at the time," Beattie said. "Guys weren't allowed to wear gloves or hats. What I learned after we won and as I get older, he prepared us for the day of the national championship game which was snow in Louisville."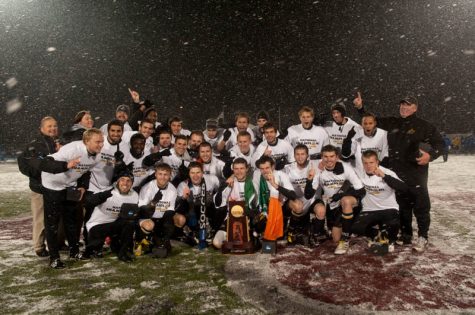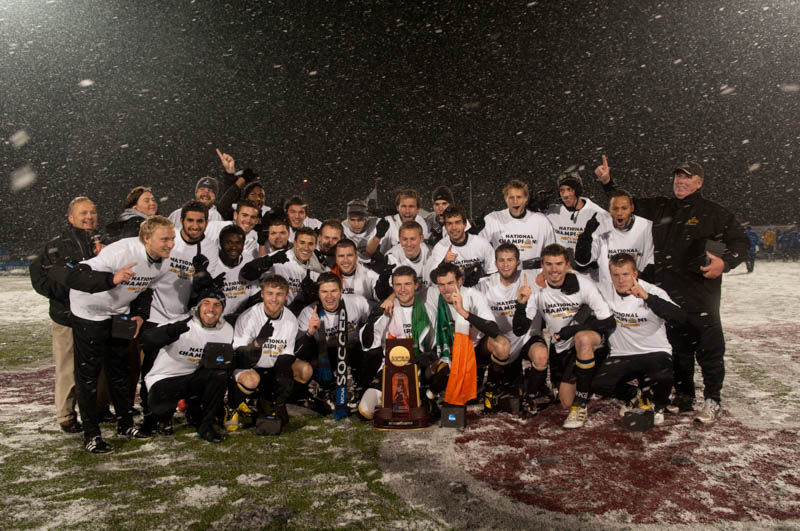 In fact, the snow was so bad the day of the national championship kickoff was delayed for over an hour to clear snow off the field. Rollins College, the Norse opponent, was a Florida team and never had to play in the snow prior to this game.
"We had pretty much already mentally been there training like that for three or four weeks," Beattie said. "(Rollins) was from Florida and their goal keeper was wearing a wooly hat for the national championship game."
The Norse took the field the same way they had been practicing for weeks; short sleeves and shorts.
"People were like this guy is crazy, this NKU coach is crazy," Beattie said. "There is method to his madness, you don't even feel the cold. The other guys come out for warmups with big jackets and tights on and everything else. Everything he did he had a plan.
"Obviously at the time you can't see it, but when you look at the results his plans were just perfect. There was a method to his madness, and a lot of times it was madness believe me."
Basalyga's madness resulted in a 3-2 victory over Rollins to collect the 2010 DII National Championship, something Beattie told his coach the first week on campus they would accomplish.
"My first weekend at NKU we were talking and I said 'coach we are going to win a national championship' and we had a laugh," Beattie said. "On the field in Louisville I said 'I told you we would win that' and he said 'I never forgot you told me that. I believed you at the time but I didn't want to show it."