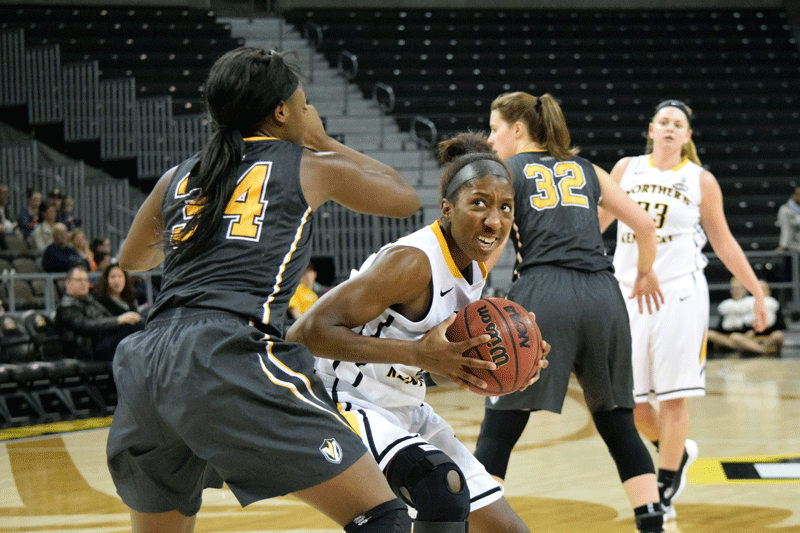 Six seconds or less: NKU women look to push the pace
Faster than an eight-second trip around a dusty ring on the back of an angry bull.
That's how quickly new Norse women's basketball coach Camryn Whitaker wants her team to shoot the ball and score on a possession.
"The goal is to score in six seconds or less," Whitaker said. "Now, six seconds is probably a little bit unrealistic to score every single time, but that's the mentality we're trying to build."
Whitaker will look to help guide the Norse to its first Horizon League championship, which would qualify the team for the NCAA women's basketball championship.
To achieve that goal, the first-year coach has pushed her team in every practice since her introduction as head coach May 10.
"For me, it's been fun," Whitaker said. "Our players are working extremely hard. Every day in practice, they give us everything they have. That's really enjoyable to coach players like that, that want to work hard, that want to play the way we want to play as a coaching staff. Sometimes that can be difficult to implement a new system.
"Our girls have really adopted it and really bought into it. That makes it a really enjoyable experience for me."
Playing fast is a mentality
Last season, NKU was third in the Horizon League in scoring at 72.5 points per game. That average would have been good enough for 42nd out of 344 Division I teams if they were classified. They made the third most field goals in the Horizon League at 817.
It wasn't like the Norse were playing in slow motion under Dawn Plitzuweit, who left NKU April 22 to take the head coaching job at South Dakota.
However, this year Whitaker and her Norse will push the pace to a new level. Whitaker has taken her experience and crafted a system that will be unleashed on NKU's opponents this season.
"Playing fast is a mentality," Whitaker said. "I've been fortunate to be a part of some really good programs under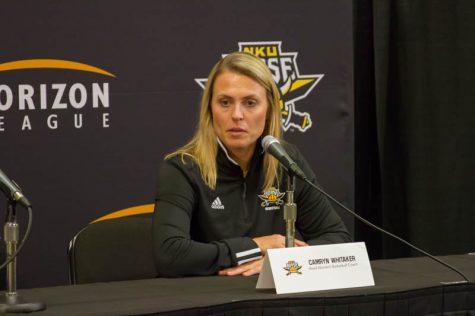 some really talented coaches, and I think that taught me a lot as a coach, kind of developing my own style. I've been able to take little bits and pieces of each program and incorporate them into our program at Northern Kentucky."
Sometimes when taking over a new program, coaches will have to modify their coaching style to fit a team of players they didn't recruit. Whitaker's new players fit her system perfectly.
"It's good for the girls because I think it fits them," Whitaker said. "I wouldn't come in here and say, 'We're going to play this style' if it didn't fit our players and our personnel. I really do think it magnifies their skill sets, and it really plays to their strengths."
Playing an up-tempo style required the new Norse head coach to adjust her practice plans.
"With it being a mentality, there's some things that have to happen," Whitaker said. "We have to practice a little bit shorter because we have to go up-and-down a lot to develop that fast pace that we want. We have to run a (defensive) shell drill, then transition from that shell drill into a fast break."
A good transition
Rebecca Lyttle and Kasey Uetrecht are NKU's top returning scorers from last season. Lyttle averaged 7.8 points per game while Uetrecht averaged 11.8.
Both have been pleased with the transition to Whitaker and the new coaching staff.
"I think the adjustment has gone pretty well," Lyttle said. "The style of play is a little different. It's a little bit faster. But the coaching staff has been really positive, and everybody has been really positive and encouraging to others."
Uetrecht said that Whitaker and her staff have raised expectations surrounding the program.
"I would say she has a higher expectation for us," Uetrecht said. "The intensity in practice is definitely a lot more than it was last year. I think that's going to carry over into games."
Everything the team has done in the offseason has been more intense, Uetrecht said.
"I would say in every aspect — conditioning, lifting — every aspect has been building into having a fast-paced offense and getting back on defense," Uetrecht said. "Everything that we've done to this point, from summer to preseason, has been building to this. Everything we've been doing is so much faster, and the intensity has been so much more."
The increased intensity suits Lyttle and her teammates just fine.
"It's taken a little time, but this is what we wanted," Lyttle said. "We wanted to play a fast-paced game, so it's good Coach Whit has implemented that with this team, so we're excited. It's taken time. We're getting better at it each day."
While both players admitted that the team has embraced the increased intensity, Uetrecht noted with a smile that the offseason hasn't been easy.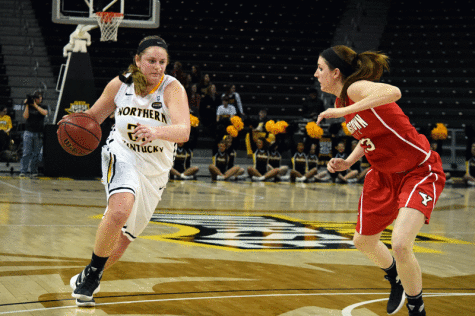 "I've never been a big 'running person,' but this offense kind of makes me," Uetrecht said. "So it's been beneficial for me. It was awful conditioning … it's been really hard. But I think it's going to only benefit us when the season comes."
Playing without fear
Whitaker has stressed to her team that to play a fast style, they must play without fear.
"I don't want them to be afraid to shoot it," Whitaker said. "We've got players that their strength is shooting. In order to develop confidence in your shot, you have to be able to shoot and have a green light. I don't want them feeling pressure, especially right now, two weeks before we play, in practice. They should be shooting the ball. They should be getting comfortable."
While Whitaker admits that there may be times when they have to be more selective in shot choice, she wants her team to feel confident in their shot.
"I always tell them, shot selection is really important, and there will come a time when we have to say, 'OK, I don't want you to take this shot,'" Whitaker said. "But right now, I tell them, 'If it's a shot you have practiced, then take it. I want you to take it if you're open.'"
A winner and a loser
Ask Uetrecht and Lyttle about the Horizon League semi final double overtime loss to Green Bay, and they sigh immediately. They certainly have not forgotten.
NKU lost 14 games last season. Eight of those 14 losses were by five points or less, and seven of those games were lost by three points or less. This includes the 80-78 loss in double overtime to Green Bay and the season-ending loss in the Women's Basketball Invitational to USC Upstate, 71-69.
Whitaker has worked to prepare the Norse to end up on the winning side of those close games this season.
"We've talked about that a lot actually," Whitaker said. "Even from day one of our first practice, we worked on situations. That's something that I, as a coach, believe in, not just based on the performance last year of having some close games."
In the end, Whitaker believes it all comes down to execution in tough situations.
"I think you've got to execute out of timeouts, defensively and offensively," Whitaker said. "I think you've got to execute late-game situations. We practice them every day. It's something that is really valuable, and I think what that does is it builds confidence in our players. We get in a huddle in a game and we're down one with five seconds to go on the side, they're going to know that we've practiced this every day.
"We've put you in this situation for a reason, and now they feel confident, and they know we're going to win."
To achieve late-game confidence, the Norse head coach has competitions in practice. Lose one of those competitions, and there are consequences.
"We compete in almost all of our drills. All of our drills have a winner and a loser," Whitaker said. "There's a consequence if you lose. I think that's also something we're trying to build in our culture that hopefully, down the road, will help us win those close games. This is the difference between winning 19 games and winning 25 games."
Whitaker wants her team to believe it will be successful, so she and her staff preach confidence in practice every day.
"We want to be confident. We will win the close games, and that's what we tell them," Whitaker said. "Of course, as a coach, you hope that's what happens. Hopefully, we're practicing enough that it's building confidence in them as a team and putting them in situations that they're comfortable taking tough shots in pressure situations."
Replacing the Roushes
Uetrecht and Lyttle, along with other returning players, now assume leadership roles vacated by the graduated Christine and Courtney Roush along with Rianna Gayheart.
Christine Roush led the team, averaging 15.9 points per game, while her sister Courtney averaged 9.0 points per game. Gayheart averaged 5.1 points and 3.1 assists per game.
Lyttle said that staying positive with the young players has been important for the veteran team leaders.
"I would say encouragement with everything that happens," Lyttle said. "You can't let one little thing affect your game. That's the biggest thing — one mistake will happen and they'll hang their heads. I think it's just encouraging them, letting them know that we have to stick together, it's going to be OK and you're going to make mistakes."
Uetrecht has been impressed with how excited the young players have been, which include freshmen Laura Thomas, Hannah Clar, Hayley Combs and redshirt freshman Taryn Taugher.
"The younger group has been a good bunch because they've been so eager to learn," Uetrecht said. "They never take a play off. I think that's what I appreciate most about this younger class."
While replacing seniors such as the Roushes and Gayheart is never easy, Uetrecht believes the team will be more balanced this season. She doesn't feel there is pressure on her or the other returners.
"I think we were very one-dimensional last year," Uetrecht said. "I think we're going to have a lot more people step up this year. I think it's going to keep the pressure off of us."
Whitaker said the returners have fostered a strong team chemistry during the offseason.
"Becca and Kasey, and I could go down the list of all of our returners, they've done a tremendous job of building team chemistry," Whitaker said. "In the summer, they spent a lot of time together. We did a lot of team activities including the coaching staff because we were new too."
In addition to team chemistry built off the floor, Whitaker believes Lyttle and Uetrecht set the tone with their play in practice.
"They lead so much by example," Whitaker said. "Their work ethic, the way they play the game, their desire to compete and win, is always there every day. Even if they're making mistakes, they try not to show it with negative emotion. That's something as a coaching staff we've really tried to preach. Stay positive and change your mindset.
"Those two have been big keys and I anticipate that they will be really big keys going forward in our season and the success we might have."
Finally NCAA tournament eligible
After four years of knowing there was no NCAA tournament waiting for the Norse at the end of the season, the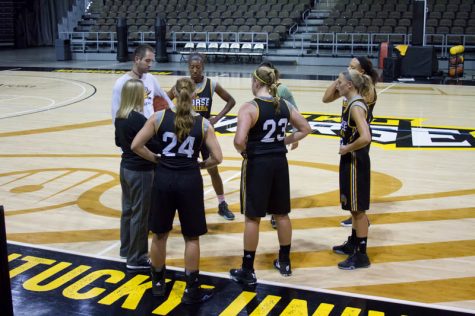 transition to Division I is now complete.
The mission is clear: Leave Joe Louis Arena in Detroit in March with a Horizon League title and an NCAA tournament bid.
"I think it pushes us harder every single day," Lyttle said. "After every practice, thinking we're one step closer to the NCAA tournament. This is our first year. The excitement level is through the roof. That's our ultimate goal. That's what we want to do is to win the Horizon League and go to the NCAA tournament so we're just really excited."
The possibility of playing in the big dance is something Uetrecht said has motivated the team all offseason.
"I think there has been more of a sense of urgency since we stepped on campus in June," Uetrecht said. "Now we have something to work for. There's been more urgency, there's been more excitement, and I think everyone is going to see that in March."
Whitaker has been there before. As an assistant coach at Kentucky, she has been on the bench for teams that have gone deep in the NCAA tournament. However, Whitaker will not allow this season to be about those teams.
"We don't talk much about any of my past experiences," Whitaker said. "This is about them and this is about Northern Kentucky. We're not trying to be anybody else but Northern Kentucky University. We're trying to create our own culture. We're trying to create our own success as we move forward in Division I."
To accomplish that goal, Whitaker and her staff emphasize the importance of outworking their opponents.
"More of what we do is we're trying to establish that you're not getting to the NCAA tournament without securing all the 50/50 balls, boxing out and rebounding every time, taking charges, diving on the floor, diving out of bounds for loose balls, doing all the extra-effort plays," Whitaker said. "That's what they have to understand."
If the team doesn't do those things in practice, they run.
"All of those other little things are what is going to separate us," Whitaker said. "That's what we've tried to instill early on. We run if we don't box out. We run if we don't dive on the floor after a loose ball. If we bow out of a charge, we're going to be on the line running for that.
"The teams that I've been a part of that have made it to the Elite 8 and the Sweet 16, they did those things. That's what our team wants to be known for."
Passion and energy
Whitaker hopes her team will embody her personality on the floor.
"I'm very passionate and very energetic, and I'm extremely competitive," Whitaker said. "They always say the team usually takes on the identity of the coach. I hope they take that away from me, the competitiveness and desire to win. I don't know anything else but to win. I hope that our team develops that same mindset."
If the coach has her way, her team will bring toughness and passion to the floor every night.
"We want to win doing it the right way, working really hard, putting our nose down and going to work," Whitaker said. "Not talking about it, just getting it done on the floor. There will be no excuses. We're not going to blame games on officiating. We're not going to blame it on each other. We're going to be a team that rallies around each other, plays together and plays as a team."