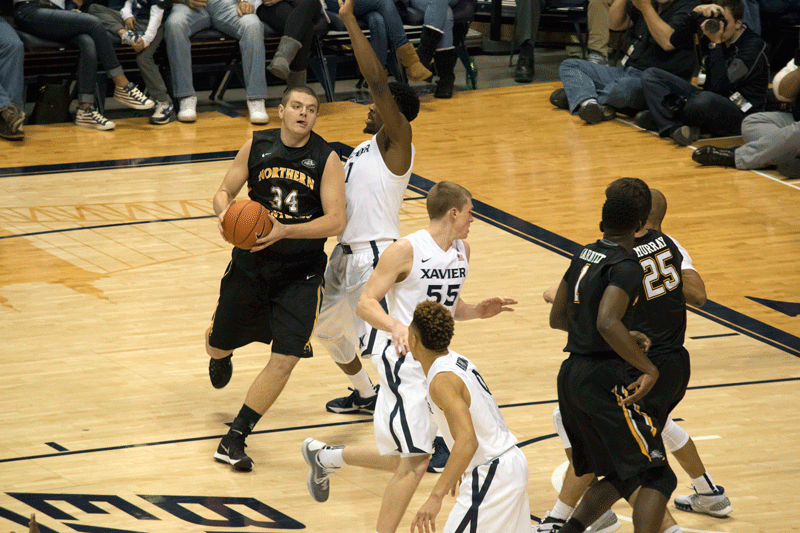 Norse look to push pace in Brannen's second season
During the open practice session of Norse Media Day, the NKU Norse men's basketball team showed exactly what they wanted to be known for this season.
The Norse attempted to score 100 points in four minutes, all while running full-court layups, three-man weaves and transition shooting drills.
The Norse came up one point short.
"Everyone on the line," Brannen shouted.
After the sprints, the Norse shifted to a ball pressure drill where two defensive players shifted back and forth to apply ball pressure to the two offensive players. Brannen watched this drill intently, got down in a stance and paced back in forth begging his team to stand their ground.
"We need to get 35 deflections a game," Brannen yelled out to his team during the drill.
That goal is part of Brannen's larger goal of bringing an identity to the NKU Norse basketball team.
"Practice has been very competitive, very upbeat," sophomore center Drew McDonald said. "He tells us he doesn't want to run offense he just wants to get out on transition so it will be easy for us and hard for them."
It's part of Brannen's '94 feet both ways' philosophy, which is about pressuring the opposition on both ends of the court.
"Right now we are trying to be comfortable being uncomfortable," Brannen said. "We are trying to get them out of their comfort zone. Once we achieve that we can make other teams uncomfortable."
NKU is coming off a disappointing season, going 9-21 in Brannen's first season as head coach. The Norse ranked 7th in the Horizon League in offense last season, and lost Jalen Billups, who led the league in field goal percentage. The Norse also lost Tyler White, who scored over 1,000 career points for the Norse and ranked 19th in scoring last season.
The Norse ranked ninth in the Horizon League in turnover margin, recording 406 turnovers while only forcing 348.
This year the Norse will be eligible for the NCAA tournament for the first time since making the switch from Division II athletics to Division I. While Brannen knows every player on the team is dreaming of stepping on the big stage, he is trying to keep things in perspective.
"That NCAA bracket is a pretty powerful image that goes across the televisions going up to March," Brannen said. "We want to be playing our best basketball during that time of the year. We put it in front of them but we don't pressure them with it."
The prospect of the NCAA Tournament won't add pressure to the Norse, according to McDonald.
"There isn't more pressure just more opportunity. This year we will have something more to play for," McDonald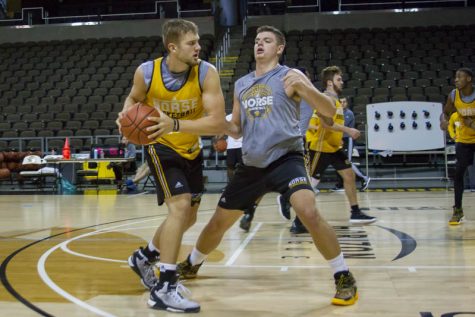 said.
The Norse were ranked seventh in the Horizon League preseason coaches poll. Despite the low expectations from the rest of the league, McDonald thinks the defense that ranked fifth with 74 points allowed per game last season will help the Norse be contenders this season.
"Our defense will be in the top of the league this year with our athleticism and length," McDonald said. "We're gonna get other teams uncomfortable. I think our fight and competitiveness will show. We are going to go out every game thinking we can win."
Brannen hopes the style of play will get more of Norse Nation inside BB&T Arena this season.
"I know what the fabric of this community is," Brannen said. "They are going to be attracted to the style of play, and it's going to be a fun style of play. I would urge our community to come out and see it for themselves. Ninety-four feet we will be in you."
Recruiting Class
The Norse will carry six freshmen this season as part of Brannen's recruiting class that was ranked one of the best mid-major recruiting classes of the year by Next Up Recruits.  
"Each year your team is different," Brannen said. "Right now I think we are more dynamic athletes. We get up and down the floor more, we have length at the wing and guards. We will play more of a transition offense. We are a young group and implementing things at a slower pace."
The Norse newcomers include the Mr. Kentucky Basketball in 2016 and ESPN 3-star recruit in forward Carson Williams, who averaged 26 points and 10.7 rebounds per game as a senior at Owen County High School.
Williams is looking forward to the chance to play in the biggest moments of this NKU program.
"Ever since I was a kid it was a dream to go to the NCAA tournament so I'm definitely looking forward to the opportunity to do that," Williams said.
Along with Williams, the Norse will also bring in the runner up to Williams as Mr. Kentucky Basketball, Mason Faulkner, who led the state in scoring with 35.9 points per game.
The Norse also welcome the Division III Co-Player of the Year in Ohio Dantez Walton as well as Blake Spellman (19 ppg), who was the co-winner of the DiRenna Award, which is given to the best player in the Kansas City area.
This is Brannen's first recruiting class at NKU, and he believes these players will grow into something special in the years to come. But they aren't quite there yet.
"The freshmen coming through the door are probably more equipped for the style, but their learning curve is steeper," Brannen said. "It's going to take some time.This is a quieter group than I like. We have some big personalities but because they are so young practice has been quiet. But, they come in with open hearts and open minds."
McDonald looks to step up in other areas of his game
McDonald, a sophomore center, made an immediate impact for the Norse in his first season, averaging 10.5 ppg and reaching double figure points in 16 of his last 21 games. He recorded 11 blocks as well and was named to the Horizon League All-Freshman team.
McDonald will be looking to improve on those numbers as a regular contributor this season, but Brannen wants McDonald to improve in another area as well.   
"He needs to take more of a veteran approach," Brannen said. "He has competitive credibility. These guys know he has been successful in the Horizon League and that allows him to use his voice in the locker to continue to push our values and our system. When he does that we are a better basketball team."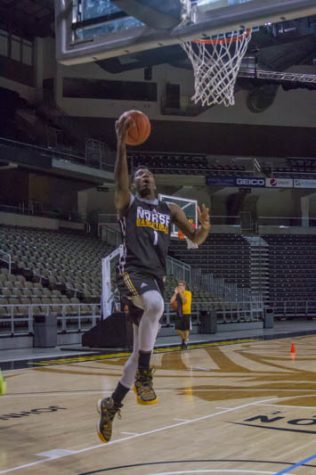 As a freshman last year, he knows how important it is to have someone there to help him adjust to the college game, and wants to be that teammate for these newcomers.
"Now I am one of the leaders," McDonald said. "We need to teach these guys everyday. I would just say play hard. If you play hard coach will play you. He doesn't care what technique you use just as long as you get the results."
Players to Watch
Senior guard Cole Murray was fourth in the Horizon League in three point percentage (45.3) and third in the league in three point shots made (78). Murray has also played 1,605 minutes throughout his career, making him the most experienced Norse. The Norse will look for Murray to continue his hot shooting from the outside this season.
Junior guard Lavone Holland will also play a major role in this Norse offense this season, after playing a major role
in the offense in his first season as a Norse. Holland lead the team in assists, averaging four assists a game and recording 113 total assists, which was good for fifth in the Horizon League. Holland also was third on the team in scoring (10.7 ppg) and rebounds (4.7 rpg).