NKU Fall Sports Look to Improve in Second Year in Horizon League
August 24, 2016
The fall sports season is just about to get underway, and the three teams in season will be looking for Horizon League Championships and NCAA tournament berths.
Women's Soccer:

NKU women's soccer has played two exhibition matches, going 1-1 in those games against Ohio University and Western Kentucky, giving the coaching staff a good look at what this season could be like.
"The OU game was really good for us. We did some really good things but ran out of gas in the second half," Head Coach Bob Sheehan said. "WKU was even better. We were on our heels quite a bit and to score in the 89th minute was a testament to our player work ethic and our commitment to the game."
The NKU women's soccer team had a strong 2015 season, finishing the season with an 11-5-2 record. They eventually lost in the semifinals of the Horizon League to the eventual champions, Oakland, in penalty kicks.
"Anyone who coaches or has been around soccer knows PK's are a difficult way for the game to end," Sheehan said. "We take it as a learning experience. We have to do better in that phase of the game, and we'll work on that."
Despite the disappointing end to the season, the Norse left a deep impression on the rest of the Horizon League, going 6-2 against league opponents in 2015.
This year, the coaches ranked NKU third in the preseason polls, only behind Oakland and Milwaukee.
"It doesn't add pressure," junior Macy Hamblin said. "It's really exciting for us because people are starting to notice us. They recognize we are a team they are going to have to deal with. We've made a name for ourselves now we want to show people we are a serious threat."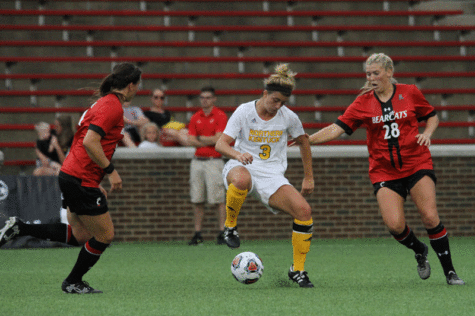 Hamblin was a major part of the team's success last year, totaling 1,456 minutes while scoring six goals and assisting on nine more. Her performance not only earned her Horizon League Offensive Player of the Year, but the top honor of Horizon League — Player of the Year.
"Macy is a special player,"Sheehan said. "She is really selfless. At the end of the day she just wants to win. She sets up her teammates really well and has an incredible work ethic. She is a very kind person and is very supportive of everyone on the field."
Fellow junior Jessica Frey has been playing with Hamblin since they were on the same club team in high school and knows exactly how special of a player her friend is.
"Our connection together is really great," Frey said. "She's such a great player that it's an honor to play with her. People sometimes think we are in a competition but we have a great friendship and we motivate each other."
Frey herself had an incredible season last year as well, using her quickness to score seven goals, which lead the team. She assisted on six other goals, earning her a spot on the Horizon League first team.
"It was a big honor," Frey said. "You work hard all season and you want to win and to be given that honor it shows my hard work paid off."
These two players, along with senior midfielder Katelyn Newton who scored three goals last year, will have to match or exceed their 2015 play to get the Norse where they need to go this year.
Taylor Spaulding, who was named to the All-Freshman Team for her defense in 2015, also needs to have an impressive sophomore campaign.
Sheehan wants Hamblin in particular to put the ball in the net more this season.
"We would like her to score more," Sheehan said. "You never want to put too much pressure on one player. But we've been telling her if you have a chance try to win the game, go ahead and do it yourself."
ANALYSIS from the Editor
Key Matchups: Cincinnati, Xavier, Vanderbilt, Oakland, Milwaukee:
This schedule is not an easy one.. UC was ranked 33rd in the country last season Vanderbilt went 9-8-4 in a tough SEC. These teams along with the two favorites in the Horizon League make for a difficult road to the NCAA
tournament for the Norse.
The strength of schedule is by design, according to Sheehan, and should make his team tough enough and experienced enough to shine come the Horizon League tournament.
"When we go out there we are not intimidated," Sheehan said. "It was hard three and four years ago to even walk out against Atlantic Sun schools. We are trying to play the best schools we possibly can. The more exposure we give our players to higher level programs the better we will become.
"If our record isn't what our players want it to be going into Horizon League play, we will still need confidence to play in the league. We had a tough preseason for a reason."
Even so, the players themselves think they can play at the same level as the bigger schools any given night.
"We can play with anyone if we stay focused," sophomore goalkeeper Emily Lohmann said.
Player to watch: Emily Lohmann, goalkeeper: Lohmann was just a freshman last year and only controlled the net two times during the regular season.
This year the sophomore has taken advantage of her opportunity and earned the starting job for the Norse.
"It's very rewarding,"Lohmann said. "From last year to this year I think I have made a huge jump."
Sheehan knows if Lohmann can continue to be the player he has seen during practice, his team will be far better than many teams in the Horizon League.
"We have to have good goal keeping," Sheehan said. "In women's soccer, if you have a really good goalkeeper that really helps your team. If they struggle it really hurts your team. Emily had a great spring and has established herself as our number one goalkeeper."      
While plenty of pressure will be on Lohmann to perform, she will be able to count on the offense —  Hamblin and Frey — to provide some relief for her during tough games.
"It's a great feeling to see your team go up one or two goals and know that it's not just me out here," Lohmann said.
She will be thrown straight into the lion's den the second game of the season when the Norse face UC. Look for the young Lohmann to hit some bumps in the road to start the season but ultimately continue to improve.
"I don't want to be a stagnant player," Lohmann said.
Men's Soccer:
Last year the men's soccer team finished one game over .500, going 8-7-4 on the year but really impressed in their first season in Horizon League play, finishing with a 4-2-3 record in conference.
"Overall it was a winning record," Head Coach John Basalyga said. "We are always striving to get better. Our big goal is to win one more game. Place one spot higher in the tournament than you did last."  
The team earned the three seed in the Horizon League tournament but was upset in the first round by six seeded Wright State, ending the season too early for the Norse's liking.
"I don't think our season was successful enough," junior defenseman Dylan Carss said. "We didn't go far enough in the tournament last year. It's all about winning championships."
Not only will the Norse be looking to win the Horizon League, but they will be trying to compete in their first NCAA tournament since 2011, when the Norse lost in the quarterfinals of the Division II National Championship.
"Now that we are Division I and tournament eligible, there is pressure for us to perform," Basalyga said.
One of the biggest challenges of the season will be replacing the productivity of graduated goalkeeper AJ Fleak, who ranked third in the Horizon League with 73 saves in 16 games.
"Maybe we can tape two goalies together to make them as big as AJ," Basalyga said. "The competition between the four goalies is fierce."
Redshirt sophomore Christian Carey is the favorite to win the starting job. Carey only played in one game last year, where he allowed a goal and made one save in 20 minutes of action. Carey knows he will have big expectations to fill when he steps on the field.
"AJ was a great goalkeeper, and there will definitely be big shoes to fill," Carey said.
The Norse are also an extremely young team, with mostly freshmen and sophomores filling up the roster. Midfielder Alwin Komolong is the only senior on the team. Getting all of the young players in shape and ready to play the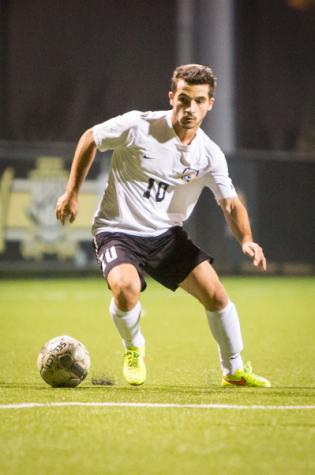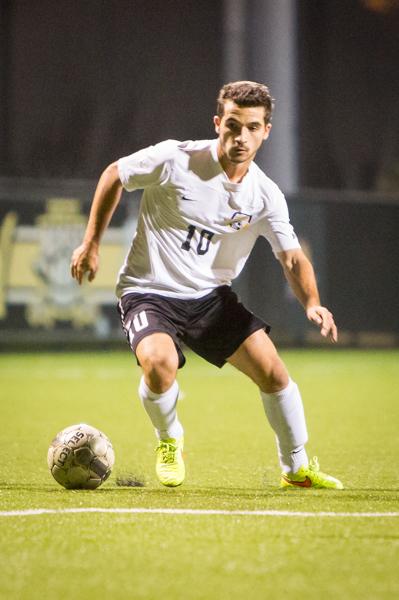 physical brand of NCAA soccer will be vital to the success of the team this season.
"The biggest thing is getting used to playing tired," Basalyga said. "If they don't fight through it they will hit a wall mid-year. The physicality of the game is something they will have to get used to."
With this in mind, the upperclassmen on the team reported to school two weeks earlier than the rest of the team to what they called "Captain Practice." There, they began to work out and get in shape to prepare for training the freshman.
"We knew how we felt as freshman and know how hard coach likes to work us," junior Jacob Cunningham said. "Our goal was to prepare the incoming freshman as best we could. I think we did a good job."
The Norse will also look to the leadership and skills of junior forward Diego Martinez to lead them on the offensive side of the ball. Martinez only scored one goal last season, but was able to help assist on three goals, ranking second on the team.
In his third year, Martinez knows if he and his team can play to their potential, this season could be one for them to remember.
"It's hard work to be on this team. It's a privilege. We have to support each other," Martinez said. "We just have to take it game by game."
Analysis from the Editor
Key Matchups: Kentucky, Depaul, Oakland, Wright State
The Norse beat UK in their annual exhibition game 3-0, extending their winning streak against the Wildcats to two games and overall record against them to 2-0-3.
Depaul went 5-13-1 last season but played in a very tough Big East that has two teams ranked inside the top 10 this season. This will be a game against a battle tested program that the Norse have a very good chance of winning.
Oakland and Wright State are tied for first in the Horizon League preseason coaches' poll this season. The Norse tied Oakland in their only matchup last season, and they beat Wright State in their regular season match-up before losing to the Raiders in the tournament. Beating either one of these teams will make a statement for the Norse and put them in good position come tournament time.
Player to Watch: Jacob Cunningham, junior forward
Cunningham only started six of the 19 games he played in last year but managed to collect over 700 minutes of action for the Norse. He made those minutes count however, assisting on four goals, which led the team.
"It takes mental strength to come off the bench," Cunningham said. "I'm not worried about starting. I just have to work hard. Coach thrives on hard work and if you do that you don't have to worry about not playing," he said.
Cunningham will be an x factor this season as a facilitator for Martinez and sophomore midfielder Johannes Jansen, who scored three goals last season.
Whether it's coming off the bench or starting, look for Cunningham to make a huge impact for the Norse this season.
Volleyball:
Last year was a year of uncertainty for the NKU volleyball team. The team struggled to find their way in the Horizon League to start the season, losing four of their first five games in Horizon League play.  
"We were so unsure what to expect in the Horizon League," Head Coach Liz Hart said. "But we came back strong to end the year. We know we can be successful in the league. We match up well against all the other teams."
The Norse rebounded from the rough start to league play to finish with an 8-8 record in conference play and finishing with a 14-16 record overall. The Norse advanced to the semifinals of the Horizon League tournament before falling to eventual champions Cleveland State.
After getting a year of experience under their belts, the Norse are now a confident group going into their second season in the league.
"We didn't know who the players were and now we finally know who to look out for and what each team's strength is," senior Tristen Simpson said.
The experience gained from playing the Horizon League teams twice has given confidence to the Norse seniors.
"By the end of the year, we knew we were ready for next year," fellow senior Taylor Snyder added. "We want to leave it all out there. We will never have this volleyball world to come back to."
The Norse come into this season ranked fourth in the Horizon League preseason coaches' poll, lifting expectations for the team along with the prospect of making the NCAA tournament for the first time in four years.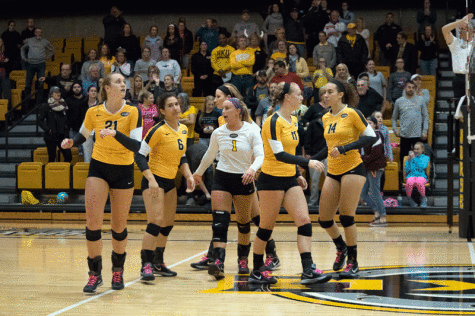 "We've waited so long for this opportunity and now we are ready to go get it," Snyder said.
While the prospect of reaching the big stage is motivation for the team, Hart knows that there are plenty of games and challenges between now and then.
"I think it's about enjoying the process," Hart said. "I want to win. But you don't want to add pressure."
NKU will be left without Mel Stewart and Jayden Julian, who played major roles for the team last year. Julian recorded over 1,000 kills in her NKU career, while Stewart averaged over five digs a set last season. Hart believes this season is not about replacing production for the Norse, it's about changing to better fit the current players.
"We aren't trying to replace Mel or Jayden," Hart said. "You look at your players and see what their strengths are and then determine your team strengths. Last year we were really good at blocking and Mel dug five balls per set.
"This year we need to be better at serve receive and have a lot of players who can terminate balls.It's just about how can you successful with what you have and then getting the players to understand their strengths and challenge them to be better at it."
Seniors Taylor Snyder, Keely Creamer, and Tristan Simpson will lead the way for the Norse this season. Stewart recorded 1,167 assists last year, almost a thousand more than anyone else on the team. She will be looking to enter the NKU record books in her final year.
"I've been playing since I was 8 so it would be something I would look at later in life and be like wow that's awesome," Snyder said. "I'm determined to get the job done and feeding the hot hand. It's a want to win."
Creamer will also be looking to finish her career on a high note, after collecting 329 kills last season, which was second best on the team.
"The biggest thing is leaving something behind I can be proud of," Creamer said."I want to be support for the team because you can only do so much by yourself. Yeah I'm second in blocks, but other people need to step up as well this season and when I graduate."
Hart wants to push Creamer to be even better than she was this year and for her to be more aggressive on the floor.
"Keely can take over games if she wants to," Hart said. "We've talked to her about taking over and being the woman this year."
Seniors Tristen Simpson and Lauren Hurley will also continue to play key roles for the team in their senior years. Hurley recorded 21 service aces whiles also digging 269 balls while Simpson recorded 158 kills last year.
"I want to end my career having fun," Simpson said.
Analysis from the Editor
Key Matchups: Arizona, Cleveland State, Oakland, Valparaiso
The Norse play four tournaments before they reach Horizon League play, and Arizona might be the toughest team they play before then. They went 19-14 in a tough PAC-12 conference last year. While Hart doesn't see the schedule as difficult, she recognizes there are some solid teams standing in their way.
"It's a good balance of challenging teams and also teams we should be beating," Hart said. "It prepares you for all different styles of volleyball. So when we get to Horizon League we will be prepared."
Cleveland State, Oakland and Valparaiso are all ranked ahead of NKU in the poll and the Norse went 2-5 against those teams last season. They will need to at least go .500 against those teams to have a shot at the Horizon League title.
Player to Watch: Haley Libs, sophomore outside hitter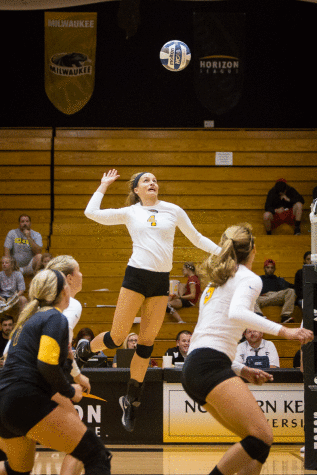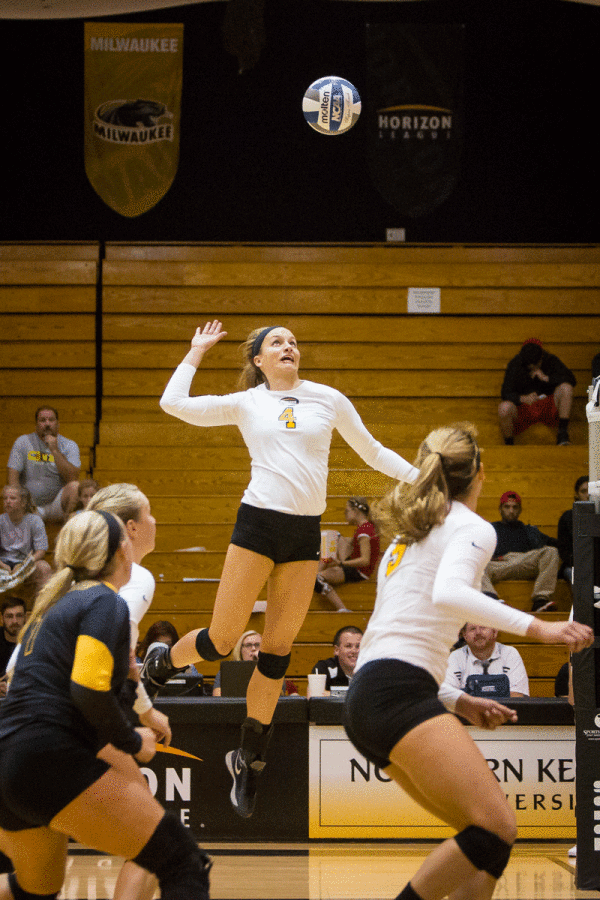 Libs was nothing short of sensational last year, leading the team with 404 kills as a freshman. She was award Horizon League Freshman of the Year and was the only freshman to make the All-Horizon League team at the end of the season.
"Last year Haley was a little fireball," Snyder said. "She has a competition and a drive about her. She just wants to win and our freshman this year are the same way. That should really help us. Her play fires us up. This girl is going
to go far, so we want to jump on her train."
With one year of college experience under her belt, Libs will be taking on more responsibilities and will be expanding her role for the Norse this season.
"We need her to perform at the same level but we will need her to take on more serve receive responsibilities and try to pass more," Hart said. "Her weakness if she had one last year was blocking and she is already so much better this year."
Look for Libs to continue to be a stud player for the Norse this year and the years to come.