All in the family; Whitaker introduced as NKU head coach
May 10, 2016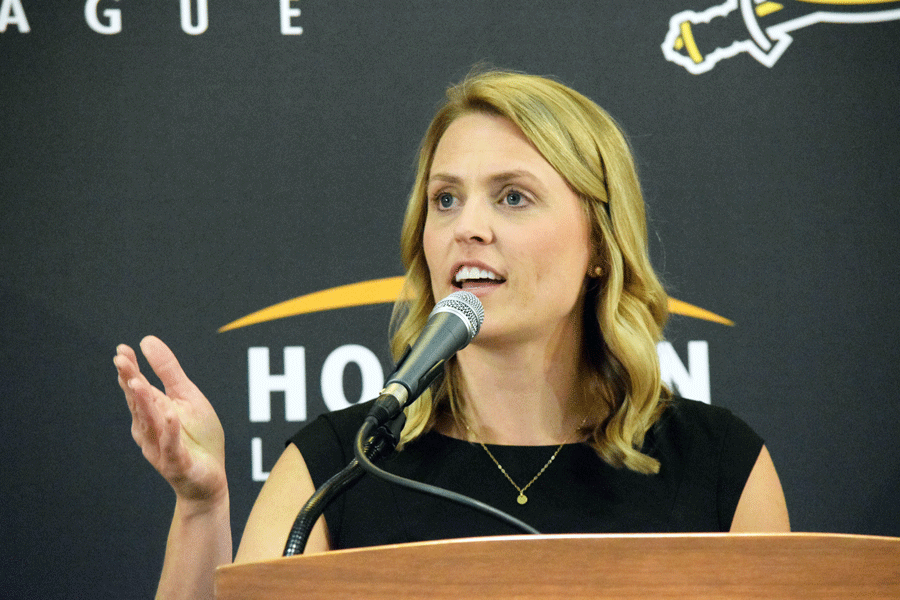 Members of Camryn Whitaker's family were spread throughout BB&T Arena Tuesday afternoon.
Some of them are related by blood, some by basketball.
Regardless of the relation, all gathered to watch the Cynthiana, Kentucky native as she was introduced as NKU's women's basketball coach.
She replaces Dawn Plitzuweit, who accepted the job at South Dakota on April 22.
Not only was she joined by her parents, Connie and Mac Whitaker, her aunt, uncle, sister and niece, but Whitaker was joined by dozens of friends, who are part of her extended family.
"Family to me is everything, and family means something different to everybody," Whitaker said. "Everybody doesn't have a traditional family. I consider many people to be a part of mine, players included. I feel like I have about 100 daughters out there. That's what I want. I want our players to feel that way.
"I want us to lean on each other. We spend so much time together. It is like a family. With family comes hard times, comes great times, hopefully, more good than bad."
NKU President Geoffrey Mearns joined Director of Athletics Ken Bothof in speaking about Whitaker. Bothof said it didn't take long for Whitaker to express interest in the coaching vacancy.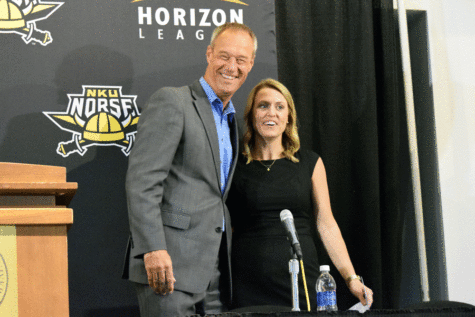 "By the end of the day after we had announced that Dawn had left, Camryn had already reached out to us," Bothof said. "She was also on our list of people we were interested in. We visited with her in Lexington, spent some time with her there, Leslie Fields and I. I think after that initial meeting, it just felt right away that we wanted to bring back to campus to visit with other individuals to continue that process."
Fields, the associate athletic director for compliance and athletic administration, and Bothof continued the process along with a search committee. They hoped to get it completed before the students left for summer vacation.
"Once they get out and go it's hard to get them back together," Bothof said. "We wanted their input in the process. I thought that was very important. They were certainly very interested in having that input. Once we kind of knew that we could get it done in a couple of weeks and feel comfortable with that, it actually clicked along pretty good because a lot of the people that were interested, we could get to fairly easily."
Kelley Wiegman, one of four seniors that will take the court for the Norse this upcoming season, said the team was thankful to get the chance to meet with the coaching candidates.
"I think it's really awesome that Ken Bothof lets us do that because Coach Whit really built a relationship with us in that meeting," Wiegman said. "Coach Whit did an excellent job communicating with us. I think that really helped with the selection process. From our point of view, that was really nice and it helped get us started off on the right foot."
It's been a roller-coaster ride of emotions for Wiegman and the basketball team, who were surprised to see their coach leave for South Dakota.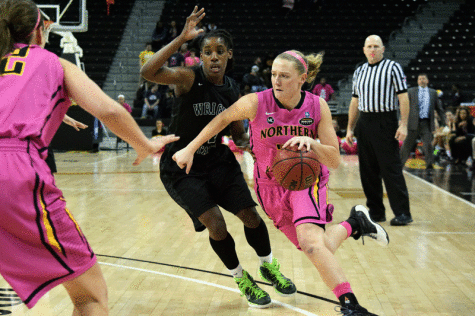 "Definitely after Coach Dawn (Plitzuweit) announced it, we were all really shocked," Wiegman said. "Kind of confused at first. After that subsided, right now we're all ready to go. After the announcement with Coach Whit, we really like her. We know she's going to come in here and get the job done. We're ready for summer and we're ready to get it started, ready to get after it."
However, when Bothof announced to the team that Whitaker had been hired, he said the team gave her a standing ovation.
There will be more ovations coming from NKU fans if the team and Whitaker meet their season goals. With NCAA Division I reclassification complete, both Wiegman and Whitaker made it clear that an NCAA tournament bid is the team's goal.
"Obviously, that's our goal. That's where we want to be," Wiegman said. "Whether it's our first year or not, that's where we want to be. We're all really excited to get out there and go do it. Coach Whit, that's her goal too. We're all on the same page. We're ready to go out and get it done."
The initial meeting with the team was also important to Whitaker, who wants to include her new players in her extended family.
"I wanted them to talk. I wanted them to tell me," Whitaker said ."I always want my players to feel like they can come and talk to me about anything. Sometimes people say when you become the head coach, automatically you get the stigma of, 'they're the head coach. Can't go talk to the head coach.' I don't want that with our players. I want them to feel comfortable. I want them if they have a problem to come and talk to me. I want them to feel empowered. I think that's important for young women."
While Whitaker will have to build her staff from scratch, she is thankful for the chance to work closely with men's basketball coach John Brannen and his staff.
"I'm in a room, in an office suite with the men's basketball staff," Whitaker said. "I plan to utilize that as much as possible. Get ideas from John on his experiences in the past year."
BB&T Arena will not be foreign to Whitaker. In addition to attending a basketball camp there when she was younger, she attended the high school basketball Sweet 16 tournament games. Also, she was on the sideline for Kentucky as an assistant when they defeated the Norse 84-65 on Dec. 2, 2015.
A little over six months later and Whitaker made her return to the arena to be introduced as head coach. It certainly wasn't something she expected in December.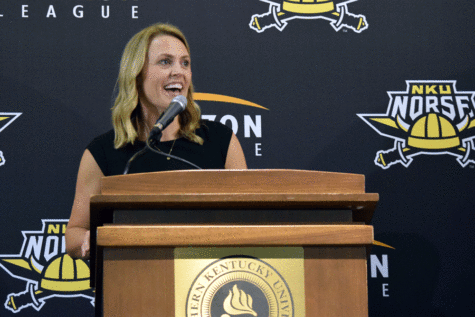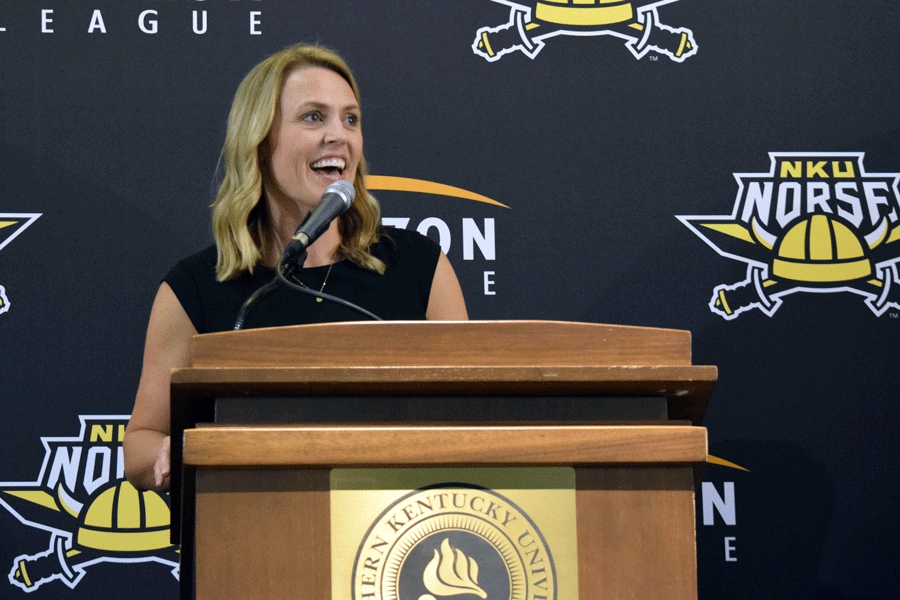 "I had no idea! We were talking about that earlier," Whitaker said. "I was here for the Sweet 16 (high school tournament) as well. It never even entered my mind because I knew how successful Dawn was. So no, I had no idea it was going to happen."
Whitaker plans to bring a high-tempo style of basketball to Norse Nation this winter.
"We're going to be tough," Whitaker said. "Everything we do, it won't be easy. We're going to play fast, and playing fast is a mentality. You have to do everything fast. You've got to run to get water, you've got to run to put the balls on the rack. We're going to do the little things. That's what I will demand out of myself and out of our team."
Whitaker plans on taking the values her parents taught her at an early age and bring them to the Norse.
"That's what everybody can expect to see, us doing the little things, us really being fundamental, tough, hard-nosed, hard workers," Whitaker said. "That's the mentality I was raised with. It's been instilled in me and I've seen it work in many programs. I believe that's the way we will be successful."
Whitaker family values, instilled on a new generation of extended family members while her family watches from the stands.
It doesn't get much better for the new Norse head coach.
"My family has always supported me and traveled everywhere," Whitaker said. "I'm just happy to do what I love, at a place I love, close to home. Not a lot of people get that opportunity."