Free throw shooting puts Norse among nation's best
March 1, 2016
It is the most consistent shot in basketball. It is taken behind a two-inch line painted 15 feet from the rim. The rim, 18 inches in diameter, is mounted on a backboard 10 feet off the ground.
From middle school to professional basketball, the shot remains unchanged.
While a free throw in name, it is often anything but free.
However, for the Northern Kentucky women's basketball team, it is something they do better than almost every other team in the country.
As a team, the Norse are fourth in Division I women's college basketball in free throw shooting percentage. NKU has made 78.4 percent of its free throws, trailing only Connecticut, Columbia and South Florida.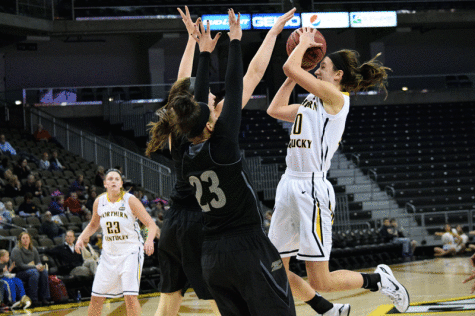 Christine Roush leads the Norse at the line. She is second in the nation in free throw shooting at 91.6 percent. Her career statistics place her third all-time in Division I, and fourth all-time in all divisions.
"For me, free throw shooting is a mindset," Roush said. "I do have a routine when I come to the line. I have a mantra in my head. I say, 'all day, all day,' like I'm going to make it no matter what."
When Roush steps to the line, she said her thoughts go to shooting practice with Assistant Coach Lynn Plett.
"I'm always comfortable when I'm shooting with him. It's just me and the goal, and Coach Plett, and me repeating over in my head that I'm going to make the shot."
Kasey Uetrecht is second on the team in free throw shooting at 84.5 percent. This ties her for 40th in the nation.
"I would also say it is a mindset," Uetrecht said. "I just keep thinking, 'I'm the best … 85 percent, 85 percent.' I go through my form, get the ball in my hand, and just put it in."
Molly Franson tied a career-high Feb. 25 by making 8 of 10 from the line in a game against Milwaukee. She is shooting 77.8 percent from the line on the season.
"I just stay focused and count my dribbles," Franson said. "I try not to think too hard, because if you think too hard, you miss."
Not an automatic shot
Despite the consistent nature of a free throw, it is far from an automatic shot.
Only four women's basketball teams in the Horizon League have made free throws more than 70 percent of the time. Three teams have made fewer than 65 percent of their attempts.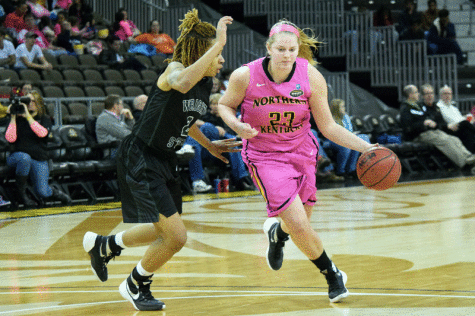 The NKU women have shot a better percentage than every men's basketball team in the Horizon League. The Illinois-Chicago men's team has made just 61.1 percent of free throws.
Even professional basketball players have struggled with the shot. Legendary center Shaquille O'Neal made just 52.7 percent of free throws in his pro career and made fewer than 50 percent in 7 of his 19 pro seasons.
So why do the Norse shoot them so well? The players say confidence is a big reason.
"You look at the NBA – they're the best players in the world and some of them are like 50 percent from the line," Uetrecht said. "Some of them have the worst shots in the world but they believe they're going to shoot it and they're going to make it."
Franson said believing in her free throw shooting has helped her succeed.
"It was just a fundamental thing as I progressed through basketball," Franson said. "The best advice I had was, 'free throws are 100 percent confidence.'"
The pressure at the line
While there is an inherent pressure of shooting free throws at any point of the game, the pressure increases when the game is on the line.
"It's definitely nerve-wracking, but I try not to think about it too much," Roush said. "I know I'm going to make the free throw shots. Once I got up to the line, these shots are going in no matter what."
During her freshman season, Roush stepped to the line in the final 15 seconds of the regular season finale against Jacksonville. NKU was down four, and misses by Roush would have likely ended the game for the Norse.
"I had two free throws for us to go into overtime, and that was really scary as a freshman," Roush said. "Getting comfortable playing in those games and knowing that I'm a good free-throw shooter, I just had the confidence to knock them down."
Roush made the free throws, and NKU ended up winning the game 76-71 in overtime.
For Uetrecht, she draws some of her confidence late in games from just having the chance to make crucial late-game shots.
"Just knowing I'm in the end of the game situation, coach obviously has faith in me," Uetrecht said. "She wants me in the end of the game, so I try to return the favor by making the free throws."
Franson knows all about pressure free throws. In last year's Atlantic Sun tournament semifinal against Stetson, Franson was fouled with 15 seconds left and the Norse trailing 52-51. She made both free throws and NKU won 53-52.
"I think I shoot free throws better when I'm under pressure," Franson said. "You just have to not think about the fact that you have all the pressure on you. You just go up there and say, 'it's just any other free throw.'"
"You don't think about what will happen if you miss it," Roush added. "You think about what will happen if you make them."
Years of practice
All of the players agreed that becoming a good free throw shooter takes years of practice.
"In high school, my coach really made that an emphasis," Roush said. "We were a pretty good free throw shooting team. We always did free throw shooting games throughout practice. We would have to make 10 in a row before we were let out."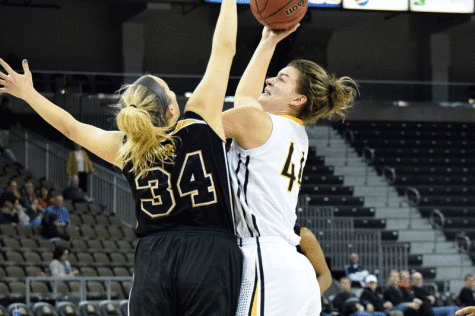 Uetrecht participated in the Clinton County hoop shoot, sponsored by the local Elks Lodge. It is a free throw shooting competition for boys and girls ages 8 to 13.
"I was always in that," Uetrecht said. "I was always in the barn with my mom just shooting."
For Franson, she may have had the strongest motivation for becoming a great free throw shooter.
"When I was young, I used to be at the free throw line in fourth or fifth grade, and my dad used to pull out money when I was at the free throw line," Franson said. "If I missed, I didn't get it. If I made them, then he would give me the money."
The Norse will look to continue to cash in at the line during its two remaining regular season home games and the upcoming Horizon League tournament in Green Bay, Wisconsin.