Recyclemania Highlights NKU's Recycling Initiatives
March 17, 2014
[cjtoolbox name='Recycle CSS – James']
The nationwide competition aims to jumpstart university's green initiatives
By Kevin Schultz
Eleven organizations at NKU are on the hunt for your garbage.
But just not any old trash.
The groups of students are searching for cans, bottles and other recyclable goods in order to collect the largest heap of material possible for this year's Recyclemania– a nationwide competition aimed to spotlight university recycling efforts and means of waste generation reduction.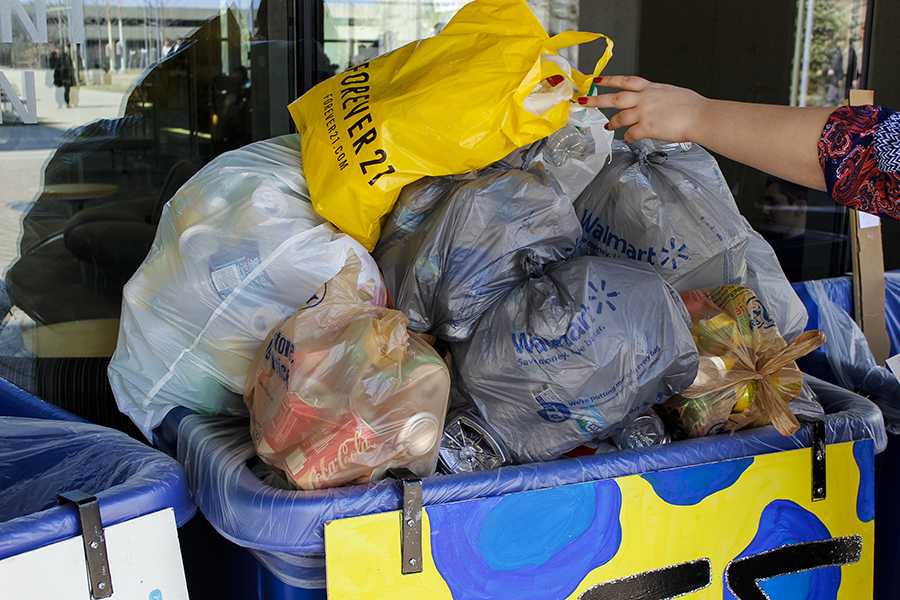 Photo by Kevin Schultz | A student throws a bag of materials into a Recyclemania recycling bin on campus.
In this process, both the student organizations and NKU itself are hoping their efforts don't go unnoticed.
"The main goals of this is to promote student and campus-wide recycling, so that we can all become more mindful of the things we are throwing away," said Ed Herschede, director of Recyclemania and NKU's recycling supervisor.
The eight-week long competition, which kicked off on Feb. 3, will last until March 30.
Out of the 461 colleges and universities that are participating in the 2014 Recyclemania Tournament, NKU is currently ranked in 113th place with a current recycling rate of about 30 percent. The school currently in first place, Antioch University Seattle, has a recycling rate of about 94.4 percent, according to the Recyclemania 2014 Tournament website.
NKU's recorded recycling rate of 30 percent means that, in the first three weeks of the competition, the university has recycled 22,993 pounds of recycling, compared to 54,581 pounds of materials trashed.
This amount of waste NKU has saved in Recyclemania is equal to the energy consumption of four households, eight cars being taken off the road or 42 metric tons of Carbon Dioxide, according to the United States Environmental Protection Agency's Waste Reduction Model.
NKU also currently ranks second out of the three institutions for higher education competing in the state of Kentucky, behind Jefferson Community and Technical College currently at 57.6 percent and in front of Eastern Kentucky University currently at 14.7 percent, according to the Recyclemania 2014 Tournament website.
"A higher recycling rate is feasible, as pointed out by those schools ranked ahead of us," said Lauren Gabbard, senior political science and economics double major and organizational leader of NKU's Environmentally Concerned Organization of Students — a group that is currently competing in Recyclemania. "This is something we should devote more resources to."
And while Gabbard acknowledges the progress NKU has made and the importance of Recyclemania, she says that alone is not enough.
"I wish people would care more about recycling and the impact our consumption has on the environment, even after the competition is over," she said. "I still recognize that Recyclemania is a good starting point for awareness, but we have to remember that just this event is not enough."
Student organization's recyclables are collected in bright blue bins that sit outside of the Student Union — right off of the main plaza.
Herschede asks for all students to help out the organizations and do their part in recycling.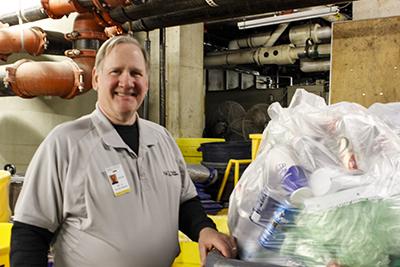 "The biggest problem is getting stuff that's thrown away to get put in recycling," Herschede said. "You'd be surprised at how many bottles and cans are thrown away just two or three feet away from a recycling bin."
A banquet will take place April 10 to announce NKU's winning organizations from Recyclemania — the organization that collects the highest weight of recyclable goods wins — and to celebrate the end of the competition.
"Recycling is so easy when it's right there," said Chuck Pettit, Superintendent of Facilities Management. "It's just getting people to do it, and do it right, that can be the challenge."
Other means of going green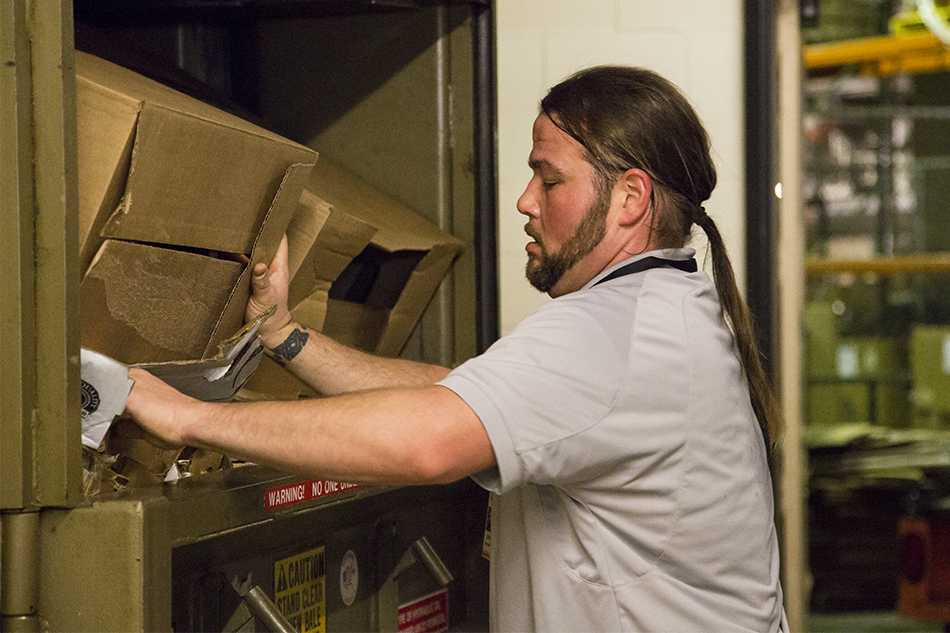 The Recyclemania effort is just one of many ongoing efforts at NKU aimed towards going green and reducing the university's carbon footprint (the total amount of greenhouse gas emissions caused by an entity).
In 2007, former NKU President James Votruba signed The American College & University Presidents' Climate Commitment, pledging the university's efforts toward climate neutrality.
"Northern Kentucky University documents the size of its current carbon footprint, identifies green initiatives that have impacted our carbon footprint and outlines the university's current and planned efforts in this regard," said Votruba in NKU's 2010 Action Plan, which outlines NKU's path to achieve climate neutrality by the year 2050.
To comply with the climate commitment, NKU is required to calculate its carbon footprint every two years, according to NKU Green Co-Director and University Planner Jane Goode.
One figure, Goode noted, from the last time NKU's carbon footprint was calculated was the 42 percent portion directly caused from the university's commuters.
"We know it's not the first thing people think of when they wake up in the morning," Goode said referring to commuter emissions. "But it really is a huge impact on our environment."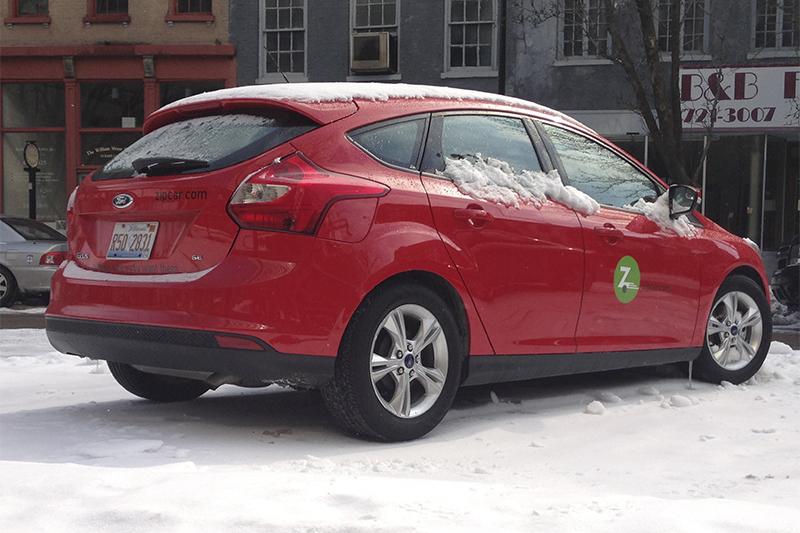 One solution, according to Goode, could be the use of Zipcars on campus. Zipcars are vehicles that can be "checked out" by people who sign up for memberships. According to the Zipcar website, the use of these cars cuts down the need for individual use of cars and serves as a backup means of transportation for those who usually carpool or have alternative means of transportation.
However, the use of things such as these cars are nowhere in the immediate future for NKU.
"It's important to be coming up with these new options," Gabbard said. "People coming up with these sorts of new ideas and processes and better ways to do things is the most important thing to bring about more efficient and environmentally friendly practices."
Other green initiatives at NKU include smaller things such as the use of green cleaning supplies, to larger things such as holding an entire Earth week to help inform the NKU community.
About 95-98 percent of cleaning products used at NKU are considered "green products," according to Goode, stemming from an initiative spearheaded by the construction of Griffin Hall.
Earth Week is an annual event at NKU ran by NKU Green which aims to make the university and surrounding area more environmentally friendly. Earth Week at NKU typically includes informational sessions, movie viewings and visits from local environmental groups, contests.
In the end, Goode said Recyclemania and the recycling initiative really is the place to start when it comes to going green.
"We ask everyone to do it, not just students, but everybody," she said. "The only way to be completely effective is if everyone heeds the call."
List of organizations participating in this year's Recyclemania at NKU
Alphi Phi Omega
Phi Sigma Sigma
Theta Chi
Geology Club
Leadership Mentors
Delta Gamma

Sigma Phi Epsilon
Delta Zeta
Northern Kentucky Leadership Institute
Environmentally Concerned Organization of Students
Theta Phi Alpha