Highland Heights joins NKU, local business in prohibiting public smoking
June 29, 2023
Smoking tobacco is woven into the cultural fabric of Northern Kentucky. Allowing smoking indoors has historically been a norm in the region, but recent conversations in the area mark a shift in attitudes and policies related to smoking in public spaces.
Campbell County does not currently have a smoking ban, although Dayton and Bellevue, two cities in Campbell, have adopted smoking bans in enclosed, public spaces. Highland Heights is the latest municipality in the county to join the push toward a smoke-free community.
Highland Heights City Council voted to pass a smoke-free ordinance on June 20, which will go into effect starting 90 days after the vote took place. Violations of the law will be reported through a complaint-driven system to the Campbell County Health Department, according to Highland Heights Mayor Greg Meyers.
The ordinance prohibits smoking in indoor public spaces and city property. It also states that smoking outdoors must take place a "reasonable distance" away from the entrance of a public place and other outdoor spaces where people congregate, such as playgrounds, shelters and transportation stations, according to the ordinance.
"We're just asking people to—and our ordinance is—to use their common sense," said the mayor. "There's plenty of room to walk up the side and smoke your cigarette, you know, we're not going to stop that."
Businesses that fail to comply with the ordinance will be corrected by a warning for their first infraction, followed by a $100 fine for the second offense and a $250 for a third within a single year. Individuals who violate the ordinance are punishable with a fine up to $50, according to the ordinance.
Data shows that Northern Kentucky is behind the curve in renouncing smoking. 24% of adults in the Northern Kentucky region are smokers, compared to 19% in the Greater Cincinnati area and 14% nationwide, according to data from Breathe Easy NKY, an advocacy group focused on establishing smoking bans around the region.
Higher prevalence of smoking combined with public spaces and workplaces that permit smoking indoors result in 37% of Northern Kentuckians reporting exposure to secondhand smoke at least once per week in their workplace, according to Breath Easy NKY.
Despite the higher prevalence of smokers in Northern Kentucky, data shows that 75% of registered voters in the region support smoke-free policies.
The path to enacting a smoke-free ordinance in Highland Heights has been relatively smooth, said Meyers. City council voted to pass the law with a slim 3-2 margin, but the motion was met with minimal opposition at public meetings where residents had the opportunity to state cases against the new policy, according to Meyers.
While the law in Highland Heights is just now becoming in step with what citizens support, businesses in the area have implemented smoke-free policies on their own accord.
Meyers recalled LaRu Bowling Lanes as the last business to allow smoking indoors. LaRu Bowling Lanes transitioned into a smoke-free establishment, said Kati Manning, when she and John Manning gained ownership in 2021. The bowling alley permitted smoking throughout its lifespan. When it was shuttered in 2020 because of the COVID pandemic, the couple bought it to save it from going out of business permanently, said Manning.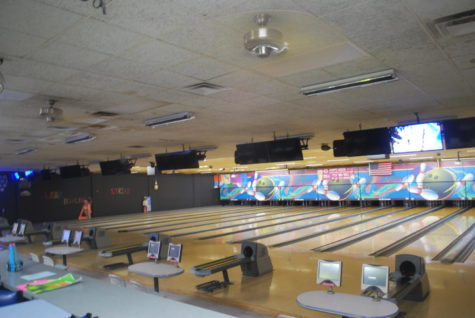 At the time, which was prior to the passage of city-wide smoking bans in Dayton and Bellevue, most bowling alleys in Northern Kentucky were smoke-friendly, said Manning. The couple wanted to create a space where families could enjoy without the stench and health hazards associated with secondhand smoke.
"We wanted to be open and family friendly, and just have a clean space for families to go to," said Manning.
The new owners put considerable time and effort into ridding the space of the dense, lingering smell of cigarette smoke. "We had to clean the whole place. Scrub the carpets multiple times, primer and paint all the walls, replace some ceiling tiles. We had to do everything to get that smell out," said Manning. 
Feedback has been positive since the transition with the owners occasionally being told by customers that they're glad the establishment doesn't allow smoking, said Manning. 
NKU, which enacted a total on campus smoking ban in 2014, demonstrated support for the Highland Heights smoke-free ordinance through a letter of support written by Interim President Bonita Brown to the city council. 
"It's shown for NKU, 'we're still here and we're still thriving and we've done without smoking for years and look at us now. So I'm very happy that she sent that letter of support. I think it's very brave of her to do that," commented Meyers about Brown's show of support for NKU's surrounding community.