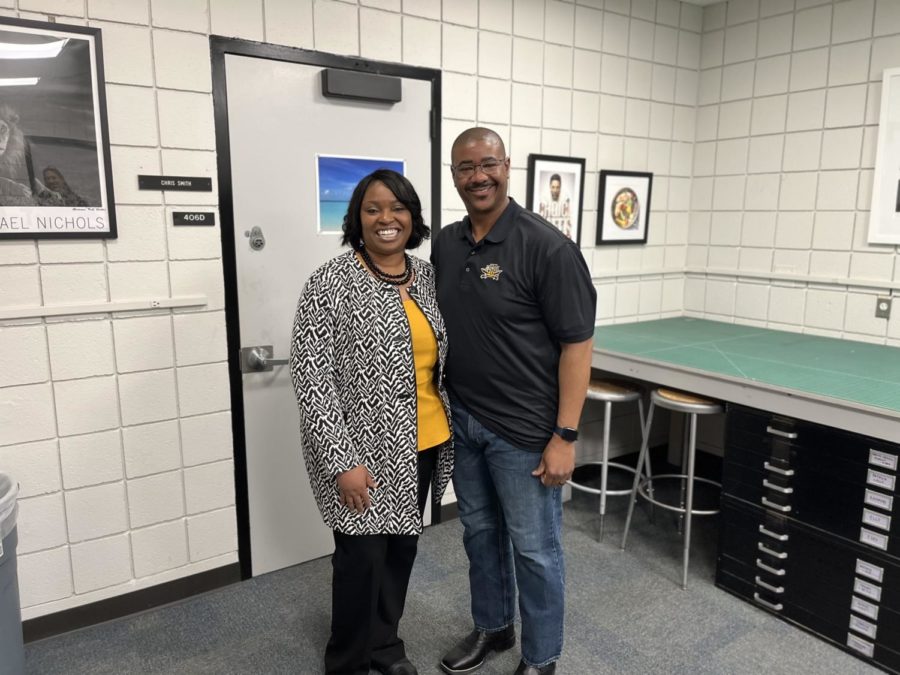 Interim President Bonita Brown's husband graduates from NKU
May 7, 2023
Wesley Brown graduated and received his diploma handed by his wife, Interim President Bonita Brown, this Sunday as he finished his four-year photography degree.
This accomplishment comes after Wesley went back to school in 2019 to obtain a bachelor's degree in addition to the associate's degree he received many years prior. 
After starting a family shortly following his associate's degree, Wesley decided he wanted to put most of his focus on supporting his children. 
Many years after Wesley had raised his kids, his first wife passed away. Because of this, he decided he wanted to hone in on his skill of photography as a way to deal with his grief. 
"Visually I love to see the past. I took it more seriously after my first wife passed, and that was just a way to deal with the grief. I dealt with my grief through telling other people's stories," Wesley said. 
This led him to continue his education beginning in the fall of 2019. After he enrolled at NKU, the university shifted into a hybrid environment in light of growing concerns about the COVID-19 pandemic. However, this didn't stop Wesley from pursuing his passion for photography. 
"I'm always with my camera. Whether I'm in [SOTA] or outside this building, I'm still producing work," Wesley said. "I entered some of my work into a scholarship for NKU and it actually produced results for me." 
Interim President Bonita Brown is happy that her husband decided to return to school for a bachelor's degree, and she feels that NKU sets out to support him and every other type of learner. 
"It's never too late to get a degree. NKU prides itself on being able to educate adults and non-traditional learners," Bonita said. "We have the support. We have the classes. Whether you can come full-time, in-person or online, you can do it." 
When Wesley walked across the stage during the morning commencement ceremony held Sunday, May 7, the president was the one handing him his diploma. Instead of shaking hands as with other students, she gave him a hug for several seconds on stage. According to Bonita, this all came very unexpectedly with the timing of his graduation. 
"You couldn't have scripted this any better. It's been exciting to think about," she said. "Nothing we could have ever planned or dreamed about, so we'll see how it turns out." 
As Wesley is a non-traditional student, he mentors other students, Bonita said, stating how he is like an "uncle" to them. 
Wesley said that his life experiences have helped him guide other students, and that he feels his age has brought a better appreciation for education.
"I see education better now than I did before. When challenges come up, I'm able to tell [students] that you are a champion. You can fight, face adversity and accomplish anything that you're looking to do," Wesley said.
After he graduates, Wesley plans on relaunching his business, Captured Camera Creations, which was put on hold because of COVID-19. 
"I've got more tools now. I feel confident about going out there and doing what it is I do," he said.