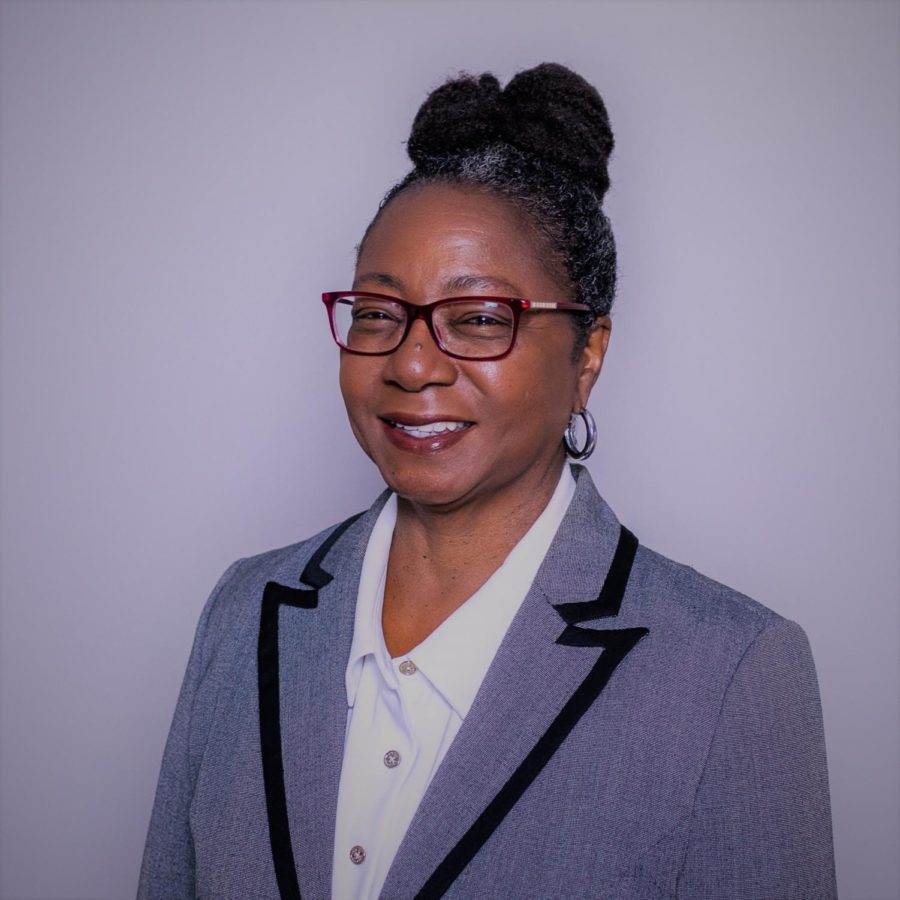 Faculty diversity at NKU an area to celebrate and improve
As Dr. Vanessa Hunn is promoted to full professor, a title held by few other Black female faculty at NKU, faculty and administration chew on the importance of boosting faculty diversity.
April 20, 2023
Dr. Vanessa Hunn, a NKU professor and administrator, has spent her career climbing the rungs of higher education in the College of Health and Human Services as a Black woman and first-generation college student. 
At the Academic Affairs, Faculty, Staff and Unit Award Ceremony on April 20, Hunn will be appointed as a full professor, making her NKU's only current Black female full professor outside of the Chase College of Law, which has separate faculty promotion practices. 
Much of the social work professor's research centers on the very question that her journey defies: what causes lower retention rates for students and faculty of color at predominantly white higher education institutions and what are possible solutions? While she has pored over these questions, she has forged a path of success as an educator at a predominantly white institution where longevity of professors of her identity is uncommon, uplifting students and colleagues while eroding institutional barriers through scholarship and character. 
"The paradoxical part of that is that the institution has more work to do in that area, in that they really have to be more intentional and more committed to the retention of African Americans at the institution and making sure that supports are in place," Hunn said.
Hunn said the flexibility she exercises in pursuing a personalized research agenda reflects NKU's commitment to widening diversity. 
"The first year that I came here I was awarded a summer faculty summer fellowship to work on research. So I've been supported in the type of research that I do here, which really shows NKU's challenges to diversity, equity [and] inclusion, but also their commitment to increase diversity, equity and inclusion," Hunn said. 
NKU faces stark challenges in recruiting and retaining faculty of color. In 2022, 470 out of 599 (78%) of NKU's full-time faculty were white, according to Faculty and Staff Reports. This stacks up against a comparable national average of 74% white full-time faculty in 2020, according to a study by the National Center for Education Statistics. 
Implicit biases in the hiring process and in faculty evaluations for promotion opportunities impeding women and people of color is a major obstacle the university is trying to reconcile.
The Office of Faculty Affairs combats implicit bias with a newly developed mentoring program for minority faculties. "We developed this mentoring program to help women and faculty of color have a place where they can be mentored in a structure that would benefit them," said Associate Provost for Faculty Affairs Jason Vest. The Office of Faculty Affairs also holds workshops that teach faculty how to recognize their implicit biases to prevent them from surfacing in faculty evaluations. 
Hunn, who applauded another workshop program by the Provost office that counseled faculty members on how to successfully maneuver the ranks of professorship, said guidance from individuals who have been in her shoes and navigated the thickets of higher education is paramount to her continued success. 
Associate Dean of the College of Business at Tennessee State University Dr. Retta Guy has been particularly influential on Hunn's development as the Associate Dean in the College of Health and Human Services, she said. Sharing notes and experiences about the good and bad of being a woman and person of color in higher education has helped her avoid pitfalls and find stability in her career. 
Hunn's multifaceted responsibilities in her time at NKU—she serves as an administrator and professor—is further reason to celebrate her rise to full-professor, a feat where the odds appear stacked against her even without the outsized work she manages.
"The criteria to be promoted is teaching, scholarship, and research activity and service. An administrator does a lot of that but you can't teach as much as an administrator and you have very little time to be able to do research and scholarship. So it's very difficult to be able to do those things while you're even a full time administrator like she is. So that to me that makes that accomplishment to be promoted to full professor even that much more impressive," Vest said. 
Competitive offers from other universities contribute to NKU's struggles to retain female faculty and faculty of color, Vest said. Alluring offers from institutions advertising lightened workloads, better research opportunities and increased pay are obvious persuasions for any faculty to leave. 
33% of NKU's Black faculty members who became newly tenured and tenure-track professors in 2015 were still at the university in 2020, according to data provided by Vest, coloring the scope of the institution's diversity retention troubles. 
Retention of minority faculty amid competitive offers becomes more arduous when factoring in the ongoing budget crisis. Shrinking programs bear the brunt of the effects of limited resources in pushes to grow faculty diversity.
"We just aren't hiring as much. It's hard to maintain diversity, especially in those programs where we're cutting instead of growing," Vest said. 
Continuing to build support systems and fortify institutional values for diversity through initiatives that level faculty workload and encourage growth for minority faculty will be key to expanding faculty diversity as the university overcomes its financial hardships, Vest said. 
Despite scant numbers of female and Black faculty and staff members, Hunn said she finds support and opportunity at NKU that has bolstered her career. 
Hunn has always been conscious of her identity in the context of her professional environment, but she has never let it isolate her, she said. Rather, she uses her background, where few people wind up where she is today, as a building block to evolve her community.
"My community is now expanded to the point where I've been able to mitigate that initial feeling of isolation," Hunn said. 
Dr. Marquita Barron, director of Training and Development and the president of the Black Faculty and Staff Association, said Hunn has been a supportive pillar since her arrival at the university about three years ago. When Barron started working at the dawn of the pandemic lockdown, Hunn reached out to make sure she was assimilating comfortably, extending advice and paying mind to the pair's shared experiences as Black women. "It's a little difficult when you're at a predominantly white university, because they will not have had my experiences… It helps to have somebody that has had that experience that you've had," Barron said. 
Hunn's service on campus as a member of the College of Health and Science's Equity Council is another testament to her research expertise's mooring to an institutional push to make NKU a more welcoming environment for all.
Taking steps to make diversity among faculty a norm at NKU is on the agenda of Faculty Senate President John Farrar. "If you look around in the Faculty Senate, it's a very white place. Part of that is that historically, the professoriate has been white," Farrar said. 
Farrar formed an ad hoc committee devoted to bolstering opportunities for faculty members of color to be in leadership roles. Recommendations for strategies to move in the right direction have made gains, but the leg work is in implementing them to catalyze real change across the faculty community, Farrar said. 
NKU's faculty diversity target for Kentucky Council on Postsecondary Education—a state agency tasked with reforming higher education by overseeing Kentucky state universities—is 11.2% underrepresented minority tenured or tenure-track faculty, and the university was nearing this goal in 2021-2022, posting a 10.7% figure, according to Vest. 
Diversity that isn't just for diversity's sake is the true goal, Farrar said. NKU administrators and faculty agree that welcoming varieties of viewpoints and backgrounds is a core component to sound decision-making that will forward success. "What we need is representation around the table and what we need is diversity of opinions around the table, because those diverse voices strengthen us. They make us smarter," Farrar said.