Expectations vs reality: Effect of housing's new structure on resident experiences
October 26, 2022
First-time undergraduate students have a 12-month dropout rate of 24.1%, according to a report by the Education Data Initiative.
With this in mind, the Office of University Housing at NKU implemented many changes to their decade-standing structure that included a separation of freshman-only from upperclassman residential buildings and two new Living Learning Communities (LLCs). The Northerner covered all the details of the change.
The director of housing, Scott Patton, noted that the original intention of this change was to keep up with the rest of the academic world.
"NKU was one of the schools that hadn't made this change," the director highlighted. "Integrated living hasn't been common since the 90s and most schools made the transition away from that in the early 2000s. Since making that decision [to separate the residence halls by year], there have been a lot of students who have been really positively affected by it, who were really excited to have the opportunity that they could live with students that have their own sort of demographic as far as year," Patton shared.
In order to align with the department's mission to "provide a home away from home that welcomes all students into safe and affordable communities," the department sought to improve the quality of the residential experience.
"We want students to have an experience where they feel cared about, valued and they feel like, without even having to think about it, they're already connected to academic success initiatives," Patton said. 
Freshman honors student Elaina Hall has felt the impact of the community that was built for students like her.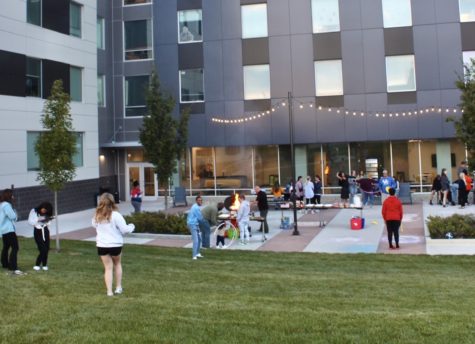 "It's like I have a whole designated team of people that are trying to make sure I succeed, and I feel like I'm getting pixie dust thrown on me like it's my time to fly," Hall said. 
Hall is one of hundreds of students living in New Residence Hall, one of the freshman-only dorms that house several LLCs and host many community-based events. This community captures the full freshman experience to find the best ways to encourage success.
"Everyone in here is going through the exact same thing as me," Hall shared. "Everyone doesn't know anyone else either, they're all awkward with their roommates and kind of starstruck but it's a whole dorm full of that."
For international students, the new Global Village LLC in Callahan Hall is a chance to create an immersive all-American experience while integrating a variety of diverse cultures. 
Freshman Nigerian international student Joshua Osakwe has been fully engaged in this experience since coming to America in August.  
"Living on campus has influenced my experience here in the United States and I have the ability to create bonds especially with the other international students," Osakwe said.
Nepali freshman and global village member Anisa Risal shared how much easier adjusting has been because of the community.
"So many things are not my problem to worry about, like I can put in a maintenance request and I don't have to figure out how to fix anything. When I'm hungry, I can eat in the dining hall and don't have to cook anything," Risal said. "Because I live in this community, I have more time to focus on myself."
However, there may be some misalignment with housing's intentions to develop the integrative experience through intentionality as Patton said. International freshmen like Mayokun Omoleye have expressed some shortcomings of the global village living community.  
"[Living in the global community] makes no difference. Callahan is kind of dead since it's so far away and I have only really made friends through the community events that are actually on campus," Omoleye said. "Maybe if there were more targeted events for international students in the residence halls, living here will be more interesting."
Housing seems to be working towards this improvement. With events hosted by the Residence Hall Association, like Callahan Haunted house coming up on Oct. 31, the community might see changes in their experiences.