International student population the highest ever in seven years
October 19, 2022
With a total of 506 international students attending for the Fall 2022 semester, NKU hasn't seen a number this large since 2015. Rebecca Hansen, Director of International Student & Scholar Services (ISSS) on campus, acknowledged that this semester also has the most diverse international student population NKU has ever had, with a total of 65 countries represented on campus. 
"Our goal is to reach more areas of the world and we are getting better at that," Hansen said.
55 nationalities are represented on NKU's campus according to ISSS's admissions website, but the number has actually increased to 65. The recruiting process to achieve an increase in enrollment for international students has found ways to reach potential students through the Internet and digital marketing. 
The efforts conducted by the ISSS has allowed NKU to be put on the map, according to Hansen.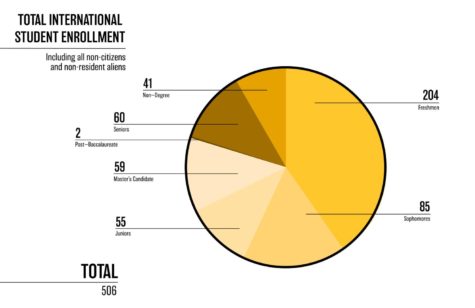 Hansen utilizes the customer success management tool Slate as part of her role as director to allow more reach to students on a global scale. She also travels all over the world to gain more partnerships from other countries. Hansen feels that one of the most influential actions taken to recruit students this semester is hosting virtual fairs for prospective students interested in furthering their education at NKU.  
"Vietnam is a huge priority for us right now. We hired an international student outreach recruiter who is full-time working in Vietnam right now," Hansen said.  
With Vietnamese being the second largest nationality represented at NKU with 70 students, the efforts the ISSS has been striving for are reflected in the statistics. The largest nationality represented is Napelese with 186 students, making up almost two-fifths of the entire international student population. 
Phat Nguyen, a senior at NKU, is an international student from Vietnam and a global ambassador. Global ambassadors are NKU students whose roles are to help incoming students from other countries transition to American culture and lifestyle. 
"I know the difficulties of coming to America. America is a friendly place, but not having your family and friends is tough," Nguyen said. 
Nguyen explained that one of his responsibilities for his position is being assigned up to four students per semester to mentor. He aids them with social needs like introductions to other students and organizations they might be interested in joining. 
For Nguyen, the ISSS has aided him on multiple occasions, like picking him up from the airport when he first arrived in the United States, providing him car rides to the grocery and to various restaurants. 
"They gave my friends and I rides to restaurants like KFC and IHOP," Nguyen said. 
In 2019 when he was researching online for universities to attend for his first year of college, Nguyen quickly came across NKU because of the peacefulness and affordability that was advertised. Additionally, Nguyen knew friends who attended NKU at the time and was informed about their experiences via word of mouth. 
"It's not really a surprise," Nguyen said about NKU having the most diverse population of international students this semester. 
He did note that he initially perceived NKU's student population to be not as diverse when he attended his freshman year, but he has since seen a difference.   
Jose Fonseca, a senior and international student from Honduras, is currently a mentor for the Latino Mentorship Program (LAMP) on campus and a global ambassador. Fonseca started at NKU in the fall of 2019, double majoring in mechanical and mechatronics engineering, which at the time was offered by only six universities in America. 
For Fonseca, the ISSS helped him develop a community with other international students and aided him in learning about American culture.
"They transitioned me into the culture, " Fonseca said. "I had never celebrated Thanksgiving before, same thing for Fourth of July."
Besides NKU providing him with fields of study that only a few universities provided, representatives from NKU were able to give quick responses about questions and comments he had, which motivated Fonseca to continue the application process. 
"I'm not surprised and I'm actually glad it's increasing," Fonseca said about the increase in international students this semester.