Interested in Studying Abroad in Prague this Spring?
October 18, 2022
Students of the College of Business and College of Informatics will soon embark on a trip to Prague.
The upcoming trip to Prague, Czech Republic, is put together by NKU professors David Raska and Tracy Songer. The course serves as a partnership between The Underground Agency at Haile College of Business and the School of Media and Communication in the College of Informatics. 
The trip runs alongside NKU's spring break, March 3 to 12.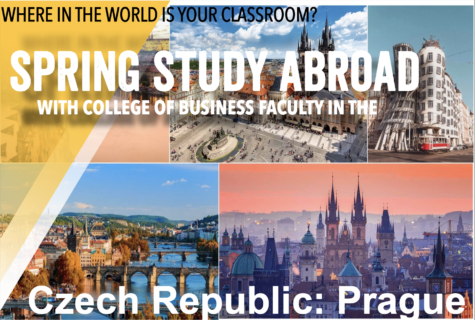 Dr. Ed Fenton, program director of the International Business program, works with professors to create study abroad programs. Everything from the syllabus to course content is planned many years in advance.
"The students are going to work on a real marketing project for a real company over in Prague," Fenton said. 
The trip is unique because the project at hand is student-proposed.
Shellalee, a small woman-owned business out of Fort Thomas, Kentucky, makes jewelry of Czech glass beads and American sterling silver. The owners of Shellalee are initially from the Czech Republic. 
Upon return, students will complete a brand-building project and present it to the owners of Shellalee.
On the trip, students will also visit creative and marketing agency Leo Burnett, Barrandov Film Studios (where many of Marvel's visual effects come to life), and Rutkovsky (a traditional manufacturer of Czech glass beads).
Students will travel by air, foot and bus to see the landmarks of Prague.
Studying abroad is an exciting experience, and for many, this trip to Prague may be their first time outside of the United States. A study abroad excursion is a requirement of both the international business and electronic media & broadcasting majors.
There are a few essential things to remember for students interested in heading to Prague.
Most importantly, students should ensure their passport is valid and apply soon if they do not currently have one.
Michelle Melish, associate director of the Education Abroad department, says that many students catch the "travel bug" following a study abroad trip. Melish expects this trip to fill up fast, so students should apply early if interested.
The program's estimated cost is between $3,000 and $3,200 before scholarships. Melish recommends reaching out to the Education Abroad department regarding help finding scholarships.
"A lot of students have been in that position before, and they took the plunge and are so happy they did," Melish said about students on the fence about applying.
While the Prague trip is only a week long, there is still great value and experience to be had. Melish emphasized the importance of comparing different countries' cultures and being better prepared for the world outside of NKU.
The deadline to apply for the Prague trip is Nov. 28.