'Visible, consistent and to build community': NKU's new LGBTQA+ Programs director discusses goals
LaVette Burnette discusses what she hopes to do for the Office of LGBTQA+ and beyond.
June 4, 2022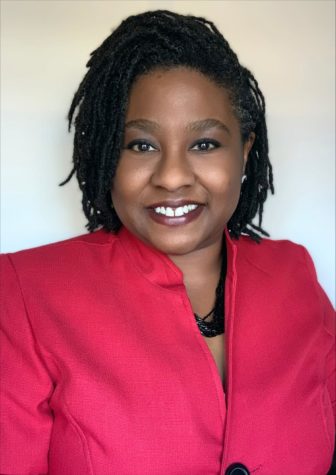 Previously coordinator of diversity, equity and inclusion at Gateway Community and Technical College, LaVette Burnette was named the next director of LGBTQA+ ​​Student Initiatives earlier this month.
Burnette, a Louisville, Kentucky native, is excited to be back in the Bluegrass State and closer to family as she starts her next journey at NKU. 
Prior to coming to NKU and Gateway Community and Technical College, Burnette worked as an associate professor at Middle Georgia State University, where she taught classes in communication for over 15 years. She also served as an advisor for both the fashion club and dance team, along with being the chair of many diversity, equity and inclusion committees at the university. 
Burnette attended Western Kentucky University for both undergraduate and master's studies, and during that time Burnette came out. She mentioned how this experience made her feel isolated as a student. 
"I came out in college, and I didn't have a community of people to help and it was very isolating and stressful," Burnette said.
However, this experience motivated Burnette to pursue a career that would allow her to provide help to students just like her. 
"I realized that this is a great opportunity for me to use my education and life experience to help the population of those who are just like me, " Burnette said. 
Getting to this point in her career, however, was something that Burnette poured lots of time and dedication into. She mentioned how throughout her doctoral program she really focused on networking, specifically with other Black women in higher education, and she expressed how beneficial that was for her. 
"During my doctorate program, I started looking at how Black women in higher education created networks. What kept me going was building those networks and being an asset to the people around me," Burnette said. 
Burnette mentioned how she completed many mentoring programs, which she continued to be involved in, especially after she entered a career in higher education. 
"I did several mentoring programs. It started way back in undergrad, and I just kind of kept doing it. Teaching gave me that avenue to be flexible as well as to continue to do that," Burnette said. 
That is something that Burnette hopes to do as well, even now in her new position at NKU. 
Burnette expressed visions she has for this upcoming school year, explaining how she wants to build the NKU community through consistent and visible programming. Burnette feels that the first step to completing that is to make students aware of the office. 
"One thing that I've noticed in my short time here is that a lot of things happen. But to build a community you have to be consistent. People have to be able to see you and know that you are there," Burnette said. 
A way to complete this, Burnette mentioned, is through identifying affirming programs. 
"When I talk about identifying affirming programs, we want to offer things that honor, as well as educate people about who our community is," Burnette said. 
She explained how this school year's programs might look different from the past, however, she hopes that this will be geared toward the needs of students.  
"Our program is going to look a little different. It is going to be very deliberate and intentional with student organizations. My job as director is to make sure we follow through," Burnette said. 
Burnette also discussed how she would like to solidify groups of students for LGBTQA+ organizations on campus, as well as rebuild the LGBTQA+ ambassador program. 
"We want to rebuild the LGBTQA+ plus ambassador program to restructure it to be more of a mentoring program and to pair students with other LGBTQA+ faculty and staff. We want to give them a networking connection to the people who show them that representation is real," Burnette said. 
Overall, Burnette is excited to make students aware of the program and office this next school year. 
"We're going to have things that we're going to be everywhere. I'm just going to make sure that people see us, and they know that we are right here and right now," Burnette said. 
For more information, to contact the Office of LGBTQIA+ or for other resources, you can visit https://linktr.ee/lgbtqnku.