Mohamed Omar and Jimmy Renton withdraw from SGA presidential election
March 27, 2022
Mohamed Omar and Jimmy Renton announced that they are no longer running to be SGA president and vice president Sunday evening in a video on the slate's Instagram account.
"This was a very difficult decision to make; however, we feel that it was the best one for us," Omar said in the video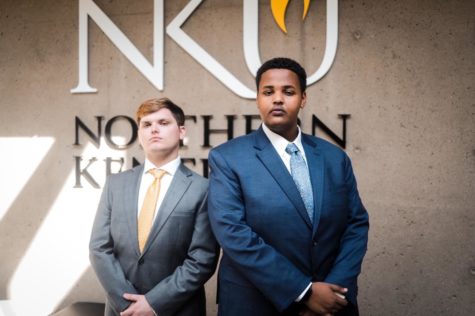 Following this decision, Omar and Renton voiced their full support for Brittney Cabrera and Jacky Romo as SGA president and vice president.
"We know we are running on a platform of change and being advocates, and we feel Brittney and Jacky can do just as good a job as the Renton and Omar slate," Renton said in the video.
Omar and Renton encouraged voting for Cabrera and Romo in the SGA elections to be held on March 30 and 31. Brittney and Jacky are two committed leaders on our campus and they will get the work done, Omar said.
The Omar-Renton slate announced their campaign three weeks ago, focusing on accountability, progress and community. They planned to communicate with students every step of the way, provide transparency to the university's funding and spending, hold the administration accountable to its sustainability promises, advocate for creating an NKU Green New Deal and address problems that directly affect students.
With Omar and Renton's withdrawal, two slates will remain for SGA elections: Cabrera-Romo and Daniel Myers-Jaelynn Gentry.
"Thank you all for your support, we truly appreciate it, and we are excited to see how the elections turn out," Renton said in the video.
It is currently unknown why they decided to withdraw from the elections.