NKU discusses the future of the hybrid format and student access in the 'Future of the Hybrid U' webinar
The webinar included two panels, including a student panel.
November 19, 2021
Northern Kentucky University students and faculty heard from three national leaders in higher education and NKU student panelists during the "Future of the Hybrid U" webinar Thursday afternoon.
The event consisted of two panels, "The Hybrid Campus" and "Meeting the Needs of NKU's Diverse Learners." 
The Hybrid Campus
Featured in the first panel were three higher education professionals including Jeff Selingo, author and Special Advisor to the President for Innovation at Arizona State University, Cole Clark, managing director of higher education at Deloitte and Megan Cluver, senior manager at Deloitte. The panel was moderated by President Vaidya.
The panel discussed how the hybrid format can benefit not just traditional students but also adult learners. President Vaidya added how he hopes to expand this model with every type of student on campus.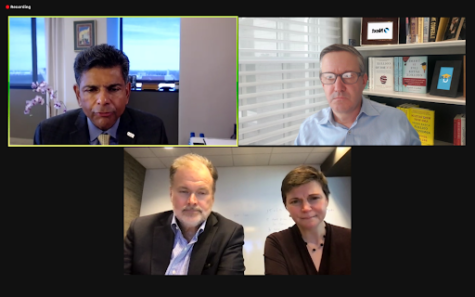 "One of our hopes is that the hybrid university will allow us to expand our market share of what we consider traditional, post-traditional and lifelong learners," Vaidya said.
Cluver listed ways to think going forward about how the hybrid model could benefit students in the future. 
"Think about who your current base of students are, that you will serve in a hybrid model and what motivates those learners. What do they need from the experience? And where will that student base be five years from now? And how do you design the hybrid student experience for that student who you're recruiting who graduates in four years," Cluver said. 
The event also discussed how different students may be in different situations, adding that there should be equal access for both types of students even if their college experience may be looking a little different. 
"I agree that you know, in person experiences and civic engagement and physical engagements are really critical, especially for traditional students. But working adults who are just coming back in to get a specific skill so that they can move up in their career, and then maybe come back again in another year or two for some upskilling — they have a very different set of needs than from that other cohort," Clark said. 
Meeting the Needs of NKU's Diverse Learners
The second panel during the webinar listened to current student experiences through the hybrid format.
Students that spoke during the second panel included Jamie Collins, junior library informatics major, Hanson Nguyen, junior health informatics major, Jasmyn Browder, senior double major in secondary education and history and Alex Villaseñor, junior electrical and electronics engineering major. The panel was moderated by Vice President of Student Affairs Eddie Howard. 
The first thing discussed by the panel was what a hybrid format meant to them. 
"I'm a non-traditional student that lives about three and half hours from campus, so it is something that embodies readability, flexibility and just something that continues to evolve. Going off of what the previous panel talked about, I think that the future of education, especially for adult learners, is something that is going to grow and change over the next five years or so," Collins said.
Howard also opened the question up for students to discuss challenges they face with the hybrid format. 
"I was completely online until this semester, which was really hard to do as an education major. I'm having practicums but I am doing them virtually, so I got to get the firsthand experience of what it was like for teachers teaching virtually," Browder said.
Browder then went on to discuss challenges that came along with this. 
"When everything went online some of my classes were formatted one way, where the teacher might release everything so you can work at your own pace. Other teachers would make certain things due during the week and wouldn't release them," Browder added. 
To close out the panel, Howard asked the students how NKU could support them more by using  hybrid format learning. 
"Things I would find helpful would be something where you could be paired with a mentor versus just an advisor. Even if you did a once a month check-in, a five- to ten-minute quick conversation about how things are going and what are the struggles you are having," Collins said.