World Culture Fest kicks off International Education Week
The event took place in the Student Union on Monday
November 15, 2021
International Education Week began Monday with a World Culture Fest held in the Student Union's second floor lobby. Attendees got a glimpse at traditional clothing, sample local treats and learn about the countries that Northern Kentucky University's international students call home.
Between 10 a.m. and 2 p.m., 15 tables draped with flags lined the lobby in front of the Student Union Food Court, some with educational displays or ornate decorations, all with a variety of snacks and treats. A coffee machine on the Guatemalan table brewed diligently. Two Ethiopian students spun bracelets from green, yellow and red yarn: the colors of their national flag. At the South Korean table, students played traditional games.
"It's a very great opportunity for cultural exchange," Luis Henckell-Rosas, an economics major and exchange student from Germany said. He participated in the event to show others some insights into his culture.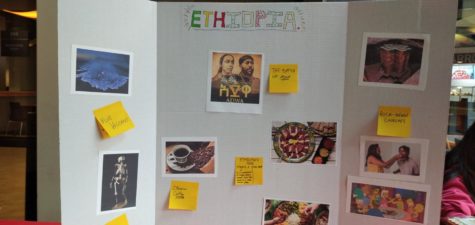 Likewise, media informatics major Tingwen Wang, who prepared an assortment of treats and a PowerPoint presentation for the Chinese table, thought that it was cool to show her culture to other people. She hoped that attendees would have fun at the event.
Toni Schneller, International Programs coordinator for NKU Center for Global Engagement & International Affairs and one of the organizers, said that the response from students and visitors had been great.
"We're really thankful to all the students who dedicated their time to creating displays and talking about their countries," Schneller said. "Everyone benefits from learning about different countries. That is how we create a shared understanding."
An annual occasion, the International Education Week was conducted entirely virtual last year due to the COVID-19 pandemic. This year, while many events are online, a number can take place in person including the World Culture Fest.
The World Culture Fest occurred in the summer of previous years according to Schneller, but recently it was flipped to spring and eventually to fall. The organizers are holding out for similar events, like the International Dinner and Talent Show, to take place in the fall to ensure that everything proceeds safely, Schneller said.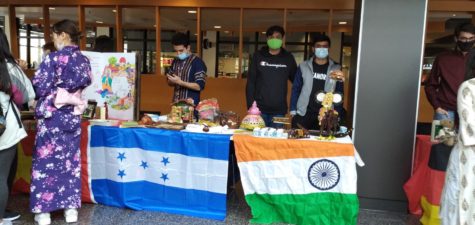 From collecting videos sent by students to enlisting guest speakers, the International Education Week took a couple of months to organize according to Schneller. Each day of the week is dedicated to a region of the world: Monday to Latin America, Tuesday to East Asia, Wednesday to Europe and Africa, Thursday to South Asia and the Middle East, Friday to Southeast Asia. Activities include live workshops, keynote speakers, regional livestreams and cooking demonstrations on social media.
On the first day, the biggest challenge for Schneller was not having student representatives from every country at the World Culture Fest.
"Just students [are] very busy with their class schedules," Schneller said. "We would want to have more student representatives from all the other countries [that NKU international students come from]. That's our biggest regret."
Still, being able to see the cultural displays and taste all the different foods was a highlight, Schneller added.
For more information, visit the International Education Week page on Canvas: https://nku.instructure.com/courses/40201.