SGA swears in new secretary of public relations at Monday's meeting, student engagement updates, more
September 28, 2021
Junior journalism major and religious studies minor Peyton Duncan was sworn in as SGA's new secretary of public relations during Monday's meeting.
Duncan said that she is excited to conjoin her journalism experience and public relations experience within one organization.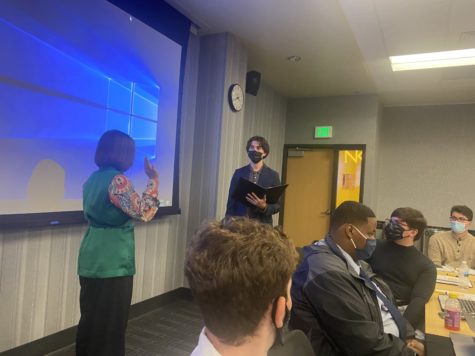 "I'm interested in SGA, I'm interested in making a difference, I'm interested in representing our institution," Duncan said.
Duncan has experience with advertising for AmeriCorps, an independent agency for the US government that helps create grants through service and volunteering.
Director of Student Engagement Tiffany Mayse gave a brief overview of what the Center for Student Engagement is and talked about what each member of staff does within student engagement.
Assistant Director of Student Engagement Emily Sagraves talked about some changes to student engagement, including a new point process called Victor E. Coins, where students can attend events and cash in their coins for prizes, such as buttons, reusable bags and t-shirts.
"[Victor coins] is a student involvement incentive program; the more students are involved, research shows that the more connections they'll feel at the university, which increases their sense of belonging, which increases their retention," Sagraves said.
There are eight current event categories in which students can attend to earn victor coins. This semester is more of a trial run according to Sagraves, but the coin system is to be in full effect in Jan. 2022.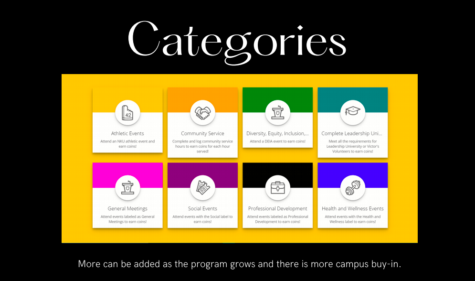 Sagraves said that the coin system not only increases student involvement and retention, but gives her and her colleagues good insight to how students are feeling about different campus organizations and events.
"We're also learning some really cool qualitative data, such as why do our students like NKU? Why do they not like NKU? What can we change?" Sagraves said.
Sagraves also talked about a new way to check in at events without using an All Card through an app called Digital ID by Presence. 
Students can download the app and log in with their NKU email to link to a QR code within the app for easier access to their student ID as well as easier check-in to campus events that can connect to victor coins.
Vice President of Student Affairs Dr. Eddie Howard was the last guest speaker at the meeting, where he talked about what the Division of Student Affairs has been working on throughout the semester.
"Our mission is to provide a quality, co-curricular experience and programs and services to our students to lead," Howard said. "The reason why service is so important is because I truly believe that the more we give, the more we get, the more we should give."
Howard talked about how he and his colleagues have a large responsibility on campus and want to fulfill these responsibilities adequately for the student body.
"I think it's critically important for us to have a format of how we as a division deliver the programs and services across the board. We are professionals of our craft," Howard said.
Howard touched on those of marginalized groups not feeling represented on campus.
"I've heard that more and more marginalized populations are not represented [on campus]. If you're not African American, Latinx or LGBTQ+, you're not represented. So in the spirit of student inclusiveness, we want to make sure that we address all student's concerns, so that will be something [student affairs will be working on]," Howard said.
The meeting then went into executive order with minimal updates throughout the SGA staff and the meeting was adjourned.