What you missed at SGA: appointment of new members, event updates, more
September 14, 2021
Northern Kentucky University's Student Governance Room was full of new faces at Monday's SGA meeting.
Six new senators and a new justice were appointed by Chief Justice Christopher Prince at Monday's meeting as well as a few guest speakers joining in on the meeting.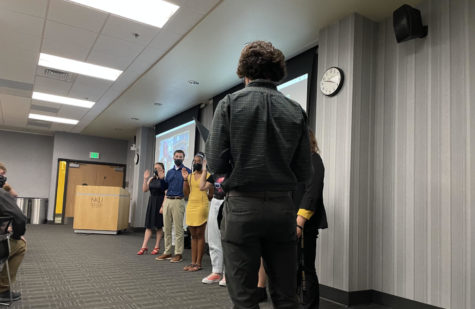 The six new senators (all of which are freshman) include E'Mya Boards; Melody Gilpin; Kylie McCulloch; Lucy Burns; Austin Terrell and Olive Pfalz. Freshman Griffin Rice was appointed as a justice.
The first guest speaker, Steve Slone, spoke briefly via Zoom. Slone is an NKU staff member in Mail and Distribution Services and serves as the president-elect of staff congress.
Slone said staff congress would like to work together with SGA to get things accomplished for the student body and university.
"One of our main goals is to work on building this bridge between the SGA and staff congress here on campus," Slone said.
Vice-Chair of Board of Regents Normand Desmarais spoke next about innovation and leadership.
Desmarais stressed that change is not something that happens overnight which leads to how innovation works.
"Innovation requires change. Change is hard, so, many of the things you may do today may be for the good of something in the future, but getting to that point in the future is not always easy," Desmarais said.
Members broke out into engaging discussion frequently throughout the meeting, talking about what they would like to change around campus within the current administration to make NKU a better place for students, including making students more aware of how SGA works and how to reach out to SGA members to ensure student voices are being heard.
President Aliya Cannon said bringing members of the Board of Regents is an opportunity to help students become more aware of who they can get in touch with about changes within the NKU community.
"The reason I keep bringing all of our regents here is because these are the main people that I sit on a board with to make change here at NKU and are very influential … So I'm going to make sure that our students know them [regents] and are aware of them, and also that they're learning from them," Cannon said. 
Cannon also touched on ensuring that the campus community remains safe as the ongoing pandemic worsens.
"We are all leaders, and as leaders currently in a pandemic, we as students have an influence on our peers," Cannon said. "I realized how many students are keeping their masks down, they're not wearing them, and we have to make sure we're speaking up and asking them to do so so we can be on this campus longer and keep everyone healthy," Cannon added.
SGA currently has 12 open seats. These seats must be filled entirely to ensure business is being done and to be able to pass legislation.
Finishing up the meeting, event updates were given.
Upcoming events: