'The campus now has life': Professors and student reflect on in-person classes
September 12, 2021
How COVID-19 looked a year ago compared to how it looks now has changed a lot on Northern Kentucky University's campus.
Professor of Biological Sciences Dr. Richard Durtsche said that he overcame the pandemic's challenges by teaching some of his labs at NKU's Research and Education Field Station.
"People could be outdoors and still receive instruction," Durtsche said. "I think that helped students. I know numerous students that were kind of missing that personal contact rather than being stuck in a room or wherever they had been living."
Durtsche expressed his excitement for seeing students return back to campus this semester.
"It's great. I mean to see the student body on campus, the campus now has life … I think the students are just excited to be back together and learning," Durtsche said.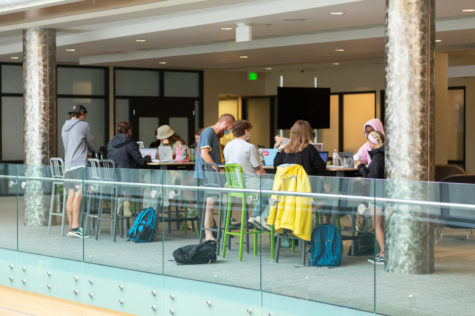 Durtsche said that his students and classes make his job much more enjoyable, even more so now with more classes being available in person. 
"It really makes it a joy to teach here, to be a professor here," Durtsche added. 
Chair of Computer Science and Professor Maureen Doyle said that she has learned a lot from being a department chair throughout a pandemic.
"It was wonderful to be a chair and see how everyone stepped up to help students and faculty and staff to help everybody get through it," Doyle said. 
As a professor, Doyle said the pandemic helped shape her into a coach rather than a professor. 
"Through COVID, what I learned to be is a coach … I feel that with that shift [the pandemic] and how I approach teachings, more students were comfortable coming up and talking to me when they were struggling so that I could get them what they needed to help them succeed in class," Doyle said. 
Doyle has spent much of the pandemic in and out of her office, but she still missed being able to see her students and co-workers regularly. 
"I love seeing students, I love seeing my co-workers, I am on cloud nine," Doyle said enthusiastically. "It was really hard being here [in her office] when it was empty, it was just depressing. So that part is fantastic."
Senior Biological and Environmental Sciences Major Kyle Siefert said he feels a bit jealous toward current freshmen experiencing college now. 
"Campus life coming back is such a sight for sore eyes. I was a sophomore when the pandemic hit and my junior year doesn't even seem like it happened. I have some slight jealousy towards the freshmen because the way it is now is how the norm was before COVID," Siefert said. 
Siefert is currently the Vice President of Theta Chi Fraternity on campus. He said that it was hard to get together with the rest of the members and bond due to COVID. 
"My fraternity was not allowed to meet in person last year and couldn't even do simple things such as go bowling as a group," Siefert said. 
Siefert said he now realizes the small things that had been taken for granted during the pandemic. 
"Simply eating in the Student Union with a group of guys was taken for granted but I am glad to have it back now," Siefert added.